Buffalo National River SUP Expedition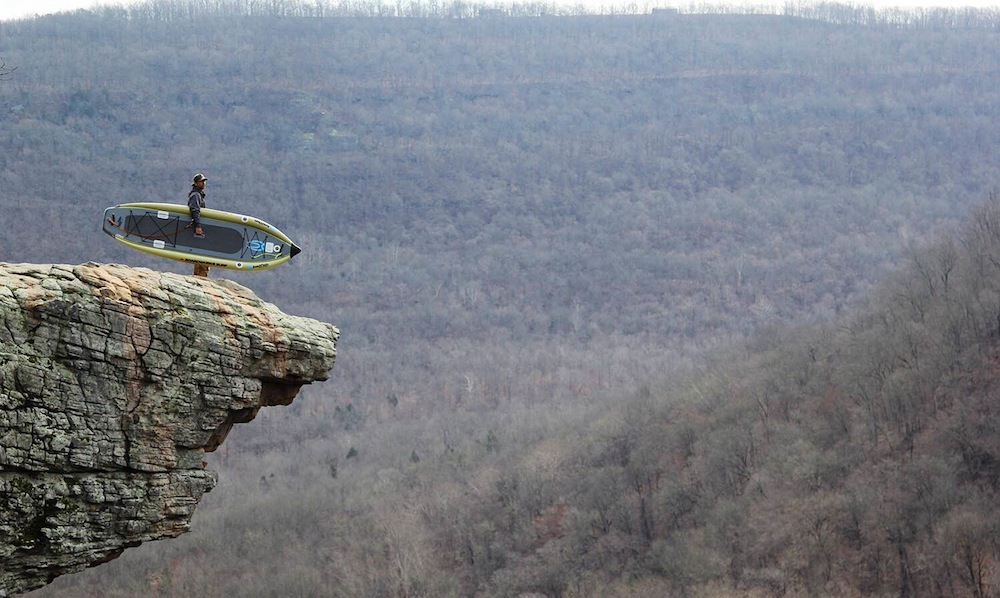 Gabriel Gray talks his recent expedition for FTS down the Buffalo National River. | Photo: Jackson Berger
BUFFALO NATIONAL RIVER, Arkansas - SUP Explorer and Boardworks ambassador Gabriel Gray just got back from an incredible stand up paddle boarding expedition to raise awareness for his cause Fight to SOAR, which was established to create awareness for our waterways. Gabriel took a trip down the nearly 150 miles long Buffalo National River in Arkansas. The Buffalo National River flows from east to west in the northern part of the state and was also the very first National River to be designated in the United States.
Read about Gabriel's expedition below:

"Man oh man, this year of river trips for Fight to SOAR got off to an exciting start! My wife and I started Fight to SOAR (Save Our American Rivers) aka FTS just for the idea of getting more people, young and old, outside and enjoying this country's waters. Also, hoping that along with that idea people would be more inclined to respect their local waterways and get more involved in issues their local rivers face.
Just over a year after creating FTS I was asked about the possibility of doing an expedition down Arkansas' Buffalo National River by a member of the Buffalo River Watershed Alliance. I was honored to be asked and happy that what my wife and I set out to do with the project, was reaching more like-minded people. To be honest, I knew the Ozark region had beautiful rivers but never any additional specifics. I decided to invest what time I could outside of my full time job as a FF/EMT and seasonal SUP tour business my wife and I own into investigating this river that seemed so foreign to me.
Gabriel exploring the Buffalo National River first hand. | Photo: Jackson Berger
After spending the remainder of 2014 learning about the river and speaking to many local people about their views on the issues the Buffalo National River faces, I began planning. I must mention that even the idea of all these expeditions I go on would not be possible without my sponsors that have strongly backed me and my ideas. Outlining this trip was made much easier with the help of American Fish and Tackle Company (AFTCO) for stepping up and being the main sponsor behind the Buffalo National River Expedition.
The Buffalo River would be different than the other rivers I have paddled before due to its many characteristics. The Buffalo River region is what they call karst topography, meaning the landscape is formed from the separation of soluble rocks like limestone. The limestone matter creates sinkholes, caves, and subterranean drainage making it hard for surface water to stay above the ground. This type of setting makes sustenance a challenge, yet it creates one of the most unique regions in the area. It has been occupied by prehistoric Native Americans, the Osage Indians, early Europeans, and was a safe haven for civil war deserters due to its caverns and rugged territory. So you can imagine the rich history embedded in such porous terrain.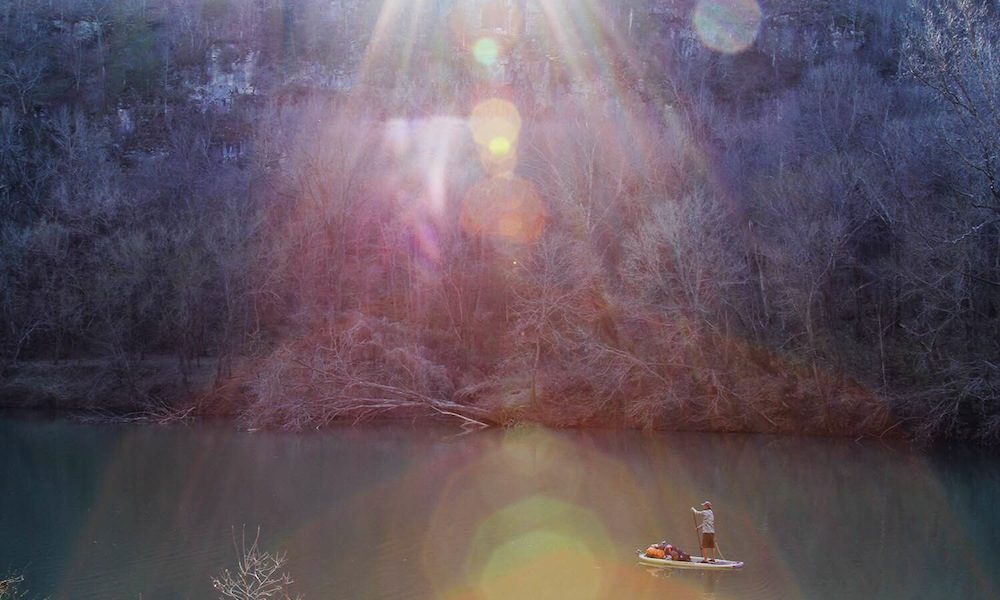 The Buffalo River region is what they call karst topography, meaning the landscape is formed from the separation of soluble rocks like limestone. | Photo: Jackson Berger
In the 1960's the US Army Corps of Engineers attempted to dam the Buffalo River. The American people successfully fought to save it from being dammed, and in 1972 it was acquired by the National Park Service and designated by Congress as America's first national river. Sadly, 40 years later the Buffalo River is in need of saving, again. This time around, it is to stop pollution from factory farming.
Two years ago, a large hog concentrated animal feeding operation (CAFO) moved onto one of the major tributaries of the Buffalo River. This new residence, coupled with the topography as described prior, could be devastating to the river and its ecosystem, thus negatively affecting the once balanced water composition. A CAFO is an indoor area where many animals are kept in tight cramped quarters, their urine and feces are collected below this area in sewage containers. The waste is turned into fertilizer and sprayed onto nearby fields; these contaminants eventually make their way to the river by the practice of over fertilizing, flooding, spills, etc. Water testing has already shown contamination of E. coli and changes in water content values.
Check out more SUP Journeys here.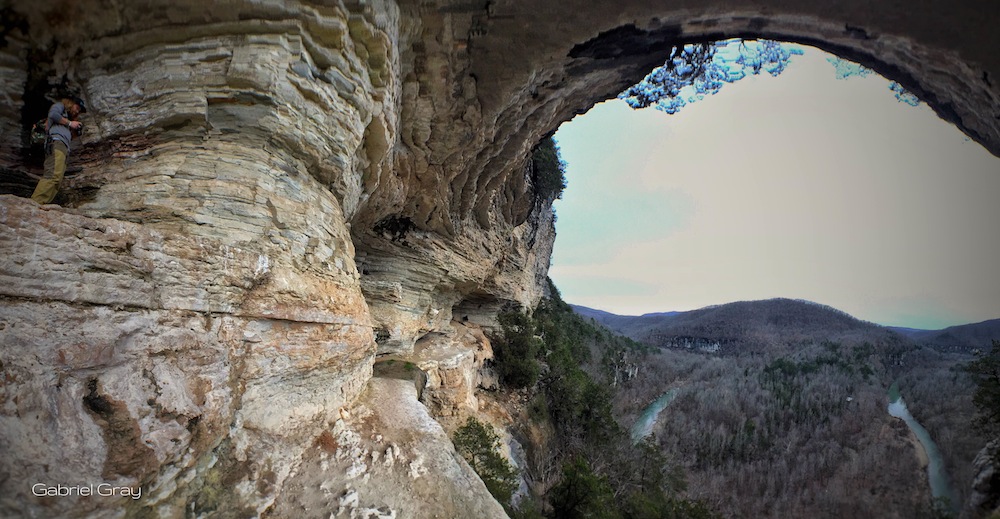 A view from above. | Photo: Gabriel Gray
Once I started to grasp the importance of the situation, the more desire I had to begin planning this 130 mile journey. This would be one of the longest documented descents down the Buffalo National River on a stand up paddle board. The rough terrain, long paddle days, hiking, and rapids would require a crew that had outdoor skills, a respect for Mother Nature, and that could handle her abuse. Knowing I would need some company on this trip to help with documenting Fight to SOAR's cause, I contacted my good friend and talented photographer Jackson Berger, a man that has been alongside me on other expeditions. When I mentioned the trip to the editor of Boarders Magazine, Danny Brought, an avid paddler that grew up in the outdoors, he jumped at the opportunity.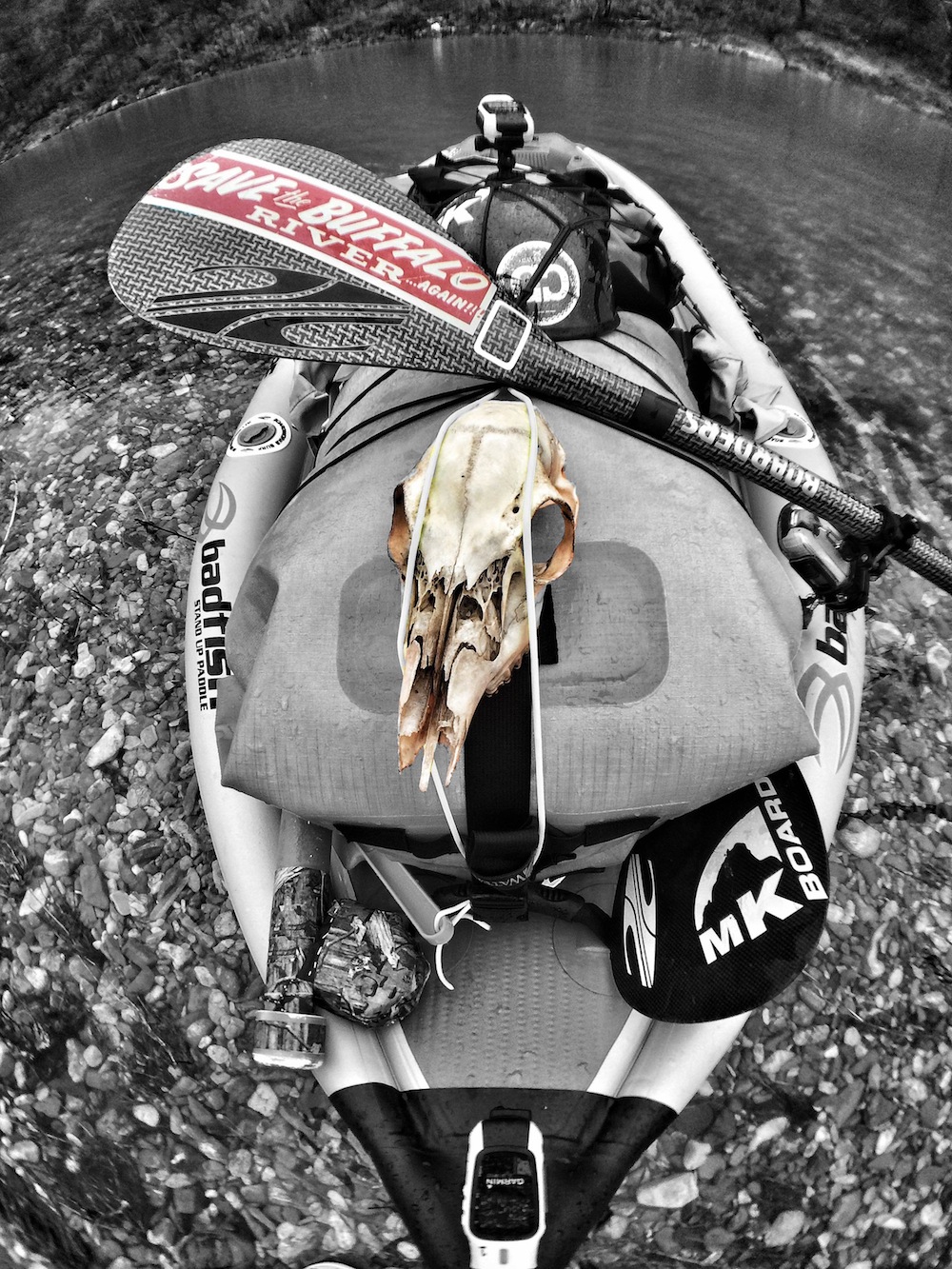 When planning a trip on a river that is highly dependent on rain like the Buffalo River, a person needs good timing and maybe a little bit of luck from the weather gods. The Buffalo River, like all rivers, is unpredictable and ever changing. It has sharp bends, class II rapids, and shallow rocky waters. I knew I could count on the Boardwork's Badfisher Inflatable SUP to carry myself and my gear.
The weather was expected to be much colder than what actually occurred and with water temperature in the mid-forties, I knew we would need dependable drysuits. Thankfully, these drysuits were provided by NRS and Supskin. As always, I would aim to pack my Watershed dry bags lighter than prior expeditions, yet provide enough food to provide adequate calories for the week ahead. To help with cool nights and protection from the sun during the day I depended on AFTCO's technical clothing to keep me warm, yet sweat-free, and protected from the elements.
Having never grown up around the state of Arkansas, I feel that many American people do not truly know what beauty this state holds, almost as if keeping a secret from the rest us. The beautiful fourteen hour drive led us to a small bunkhouse in the town of Ponca. The following day we explored local trails and hiked to recommended vistas, taking in the views and seeing the river from a higher vantage point. We took in the winding river below in all its glory, anxiously anticipating the next few days.
See more SUP Expeditions with Gabriel Gray here.
The first day of paddling saw a crowd at the launch site. | Photo: Jackson Berger
Our first official river day began with a busy crowd at the launch site that was also eager to get out and explore the turquoise waters. With our boards finally in the water, that first stroke brought on a feeling of relief, while I took in a deep breath of the cool crisp air. It is hard to explain the calming happiness that can overcome someone when facing a few days out in nature at her mercy away from the hustle and bustle of everyday life. These are the days I work hard for all year and are so grateful to have the opportunity to enjoy.
Later into day one we explored an old farm house we saw from the bluff on the day prior. History was literally glued to the walls as old newspapers provided insulation for the residents seventy plus years prior. We ended the day with a hike on the Hemmed-In-Hollow trail to the tallest waterfall that lies between the Rockies and the Appalachians.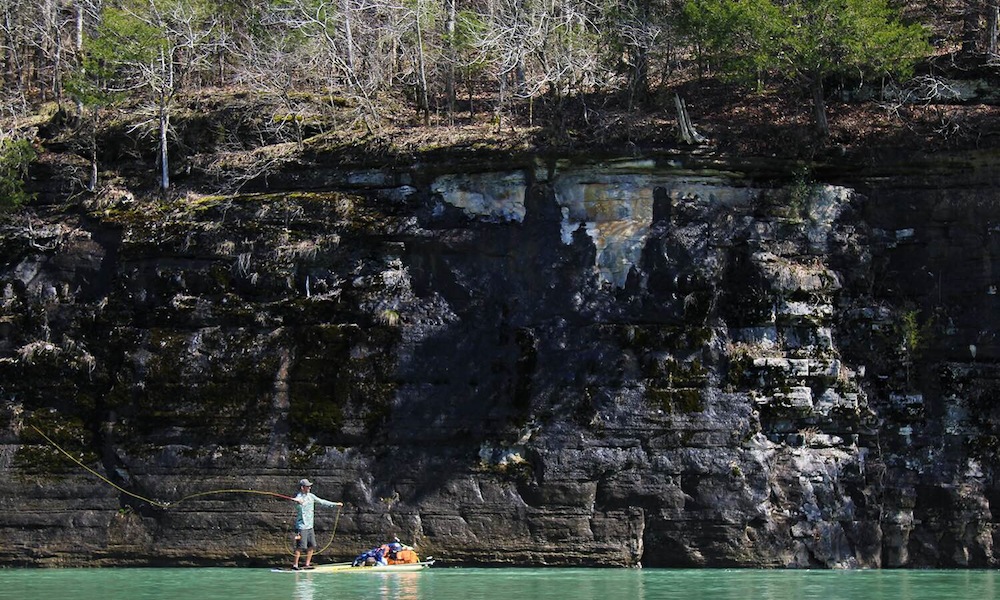 Fly fishing was one of the activities enjoyed during the journey. | Photo: Jackson Berger
Over the next few days we encountered wildlife of all sorts and picked up trash we found along the way. We were able to enjoy fly fishing, exploring, and surfing some small rapids. Majority of the people I spoke to shared that they thought the upper portion of the river was much more beautiful than its lower portion. After experiencing both sections, the lower portion was by far my favorite. Its vast scenery and abundant wildlife made for a breathtaking appearance around every bend. We were greeted by otters, beavers, eagles, deer, and even a baby pig swimming across the river. Which I'm not going to lie, I did attempt to try catching the little guy for dinner, but at that moment with Jackson trying to get a picture of the swimming pig his paddle fell in the water. Fortunately, the escaping paddle saved the little guy's life as I went for it instead. The karst topography of the land displayed its uniqueness by the outpouring waterfalls flowing from the side of the towering limestone mountains above us. Sadly, this was also a reminder of how fast pollution can travel into the river.
| | |
| --- | --- |
| | |
Hiking and camping, all a part of the journey. | Photos: Jackson Berger
Day four we visited the river town of Gilbert. We beached our boards hoping to explore the town, it turned out that everything closed after 3pm with the exception of an RV convenience store. The old man inside warned us of a big cat down river at a nearby creek and to expect some inclement weather and not to camp too low to the river's edge. Taking this advice we walked back to our boards and were joined by a friendly pack of town dogs to see us off on our voyage. Setting up camp that night, we saw an angry storm heading straight for us. The lightning and thunder came rolling in only to completely split us, avoiding our site completely. Even gifting us with a double rainbow all the way across the sky, reminding me of that one YouTube video, and if you haven't seen it I recommend checking it out.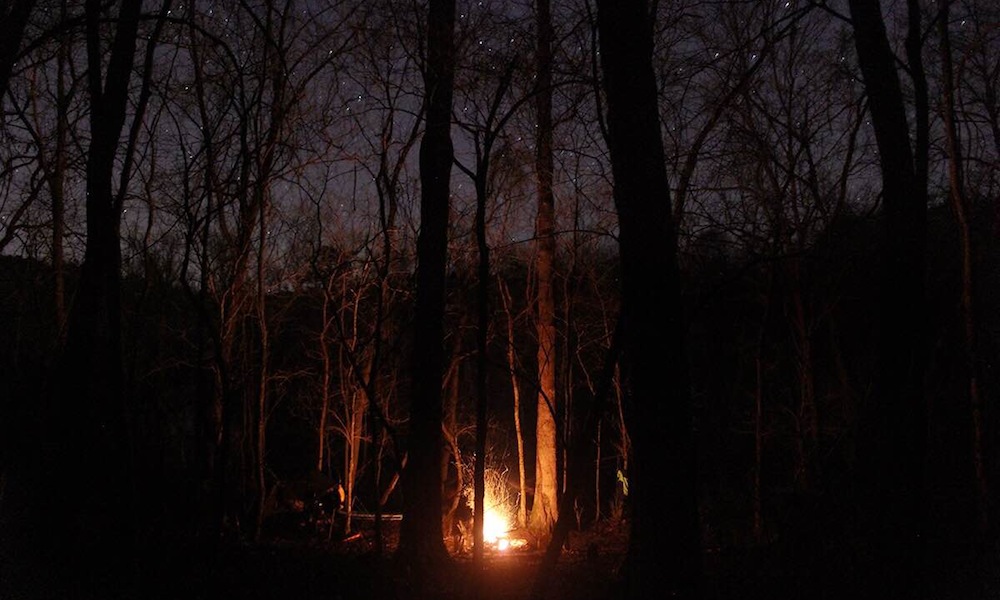 Campfires along the river. | Photo: Jackson Berger
As the sun set on our fifth night, ominous dark clouds were seen in the distance. At this point we had been without cell service for a few days, so other than the man the day prior, we didn't have a clue about any upcoming weather. The chilling cold and rumble of neighboring thunder urged us all to eat a little quicker and to set up our Warbonnet hammocks and secure our rain flies faster. Once hunkered down, the light tapping of rain began hitting our tarps. The rain fell harder and a sense of concern occurred, wondering if what was heard in the distance was going to be coming straight for us.
The rain turned into a roaring continuous downpour, the temperature dropped and we were embraced with hail, thankfully our rainflies withstood the beating. The next morning, we awoke after little sleep to a river that was 3-4 ft. higher and flowing quicker, almost as if it was reborn. We were completely unaware of the destruction caused by a band of deadly tornadoes that occurred miles away. The fast flowing soul of the Ozarks decided to save us an additional day and carried us home a whole day early.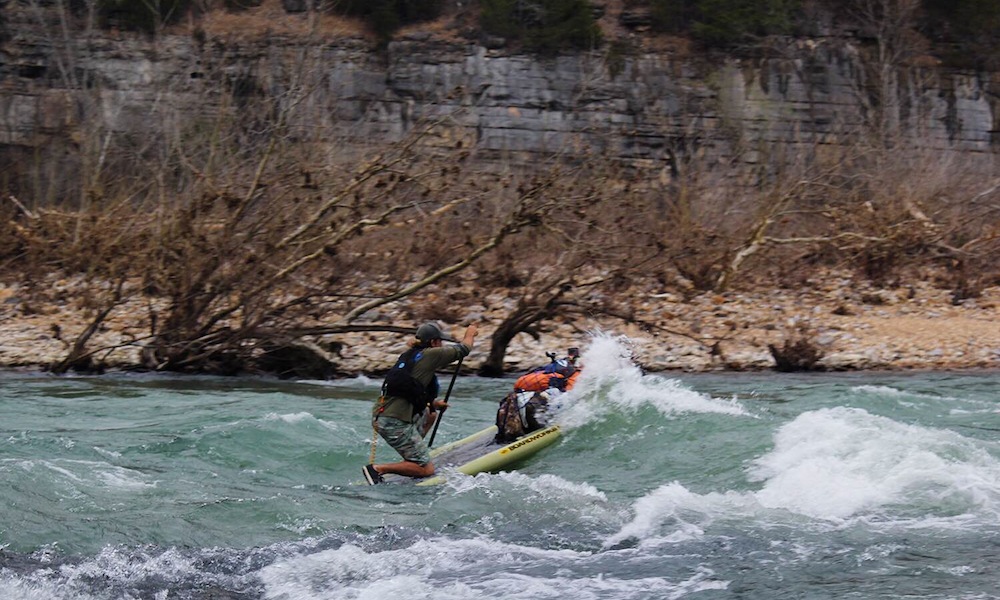 After a stormy night, water levels were high and the river was alive. | Photos: Jackson Berger

During our week on the river the moody weather was fascinating to experience, and provided prime water levels for our journey. As we made our way down the river we caught the eyes of many people, all seeming a little perplexed seeing three men in bright colored drysuits 'tom sawyering' by on paddle boards. This created a good way to begin a conversation with people and helped in explaining our purpose on the river. The feedback from those we spoke to were all extremely positive and the people were all welcoming. I hope this trip affected those we met and opened the eyes of even a few viewers on social media.

I want to thank everyone who is continually fighting for the Buffalo National River and trying to preserve other rivers like it. The Buffalo National River's issues needs not just the state of Arkansas attention, but the whole countries. Please go to buffalowatershedalliance.com and sign up or even donate to help support the Buffalo National River.
I would also like to thank AFTCO clothing for stepping up to support a small town guy like myself and helping support this journey in hopes of spreading awareness. I hope y'all enjoyed this journey and will continue to follow along on future Gray Outdoors projects and Fight to SOAR expeditions. For more information please visit Grayoutdoors.com or visit the Fight to SOAR Facebook page.
Check out the highlights video from the expedition below.
Have you recently gone on a SUP Expedition and want to share your story with us? Send us an email.
Last modified onThursday, 10 November 2016 11:20

Panama City Beach, Florida - Gabriel Gray is a river SUP extraordinaire. Born and raised on a farm in North Florida, most of his teenage years were influenced by the Wassica River and the Gulf of Mexico; He developed an early passion and respect for Mother Nature and the ocean at an early age learning to survive off of the land around him. Once he found the sport of SUP he integrated his two passions which was super easy and started expedition paddling to help spread awareness for what he grew up loving as a kid, the outdoors and Mother Nature.
Website: www.grayoutdoors.com/
Email

This email address is being protected from spambots. You need JavaScript enabled to view it.