Bart de Zwart Finishes World's Longest Race on a SUP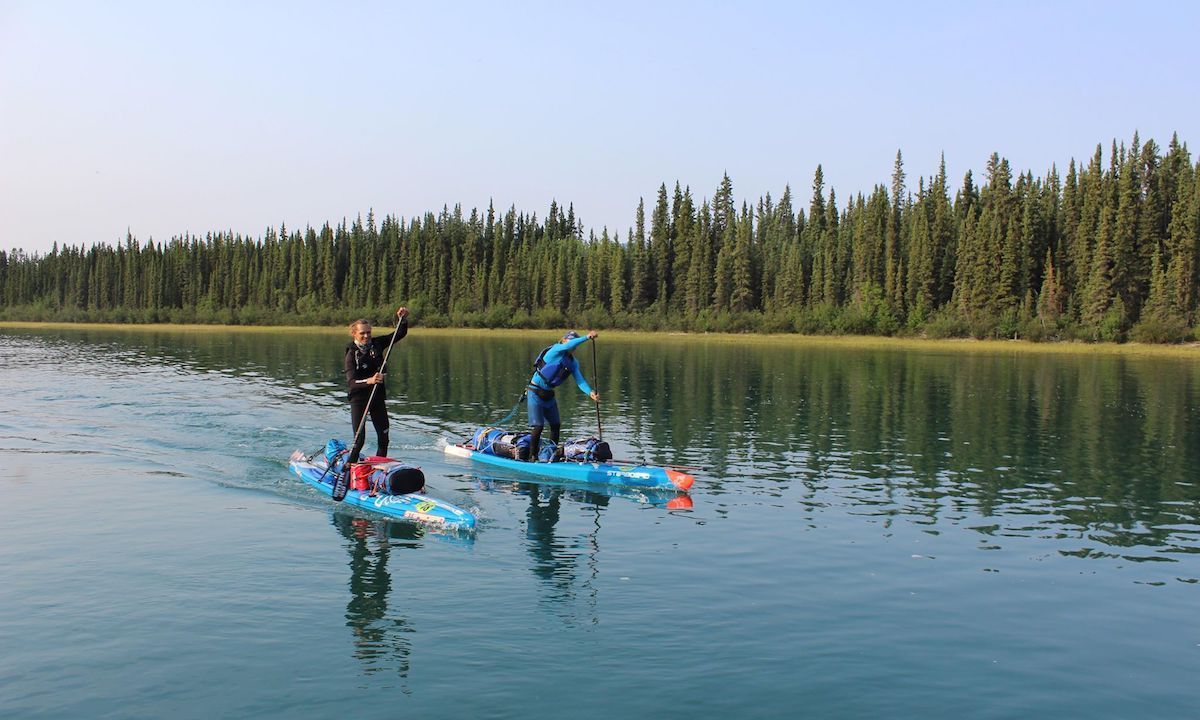 Ike Frans (left) and Bart de Zwart (right) off the grid in North America. | Photo Courtesy: Bart de Zwart
YUKON, Canada - The Yukon 1000 is the world's longest canoe race and takes place every other year. The Yukon 1000 is a 1,000 mile, self-supported race from Canada into the Alaskan backcountry and finishes in the Arctic circle. Teams must navigate the total isolation of the Alaskan wilderness, relying only on each other. The Yukon 1000 follows the footsteps of early adventurers, immersing paddlers in the raw, untouched wilderness that few humans will ever experience. No phones. No satellite navigation. The race is a true digital detox and is a race without safety blankets or back ups; there is no one to follow.
Traditionally a canoe race, stand up paddling has been a new addition to the race and this year Bart de Zwart and his teammate Ike Frans finished the race in first on their stand up paddle boards. Here, Bart recaps the race and what it was like to paddle for 18 hours a day, 8-days straight in the North American wilderness.
"The first evening when we made camp at 11:00 at night, after a very long day of paddling, we realized that it was going to be a grueling race. I was on a Starboard All Star 14 x 24.5 with about 80 lbs of food and gear. This board or the 26" wide are the best boards for a race like this because they can carry the gear and will still be fast.
We found a place to camp pretty quickly. After we checked for bear footprints, I started to pitch the tent and Ike started to cook water for our dry freeze meals. We were trying to be as efficient with our time as possible, knowing we only had 6 hours. During this race there is a mandatory 6 hour break starting latest at 11pm until 5am. That is 6 hours to make camp, eat, sleep, eat again and pack back up. That means 3-4 hours of sleep. The routine worked well for us so we kept this for the next 8 days. We even made a fire to keep us warm while we ate which I think was a very important part of our trip. When you paddle for so many hours you are sore and tired but sitting around that fire and being in one of the most remote places of the world made it very special. We woke up surprisingly fresh and ready for another day. The weather was great, almost even too good because it was too warm. It was cold in the morning but by 11:00am we were splashing ourselves with water to cool down.
Photos Courtesy: Bart de Zwart
Ike and I were a good team, we worked well together and instinctively felt when we had to adjust pace when one of us had a slower hour. The first part of the race I know well because of the Yukon River Quest. So we didn't have any new navigation issues. You have to race this race as a team because of safety.
The concept of staying together was new to me but I enjoyed the company, the cooperation and the fact that you really had to completely race as a team. John, the race director, told us the day before the race about the rules but also about the risks and responsibilities involved in this race. The dangers of wild life, hypothermia, heat exhaustion and the fact that you are days away from help if needed. So everything you do, you do with care, not overdoing anything or taking unnecessary risks.
We had to carry a big list of compulsory gear, bear spray, food for 11 days and any other items which we needed for survival if something would go wrong. But with that there was a lot of gear and a lot of weight on the board.
It took us three days to get to Dawson, basically the only one of two places where there is good road access, after Dawson you are on your own. There would be only a few tiny little villages without any roads or transportation to get out of there. During those three days we started to better our routine. We were even getting used to the 18 hour days of paddling. By then we had a solid lead in front of the other stand up paddlers and felt very confident about finishing the rest of the race. But the lack of sleep always slowed us down for a couple of hours each day, which we called the sleepy phase. To snap out of it we tried talking, eating something or when it was bad we did a 15 second sleep. We would lie face first over a bag and try to relax for a minute, and usually we could fall away for a few seconds. The instability of the board wakes you up instantly but this usually helped.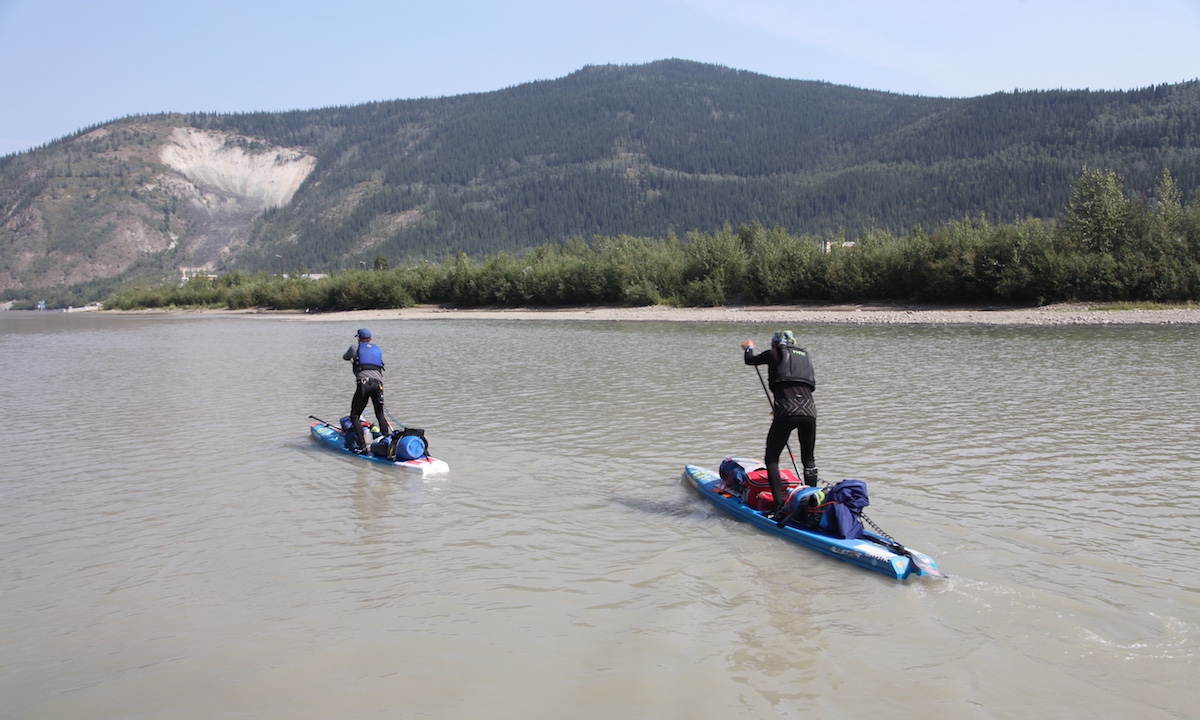 Photo Courtesy: Bart de Zwart
18 hours of paddling a day is a long time so you break it down in smaller steps. I was doing the navigation with maps. Every map page was about 1 to 1.5 hours of time. We'd eat almost every hour and drink all the time. As much calories as you can get in. In the middle of the day we had a longer 10 min stop with different food that we both looked forward to. It is very hard to know what food you will like during the race. I learned from my last long races that variety is key and that only cereal bars is horrible. The longer the race the more salty and fatty foods I bring. My day bag contained bags of mixed nuts, few cereal bars ontbijt koek (Dutch special cake) and our favorite was fancy health food crackers with peanut butter and beef jerky.
On the river often the 18 hours fly by and it is not boring because you are navigating most of the time, looking for the faster currents, looking for wild life and the scenery around us. And it is stunning. The scenery is lots of green, river banks and mountains and rock formations. You do feel tiny in this giant green space the size of Europe with only a hand full of people in it.
By day four we had seen eagles, moose, beavers and we had passed by several wild fires, sometimes burning right next to the river. Sometimes dark clouds threatened us but we never got rain and the temperatures, especially during the day, were great.
On day 5 we crossed the border at Eagle, a small village. To enter Alaska and the USA you have to call at a special phone booth with a direct line to US immigration after giving all your details we were allowed to enter and we jumped on the board and continued our journey. At this point in the race we went back and forth with a canoe with two big English fellows who had previously crossed the Atlantic in record 50 days in a rowing boat. Later they told us that The Yukon 1000 was a more physical and mentally difficult race than their crossing.
That night we had a nice camp spot with a beautiful midnight sunset. Most of the days the last 4 hours before camp were tough. We were tired of the whole day, had sore muscles and were ready for a good meal and a good sleep. Sleeping was easy. As soon as we put our head down we were out until the beautiful sound of our 4am wake up alarm.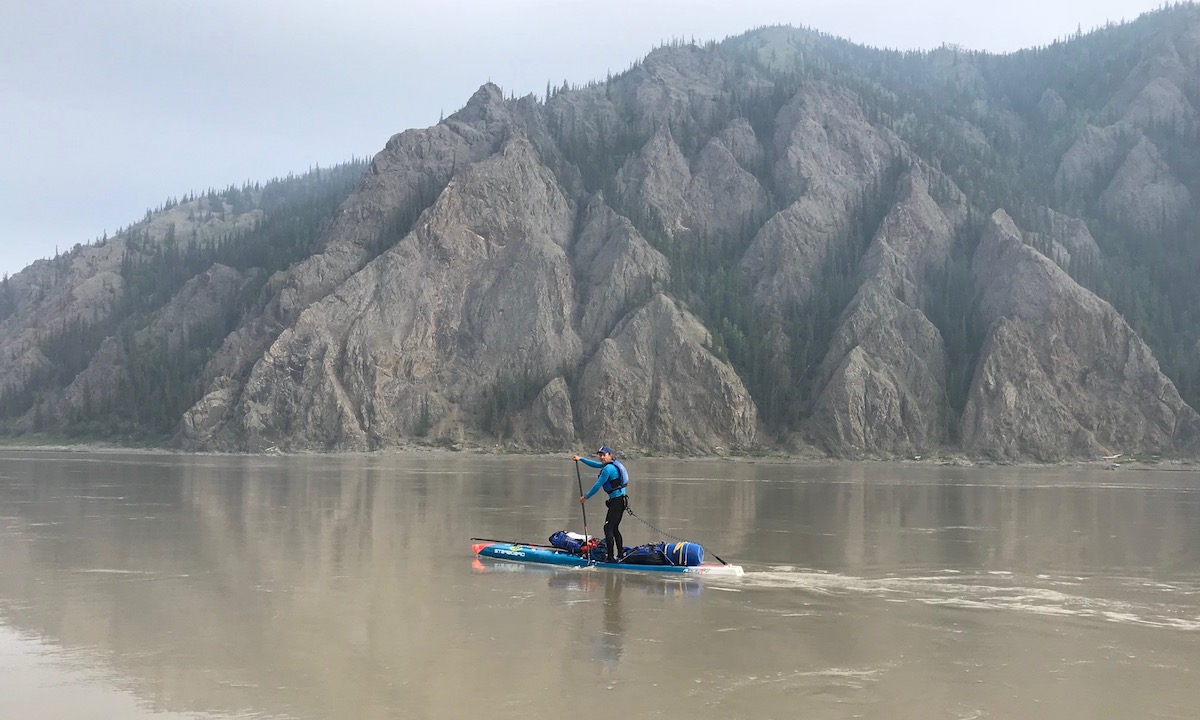 Photos Courtesy: Bart de Zwart
We had days with light breezes but also days with a strong head winds. On day 6 we entered the flatscreen and crossed the Arctic circle. Here the scenery changes. There are no more more mountains and there are many little islands with many different routes to go, some have current some very little. Navigation is very critical here, a small mistake may put you back 30 minutes a big one many hours. The winds started this day very early, straight from the front and fiercely strong. Sometimes we had a hard time moving at all compared to the water, luckily the currents here were still good and kept us going in the right direction. By the end of the day we were super tired and felt every muscle hurting. We found a good sandy spot and beached our boards and took off the bags. For good measure we checked the sandy beach for bear footprints and found really fresh big prints with small ones next to it. This wasn't good. Bears are very protective of the cubs. The prints looked still so crisp like they had just been there. After a short discussion we decided to leave and find a safer spot.
The next day we wanted make it by 11:00pm (end of day 7). When we started in the morning we felt right away that we had gone very deep the day before. The back muscles, our knees and legs were all sore and it was still a long way to go. The highlight of the day was the bear we saw when we passed by the river bank. I saw it moving but when it saw us he stood on his back legs to check us out, looking and smelling. Then it decided he was going to make a run for it along the river bank and later climbed up the bank. We both watched in awe just taking in the moment not even trying to get a camera just enjoying this.
We almost made it in at the end of day 7 but were a few hours shy since we had to stop by 11pm for the compulsory 6 hour break. We stopped early at 10pm for our last night on the river. Again saw footprints but not as fresh so we decided to camp.
Early the next morning we paddled the last 4.5 hours and finished the race in 8 days 1 hour 42 min and were the first SUP. We gave each other a hug and received our coins from the race director. The finish was under the Dalton highway bridge. One of the two bridges we passed in the 1000 miles (1600km). This is the only road to go all the way north to Deadhorse (the name speaks for itself). There is a small restaurant, place to sleep and a few houses.
The next two days we spent recovering, talking story with the canoe teams and we wanted to be there when the next two SUP teams came in. After completing this race you know how much physical, but especially mental strength, this requires. On a Standup paddle board this a tough race so we wanted to show our support and respect for both SUP teams.
Apart from some damaged nerves in my finger and toes my body is recovering well. It is really astonishing what your body can do and that it even can recover during the race. My team mate Ike Frans was super great. I knew he was a strong paddler but I had asked him because I knew he had the right attitude and mental strength. These last two are far more important in this race then anything else. You are literally on your own and depend on each other. We always valued each other's strength and never had any issues. It is important to talk about disagreements directly when things come up right away. We never had any though which made it so good. Little sleep and 18 hour paddling every day is not an easy situation if the synergy is not right. The other thing is preparation. Use all your equipment, food and gear, test it and feel what works and what doesn't.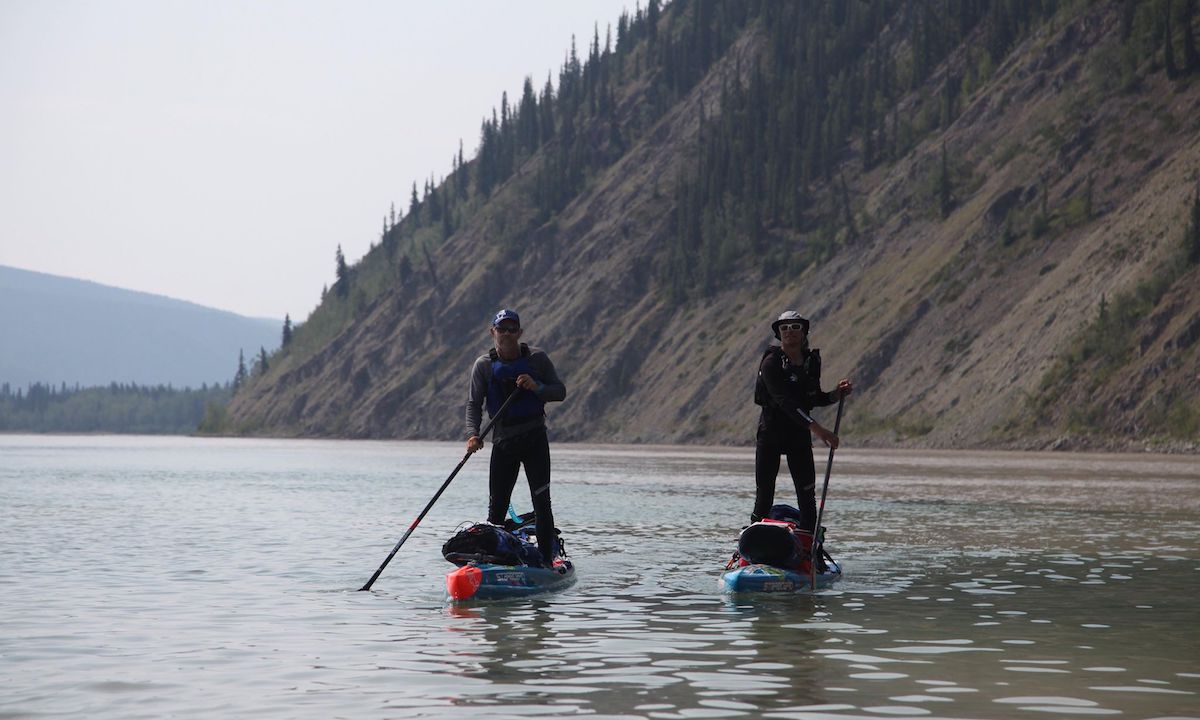 Bart (left) & Ike (right) on a mission. | Photo Courtesy: Bart de Zwart
We have met some special people in the race and after the race. The harsh environment in this area attracts many special individuals. Truckers driving the ice highway, fur trappers and a father and 12-year-old son who were walking from dead horse to Valdez a 12 weeks hike. A special thanks goes to the race organizers Jon and Harry who put all their heart into it and did a phenomenal job. If you ever want to do the longest race in the world and are ready for an adventure of a life time, than this race should be on your bucket list. But be prepared and forewarned it is very tough and the race organization does a good vetting process. This year 15 teams started but 17 teams were turned away for lack of experience."
For more SUP Journeys, click HERE.
Last modified onTuesday, 14 August 2018 14:49

Submit your news, events, and all SUP info, so we can keep promoting and driving the great lifestyle of stand up paddling, building its community, and introducing people to healthier living.
Website: supconnect.com
Email

This email address is being protected from spambots. You need JavaScript enabled to view it.