Bart de Zwart Embarks On Marquesas Expedition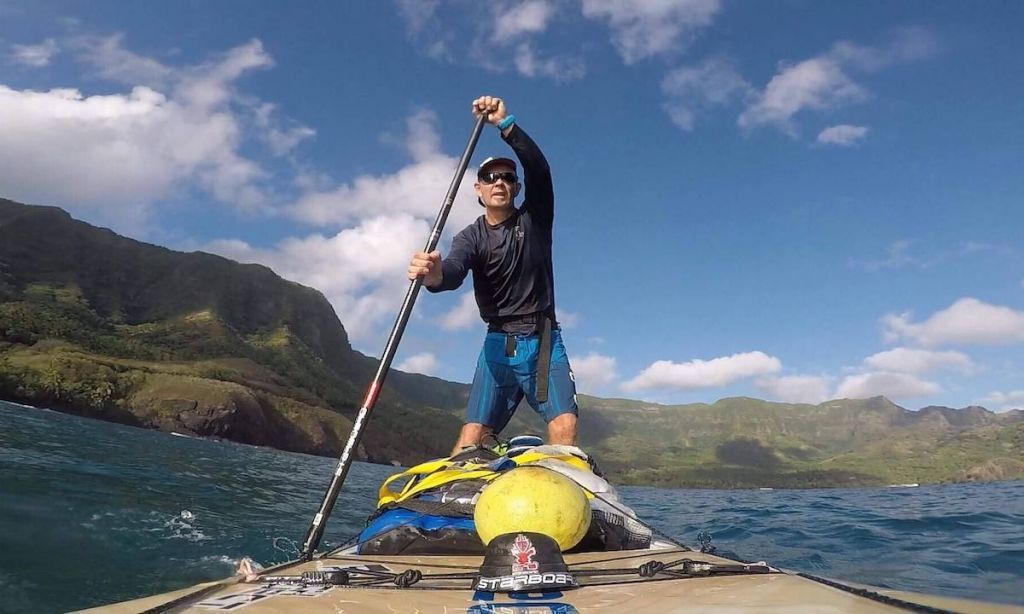 Bart de Zwart embarks on his first crossing from Hiva Oa to Fatu Hiva. | Photo courtesy: Bart de Zwart
HIVA OA, French Polynesia - Expedition warrior Bart de Zwart embarked on the first leg of his Marquesas Islands crossing on April 17, 2018. The Starboard athlete flew to the islands from Tahiti, landing in Hiva Oa to begin his exciting solo journey. Upon his arrival on the island of Hiva Oa, he drove through the mountains to a tiny fishing village called Puamau, which happened to be home to one of French Polynesia's biggest and most well preserved tiki statues.
"After a walk to the Tikis, I set up camp in a small open building on the dock to set up my board and pack everything on my board. The first crossing was going to be the hardest, mostly because of the wind angle, little on the nose," says Bart.
Bart planned to begin his expedition paddling and windsurfing from Hiva Oa to the island of Fatu Hiva. Early on the morning of April 17, Bart took off from Hiva Oa heading northeast. With the help of his windsurf rig, he hoped to get to Fatu Hiva in one reach.
"The wind was a lot lighter than forcasted and my progress was minimal. I want to make it before dark but that was not happening but the wind angle looked just perfect so that's why I decided to continue," says Bart.
Bart's campsite on Fatu Hiva (left). Bart windsurfing during his island crossing (right). | Photo courtesy: Bart de Zwart
Throughout this first leg, the wind continued to fluctuate, making it difficult for Bart to maintain a good speed. At times, he believed he was not going to make it and would have to try again, but at other moments it looked much more optimistic. Having previously traveled to the island, Bart knew that a night arrival into Hanavabe Bay would not be an issue. So despite the light wind conditions, he charged on. In the final two hours of the trip, the wind completely died so Bart paddled the final stretch, arriving in Hanavabe Bay, Fatu Hiva at 11 p.m.
Upon arrival, a sailing boat had just docked from the Galapagos and kindly offered Bart a place to sleep for the night so that he didn't need to find a place for his tent in the middle of the night. This came as a very sweet surprise after a long and strenuous day on the water.
"I was very grateful after this 16 hr day. Right now I am about to explore the island after setting up the tent and gear on a perfect spot over looking the bay which is astonishing," Bart tells us.
We will be following Bart's expedition as he continues his voyage through the Marquesas Islands! Learn more about Bart HERE.
For more SUP Journeys, click HERE.
Last modified onMonday, 23 April 2018 12:25

Born and raised in the Golden State, Marissa Scheid is a true California girl through and through. She grew up in Livermore, a Northern California city in the suburbs of San Francisco's Easy Bay Area, where she developed a passion for writing and a love for competitive sports, especially soccer. After finishing high school, she moved down the coast to San Diego, California to study World Literature at UCSD and play for the university's collegiate soccer team. Transplanted from a town in the wine country to one of California's most beautiful coastal cities, she quickly grew an affinity for the water and all aspects of the ocean lifestyle.
Email

This email address is being protected from spambots. You need JavaScript enabled to view it.