Paddle Boarding, Australia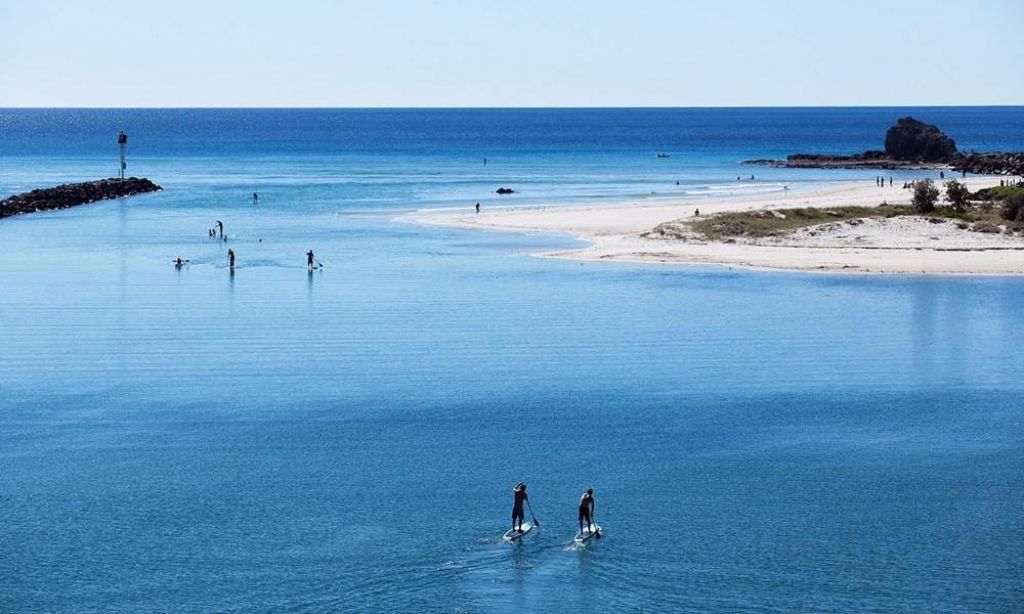 Paddle boarding Currumbin Creek in Queensland, Australia. | Photo Courtesy: Nick King
If you're interested in stand up paddle boarding or simply a fan of the outdoors, you'll have a great time in Australia. The low population density has enabled much of the coastline to remain in pristine condition. You'll come across national parks with native wildlife, and marine reserves with an abundance of fish species, dolphins and whales, situated close to all capital cities. It's well worth the long flight to Australia to enjoy these world class paddle boarding hotspots!
Highlights
Fairy Bower and Shelly Beach, New South Wales

Paddle boarding Shelley Beach. | Photo Courtesy: Nick King
Sydney beaches are postcard perfection, but in reality, the waves and rips are more suitable for experienced surfers than stand up paddle boarders, not to mention the crowds of tourists you'll have to zig-zag through. Locals will tell you that the best place in Sydney for paddle boarding is Fairy Bower. It's located just below the popular Manly Beach on the north-shore (if you're staying in the city center, it's only a short ferry ride from Circular Quay).
Fairy Bower and the adjacent Shelly Beach are part of the Cabbage Tree Bay Aquatic Reserve, a protected area with more than 160 species of fish. Many of the species are visible from shallow waters, and on a good day you might see a seahorse or even a dolphin! After an enjoyable day of paddle boarding, take some time to relax in the Fairy Bower pool, a rock pool cut into the edge of the coastline. Or take advantage of the barbecues and showers at Shelley Beach.
Palm Beach, New South Wales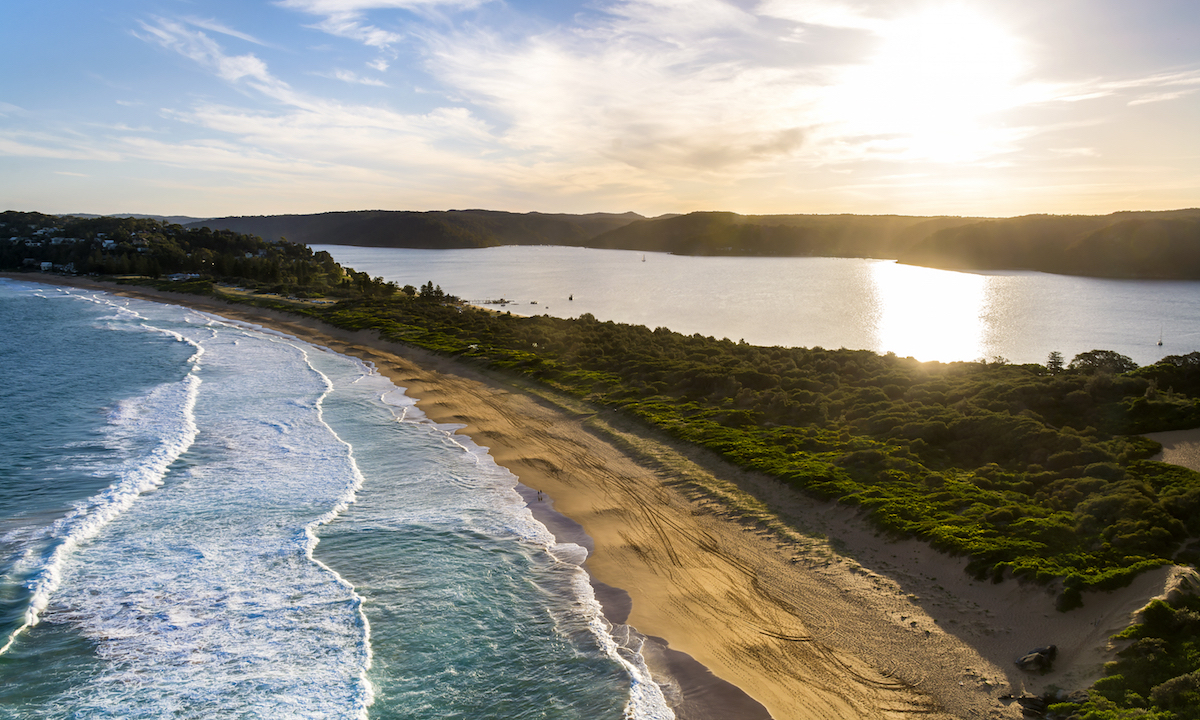 Aerial view of Palm Beach. | Photo: Shutterstock
After having some fun in Sydney, you may wish to get outside of the city and visit somewhere a bit quieter. Palm Beach is one of those natural, laid back beach towns that Australia is known for. If it looks familiar, you've probably seen it on the TV show 'Home and Away'.
Palm Beach is only 90 minutes from the Sydney city center via public transport. The beach is 2.3km (1.42 miles) in length with most paddle boarders using the calm south end which is protected by the cliffs of Barrenjoey Head. Adventurous paddle boarders may wish to ride the exceptional waves at the northern end.
If you're visiting between May and November, you may be lucky enough to spot a humpback whale as they migrate along the coast. Kangaroos and wallabies can be seen close to the beach all year around. At the end of your day of paddle boarding, take the ferry to the Basin Campground in the nearby Ku-ring-gai Chase National Park.
Half Moon Bay, Victoria
Cerberus Shipwreck at Half moon bay,Victoria,Australia. | Photos via Nick King / Shutterstock
When visiting Australia's second largest city, Melbourne, most people will head straight to the popular St Kilda Beach. Like most Melbourne beaches, on a good day you'll find the conditions to be calm and ideal for paddle boarding. But if you're seeking something spectacular, steer clear of the tourist traps and head south to Half Moon Bay.
Half Moon Bay is a hidden gem located 20km (12 miles) south of the city center. As you may have guessed, its name is derived from its crescentic shape which protects it from wind and waves. There is a beautiful, sandy beach with honey-colored limestone cliffs at the northern end, where starfish, sea urchins and other marine life can be spotted in shallow rock pools.
What makes this location even more interesting is the shipwreck situated in the middle of the bay. No need to rush, the HMVS Cerberus has been there since 1926. Once you've finished paddling, grab some fish and chips from the Cerberus Cafe, sit back on the beach and enjoy the sunset over Port Phillip Bay!
Exmouth, Western Australia

Turquoise bay, Ningaloo Coast, Cape Range National Park, Western Australia. | Photo: Shutterstock
Have you seen photos of Australia with never-ending beaches of pure white sand and clear blue water? It's likely you were looking at photos of Exmouth and the surrounding beaches of the Western Australian coastline.
When the winds are down, beaches such as Turquoise Bay and Sandy Bay are the most stunning and memorable places you'll visit. The water here is shallow enough to see Green Sea Turtles, Butterfly Fish, Anemone fish and the occasional Reef Shark (don't worry, these guys prefer small fish and crustaceans to humans).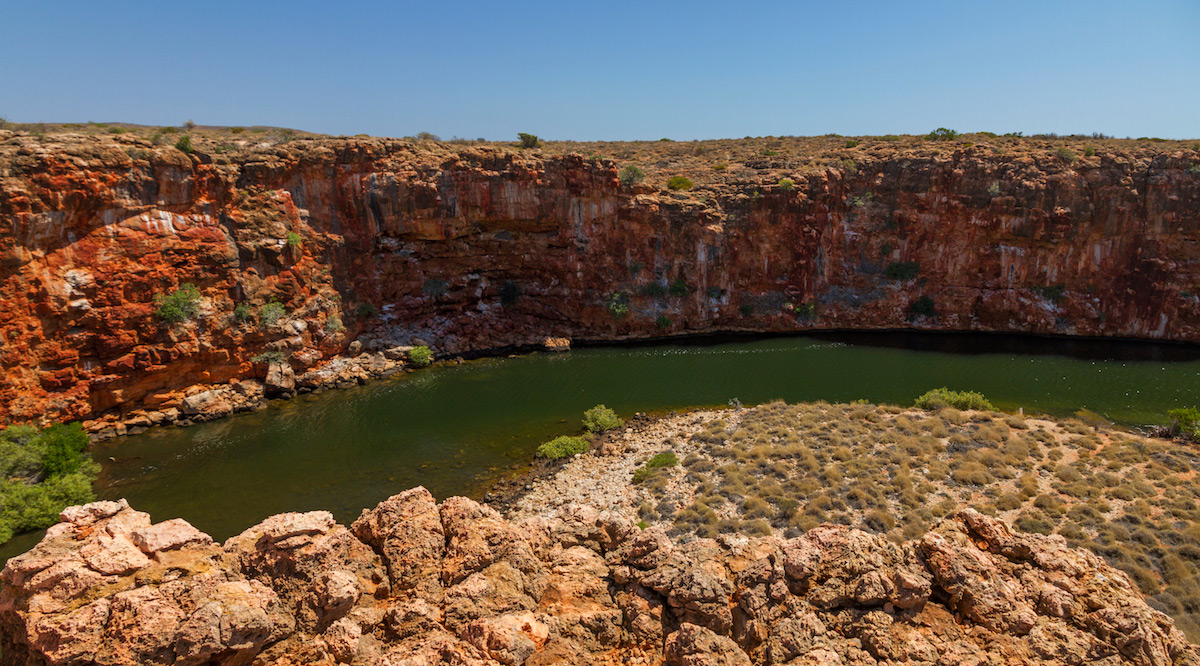 Yardi Creek. | Photo: Shutterstock
Yardie Creek is another excellent location and a suitable alternative if the beaches are a little windy. This will see you paddle boarding through the sheltered Yardie Creek Gorge, where you can admire the red limestone cliff faces. You'll be surrounded by plenty of birds and wildlife, such as the black-footed wallaby and red kangaroos. The 2km (1.2 miles) walk to the top of the gorge cliffs is well worth your time – the views of the Ningaloo Reef are spectacular!
Currumbin Creek, Queensland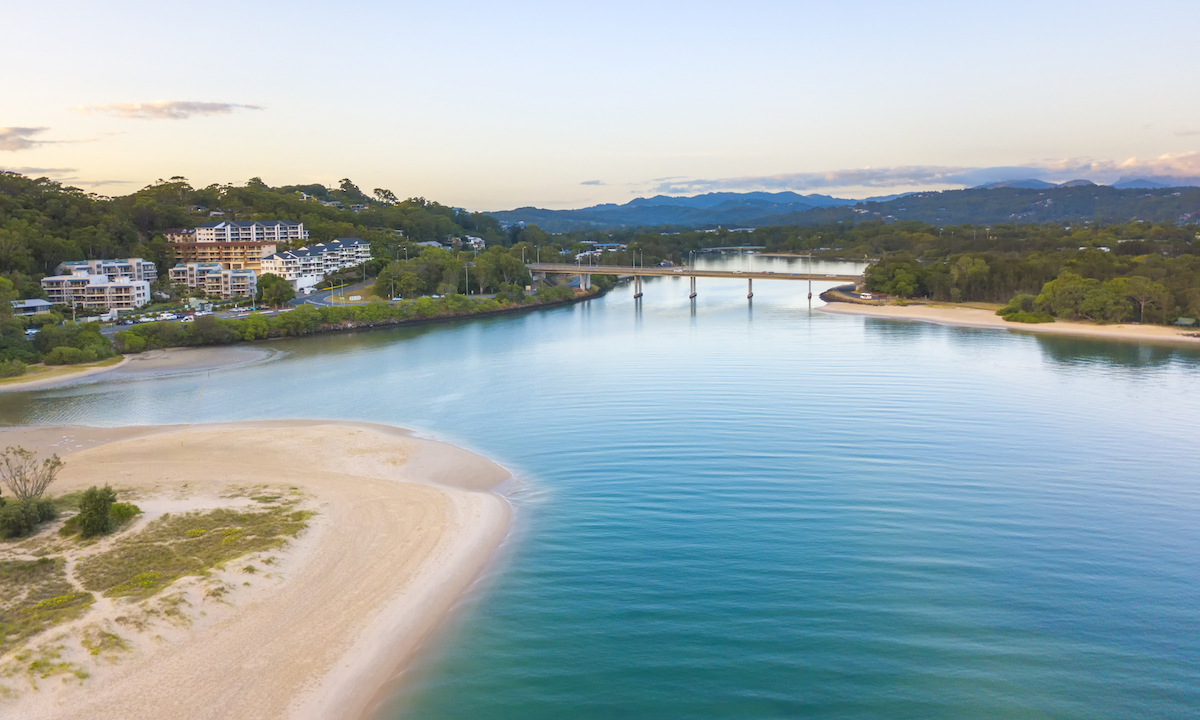 Currumbin Creek from an aerial perspective in the morning. | Photo: Shutterstock
The 14km (8.6 miles) return trip starts from the sheltered beach of 'The Alley', where you then paddle into the winding, beach lined estuary. This paddle transitions from beaches and waterfront mansions to pristine rainforests; how's that for variety?
If you're in town for a while, you may also wish to check out Tallebudgera Creek, where you can paddle through the stunning bush lands of the Burleigh Heads National Park.
Derwent Valley, Tasmania

Tasmania Hobart view on the city below from Mt Wellington day time aerial panorama above terrain valley and Derwent river and landmarks. | Photo: Shutterstock
The Derwent River SUP School provides tours winding through the states mountainous central highlands and world heritage area, flowing into the Derwent Valley before it reaches the ocean outside of Hobart. Locals and traveling paddle board enthusiasts recommend accessing the river in the Derwent Valley, just outside of Hobart.
Paddle along the tree lined river, past the hop fields and the restored historic coast houses where locally grown hops were dried and used for making beer.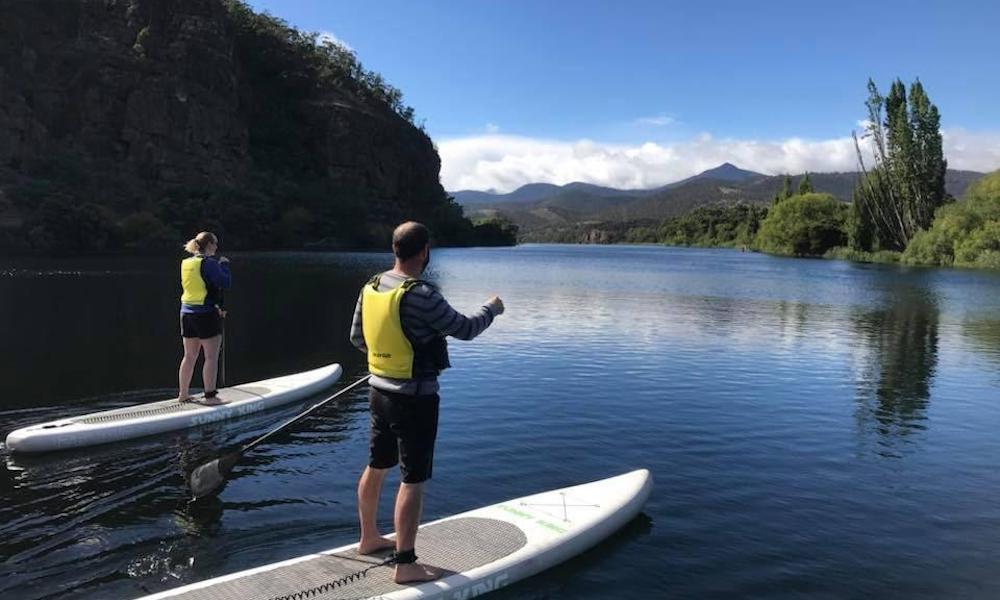 Paddling through Derwent Valley. | Photo via Nick King
Seasons
If you're from the northern hemisphere, just remember that Australian seasons are the opposite of yours. However, Australia is an expansive country and the weather conditions do vary a lot depending on how far north or south you venture.
The southern states of New South Wales, Victoria and Tasmania are best visited from September to April. During January, with average temperatures range from 26 degrees Celsius (78 degrees Fahrenheit) in Sydney and Melbourne to 22 degrees Celsius (71 degrees Fahrenheit) in Hobart.
However don't be discouraged from paddle boarding if you're visiting during the cooler months. Australian winters are not as cold as those in United States and Europe, with average July temperatures in Sydney 17 degrees Celsius (62 degrees Fahrenheit), Melbourne 15 degrees Celsius (59 degrees Fahrenheit) and Hobart 12 degrees Celsius (54 degrees Fahrenheit).
Western Australia and Queensland have warmer temperatures which most people would find suitable for year-round paddle boarding and swimming. However it's best to visit the very northern parts of Queensland, Northern Territory and Western Australia during June to September, as these waters can be inhabited by Stingers and Box Jellyfish.
To explore more SUP destinations click HERE.
Last modified onMonday, 09 August 2021 19:43

Nick has been a water sports enthusiast his entire life, starting with surfing at age 5, progressing to international ultra-endurance ironman triathlons and for the past ten years has been madly into stand up paddle boarding, creating his own brand 'Sunny King Stand Up Paddleboards' back in 2008. Nick designs and sells SUP's from his Melbourne business SUP Warehouse and is passionate about getting young children involved in outdoor sports and healthier active lifestyles.
Website: https://www.supwarehouse.com.au/
Email

This email address is being protected from spambots. You need JavaScript enabled to view it.