Paddle Boarding Cape Town, South Africa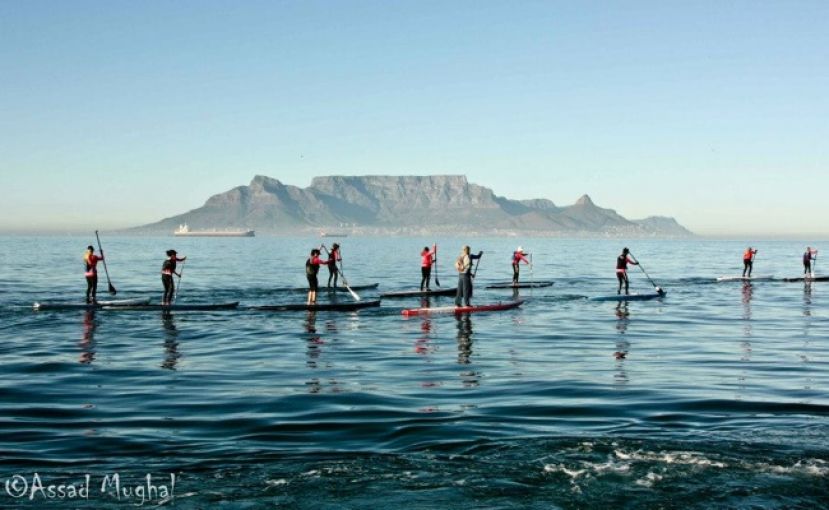 Cape Town's iconic mountain. Image courtesy of Greg Bertish/ Assad Mughal
Summary
---
The city of Cape Town is crowned and guarded by Table Mountain, one of the new Seven Natural Wonders Of The World. This iconic backdrop sets the tone for what lies ahead on both sides of the peninsula, where the Indian and Atlantic Ocean meet in dramatic fashion at the Cape of Good Hope. There's something for all paddlers in the nooks and crannies that mark the coastal path up the West Coast (which terminates at the border of Namibia) and down towards the East Coast that takes you down to Jeffrey's Bay along the Garden Route; from miles of scenic downwind routes and flat water zones, to some of the best SUP/Surfing you'll find anywhere. With a full tank of gas, a local guide who knows their way around and a bit of enthusiasm, you could go exploring for months and still not see everything.
1. The city will hypnotize you - it's extremely beautiful.
The water will snap you out of hypnosis very quickly - it's freezing. Nor Cal freezing, with an added wind chill that cuts through human bones.
Sharks. Not to be too alarming, but there are some big buggers swimming around.
November to April are perfect for downwind and flat water paddling. From May to October you can expect some slightly harsher weather with plenty of open-ocean swell, ideal for SUP Surfers who like a bit of juice.
There's great variety. From beautiful flat water stretches to waves so big and mean they'll scare your unborn children.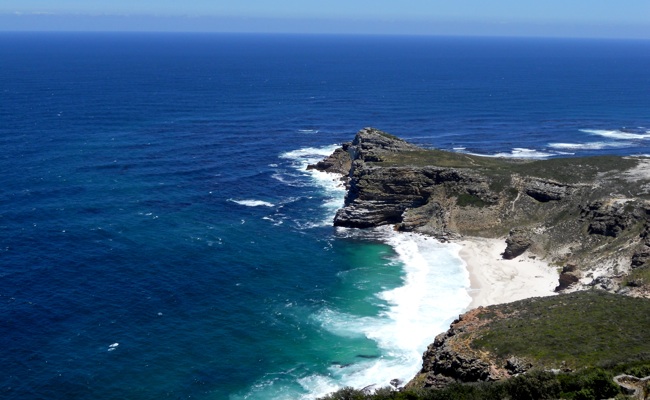 The Cape Of Good Hope
Seasons
---
The season's in Cape Town are quite defined for a coastal city. Winter is largely characterized by icy nights and mornings, with bouts of rain and cool, fresh winds that can turn from a light breeze into a gale force squall in minutes. You'll need to bring a layer or two of neoprene, especially if you're going paddling outside the city. This region of the country is very diverse in terms of landscape, setting and coastal direction, which creates micro-climates; it might be raining and onshore on one side of the peninsula, while the other is sunny and offshore.
"Summer is awesome and there is racing, canals , ocean, lakes, downwinders, and Surf Sup in Boardies. Winter- its more for the core SUP crew- full suits and big waves. Reverse downwinders, in driving rain and 30 knot squalls," says Greg Bertish, one of South Africa's most accomplished paddlers and watermen.
Summer in Cape Town is warm, windy and perfect. The kiting community goes bananas at Cape Town's exposed beaches from December till March, when the prevailing Southeasterly winds sideswipe the beaches on the Atlantic coast. It's days like this that having a big mountain in the middle of the city provides more than scenery - it'll be calm on the side protected from the wind.
Gear
---
If you're not traveling with your own gear, Ocean Riders offer board and paddle rentals from the V & A Waterfront, Muizenberg, Clifton Beach and Strand - perfect starting points for your trip. Greg Bertish is the man to ask for. Something worth noting is that the water in Cape Town is very, very, very cold throughout the year. The prevailing Southeasterly winds that blow during summer make it even colder during those months, so don't bank on the warmer season for a change in water temperature. If you're going to Surf, bring at least a three millimeter wetsuit in case you fall in - unless you don't mind taking an extremely refreshing dip every so often. If the waves are small or you're going for a paddle in flat/calm water, all you need is a comfy pair of trunks in the summer.
1. Hot Spots

---
Camps Bay/Clifton/ Sea Point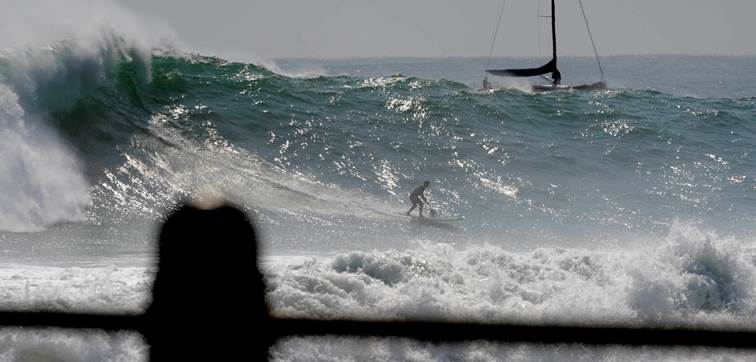 Greg Bertish at a lesser surfed spot along the Sea Point Promenade
Camps Bay is the city's premium beach, lying seductively in front of the Twelve Apostles (the spine of Table Mountain). There are palm trees and fancy bars lining the road side, where surfers, sun worshipers, celebs and paddlers knock back cocktails and beers after a day at the beach. It's a scenic spot that is largely protected from the wind - except when it's blowing straight into the bay - making it perfect for a long, leisurely paddle around the peninsula. You can go from Camps Bay to Clifton, an equally picturesque nook around the corner, and onto Sea Point, in an hour. Sea Point is slightly more exposed, with a few good surf spots along the way, if you feel comfortable enough to brave the kelp and reef.
Muizenberg
Muizenberg is more of a beginner's wave riding spot, where a bulk of the surf schools and SUP rental facilities operate. The waves are soft, crumbly and consistent, and you'll be in good company.
Dolphin Beach and Big Bay
Dolphin Beach (or Seli 1, as it has become known more recently) and Big Bay are two heavily populated spots along the western coast of Cape Town. Both are easily accessible from the main road and user-friendly during the slow summer months (the wave size gets a bit more gnarly in winter). Weather permitting, it's one of the most enjoyable spots along the West Coast. One of the biggest draw cards is the views you'll have of Table Mountain and Robben Island.
Other Paddlers

---
"There is a great SUP community. Both the Social & competitive scenes are growing. Local clubs are starting, and there are events popping up almost every second weekend," says Greg Bertish, who is at the forefront of South Africa's SUP scene, along with his brothers Chris and Con.
.
Last modified onWednesday, 28 January 2015 10:58

Truscott is a widely published author in the surfing and travel world, has a master's degree in creative writing, and comes from a diverse backgroun in water sports.
Email

This email address is being protected from spambots. You need JavaScript enabled to view it.