Great Turnout For 13Th Annual Surftech JayRace
MONTEREY BAY, California - Sunny skies and happy vibes graced the 2014 Surftech Jay Memorial Paddleboard Race, an annual event honoring one of Santa Cruz's favorite sons. This year saw a great turnout in all divisions; the 12 mile Long Course, 2 mile Short Course, Waterman Challenge, kids races and prone. Check out the results listed below. For more information about the race and a full list of results from this weekend, click here to the JayRace website.
Below is the official ress release from Surftech.
SANTA CRUZ, California - Of the nearly 400 competitors who took part in last weekend's Surftech Jay Race, most had more than just the finish line in mind. While competitors at races around the world focus on getting themselves on the winner's podium, the Jay Race has a focus much like that of its namesake. "Live Like Jay" was written on the event t-shirts, race jerseys, bracelets and posters. Kim Moriarity sums up the saying's meaning:
"To live from your heart, follow your passions and dreams, and live with a conscious positive energy that inspires others to want to be better people."
The 'Live Like Jay' vibe was not only present on the beach, it was prevalent on the race course!
If you ask anyone who has competed in the Jay Race over the past decade, they will tell you that no one embodies the humble, friendly attitude that Jay Moriarity was known for more than 2014 Jay Race Prone Paddleboard Over-all Champion, Aaron McKinnon (Capitola, CA). McKinnon first competed in the Jay Race short course in 2003 and since then has dreamed of someday standing atop the Jay Race podium. Aaron's dream was fulfilled 1:49:01 after the start gun sounded on Saturday.
"My plan was to be the first one to the Surftech buoy (first turn buoy) and then settle into a comfortable pace after that," commented McKinnon. Aaron was first to the Surftech buoy and never looked back until he crossed the finish line well ahead of the rest of the field.
On the SUP side of things it was quite a different scenario. Matt Becker (Santa Barbara, CA) was the defending SUP Division champion and was the favorite going into Saturday's race. Challengers such as America's Cup champion, Jimmy Spithill (San Francisco, CA) and Portland's, Jarkko Simonen knew they had their work cut out for them if they were to dethrone the reigning champ. Becker, on his new 2015 Bark "D2" race board was confident in his preparation and his new board.
"I've really been focused on my training this year, more so than ever before," explained Becker. "Joe (Bark) and I have been refining my boards in the off-season and my new 14' D2 is by far the fastest board I've ever paddled! It felt amazing throughout the entire race!"

Becker crossed the finish line with a time of 1:54:15 and a new 14' SUP Class course record! Becker's time was two minutes ahead of Simonen and just over five minutes in front of Spithill.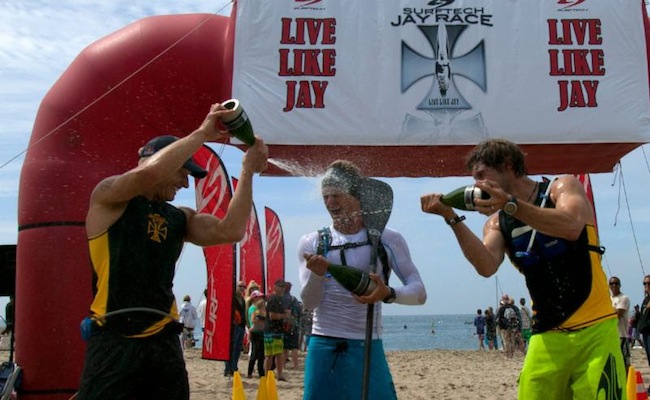 JIMMY SPITHILL, MATT BECKER and JARKKO SIMONEN KICK OFF THE POST RACE CELEBRATION!
The women's prone class was small but extremely competitive. 2010 Womens prone winner Maya Sprinsock (Santa Cruz, CA), Ocean of Hope's Aimee Spector and notable big wave surfer, Savannah Shaughnessey (Scotts Valley, CA) all were on hand to contest for the women's prone title. However it was Jay Race rookie and 2013 Catalina Classic Womens champion, Carter Graves taking the Womens Prone title with a time of 2:11:04, almost 10 minutes ahead of second place finisher Shaughnessey.
The week before the Jay Race, Morgan Hoesterey was up in Canada where she stand up paddled just under 100 miles in three days from Vancouver to Victoria, BC. Needless to say, Hoesterey was more than ready to take on the nearly 12 mile Long Course on Saturday. Finishing with a time of 2:08:38, Morgan finished just over eight minutes ahead of Jen Fuller (Sausalito, CA) in the Women's 12'6" SUP Division.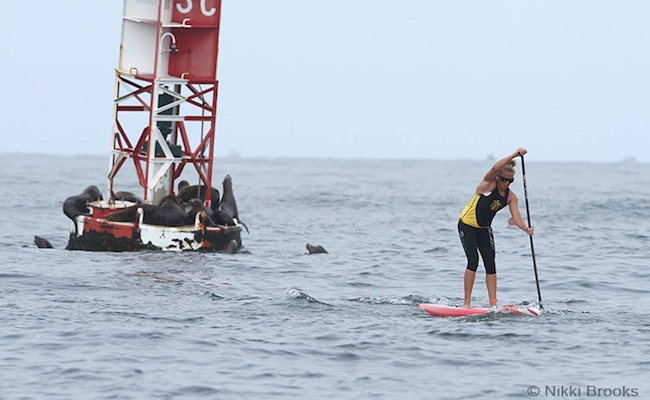 MORGAN HOESTEREY PHOTO: NIKKI BROOKS
MAJOR RACE RESULTS:
Prone Junior Women
1. Abbey Brown (Santa Barbara, CA) 2:31:49
2. Selah Bartlett (Santa Cruz, CA) 2:35:38
3. Leahi Johsens (Santa Cruz, CA) 2:50:21
Prone Junior Men
1. Ben Brewer (Santa Barbara, CA) 2:11:41
2. Kai Evans (Soquel, CA) 3:01:18
3. Kauwila Johsens (Santa Cruz, CA) 3:10:01
Prone Women
1. Carter Graves (Coronado, CA) 2:11:04
2. Savannah Shaughnessey (Scotts Valley, CA) 2:20:51
3. Aimee Spector (Redondo Beach, CA) 2:21:54
Prone Men Stock
1. Jack Bark (Rancho Palos Verdes, CA) 2:02:18
2. Shane Scoggins (Monterey, CA) 2:05:58
3. Steve Shlens (Santa Barbara, CA) 2:07:39
Prone Men Fourteen
1. Mark Schulbach (Ventura, CA) 2:10:17
2. Patrick McNenny (Foster City, CA) 2:11:30
3. Nick Bobroff (Carpenteria, CA) 2:14:47
Prone Men UL
1. Aaron McKinnon (Capitola, CA) 1:49:01
2. Todd Robinson (San Diego, CA) 1:51:18
3. Don Miralle (Encinitas, CA) 1:53:36
SUP Women
1. Morgan Hoesterey (Honolulu, HI) 2:08:38
2. Jen Fuller (Sausalito, CA) 2:16:56
3. Kalia Alexiou (Soquel, CA) 2:19:00
SUP Men 12'6"
1. Keith Meter (San Clemente, CA) 2:04:16
2. John Walsh (Mendocino, CA) 2:17:46
3. Scot Cheney (Capitola, CA) 2:18:16
SUP Men Fourteen
1. Matt Becker (Santa Barbara, CA) 1:54:15
2. Jarkko Simonen (Portland, OR) 1:56:15
3. Jimmy Spithill (San Francisco, CA) 1:59:21
SUP Men UL
1. Rob Graham (Carpenteria, CA) 2:00:56
2. Mark Christman (Santa Barbara, CA) 2:08:02
3. Billy Demartini (San Francisco, CA) 2:41:59
Check out the Jay Race web site for full results including Short Course and Waterman Challenge
THANK YOU!
Surftech would like to thank the City of Capitola, Barry Swenson, Phil Curtis, Brian Foss, Frosty Hesson, Kim Moriarity, Chris Hollingsworth, Denise White, Capitola Junior Lifeguards and Parents Club, Santa Cruz City Lifeguards and JG's, Alison Riddle, Aaron McKinnon, Nikki Brooks, Boots McGhee, Nelly, Tyler Fox, Santa Cruz Waves, Graham Nash Video, Chris Aguilar, Matt "Rocky" Rockhold, John Ribera and the Chardonnay II, Mike Egan and the O'Neill Yacht Charter, Air Guard 2, USCG Auxiliary, Murphy Wildey, Mike Altieri and all of the competitors who took part in this year's Jay Race! Thank you!

IN LOVING MEMORY OF ZEUF
This years Jay Race was dedicated to the memory of Zeuf Hesson, the "Queen of Pleasure Point" who lost a hard fought battle with breast cancer on December 9, 2013. We love and miss you Zeuffy...


Jay Race Mission
The over-all mission of the Surftech Jay Race is to encourage paddlers of all ages and genders to take to the water for friendly competition, camaraderie and to remember legendary Santa Cruz waterman Jay Moriarity. All of the proceeds from the Jay Race are donated to our local Junior Lifeguard organizations for scholarships and equipment.
Last modified onTuesday, 08 March 2016 17:43

Truscott is a widely published author in the surfing and travel world, has a master's degree in creative writing, and comes from a diverse backgroun in water sports.
Email

This email address is being protected from spambots. You need JavaScript enabled to view it.