Tips for Choosing Fins for River SUP
Written by Alex Mauer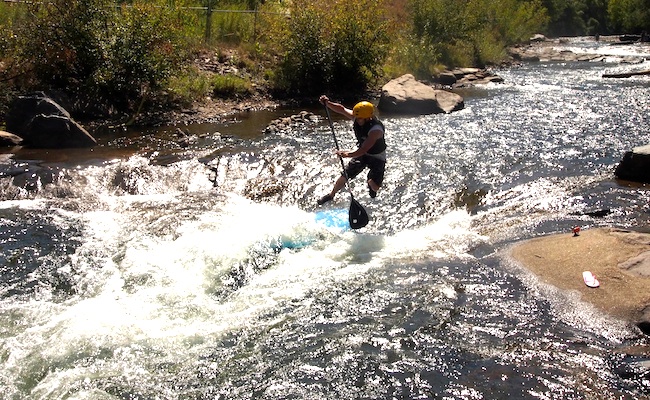 Alex Mauer riding the river.
DENVER, Colorado - Spending a lot I time on the river has taught me a lot of things. One of the most important, is that the fin you decide to put in your board can save or destroy ·your fin box. This was a lesson I learned the hard way.
Every year I like to do a 20 mile paddle down the Platte river from Chat Field Damn all the way to Confluence Park in Denver. The first decent my friend and I took ended badly. We broke a carbon fin as well as one of the side fin boxes in one of our boards! That was a fun repair...
When choosing a river fin it is important to always use a flex fin. I would suggest the Dolphin Fins by FCS SUP. Flex fins are great and allow the fin to flex around rocks or other object you may hit while running through shallow rapids and whitewater. Using a flex fin also allows you to keep the control you get with a normal sized fin.  Don't get me wrong these flex fins can still catch on an object if you hit a super shallow spot or snag on something.  
If you are running super shallow rivers and are willing to give up a little bit of control I would suggest using some Flexi FCS Dolphin Fins which can actually be cut down and sized to your liking. This will help you minimize your chances even more of getting caught up on an object in the river. These short fins may cause your board to feel a little hard to control but can be managed by making slight adjustments to your stoke.
Paddle fast and take chances.
-Alex Mauer
.
Last modified onSunday, 25 January 2015 17:47
Email

This email address is being protected from spambots. You need JavaScript enabled to view it.