Stand Up Paddle Pilates - Half Roll Down
written by Karen Mirlenbrink
SUP Exercise expert Karen Mirlenbrink of SUPilates teaches us the 'Half Roll Down' exercise. Follow along below and give it a try this weekend on your stand up paddleboard.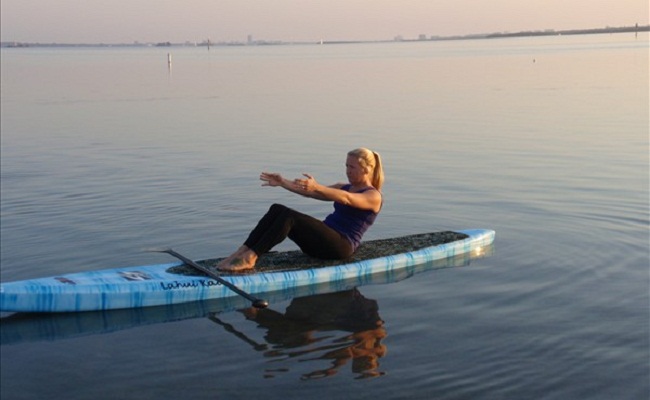 Karen shows us how to properly execute the Half Roll Down SUP exercise.
Remember to check out last week's SUPilates exercise.
Name of Exercise: Half Roll Down

Difficulty Level: Easy

Body Points: Focuses on internal and external obliques and rectus abdominis.

Benefits: This exercise targets the abdominals, as well as stretches the lumbar area of the spine.

Instruction:
Bend your knees so that your feet are flat, and hold onto the back of your thighs.
Inhale to prepare, and exhale as you start to draw the lower abdominals in and curl your tail bone under.
Continue to roll backwards as you feel your tailbone roll under you and roll down onto your lower back.
Hold the position when you are half way down.
Inhale again. Exhale and scoop the abs in more as you come forward rounding over your knees.
Inhale and straighten up your spine, one bone at a time, until you return to your starting position.
To keep your abdominals active and scooped, imagine that you are bending over a log that is in your way as you roll forward.

To make this more challenging, do not hold on with your hands. This exercise targets the abdominals, as well as stretches the lumbar area of the spine.
About Karen Mirlenbrink
Karen Mirlenbrink is an avid water woman and owner of the Dunedin Pilates Studio in Dunedin, FL. Karen is a PMA Certified Pilates Instructor, an NSCA Certified Strength and Conditioning Specialist, Certified Wellcoach and a Master Trainer for the Pilates Academy International. She also holds a bachelor's degree in Exercise Science from the University of South Florida, and has been working in the fitness field for over 10 years.

Karen's paddling background includes years of experience in Surfski, Outrigger Canoe, and SUP. She has created a program called SUPilates, that aims at teaching fitness and paddling professionals how to bring mind-body fitness classes to the stand up paddleboard. Karen is thrilled to combine her two passions, and bring her enthusiasm for paddling to the fitness industry.

Important Links:

Dunedin Pilates Studio
SUPilates
Have any SUP excerises to share? Post a picture on SUP Connect and tell us about it.
.
Last modified onWednesday, 28 January 2015 11:11

After spending the first part of her life in Minnesota, Morgan traded in her snow boots for sandals and moved to sunny California. After graduating with a degree in Communication from The University of Southern California, she eventually made her way down south to San Diego and is taking advantage of the living by the best beaches and burritos California has to offer. If it's sunny, you can find her at the beach relaxing, or exploring the calm water in the bay via paddleboards and kayaks.
Email

This email address is being protected from spambots. You need JavaScript enabled to view it.