Nutrition & Training: How Seychelle Fuels Her Body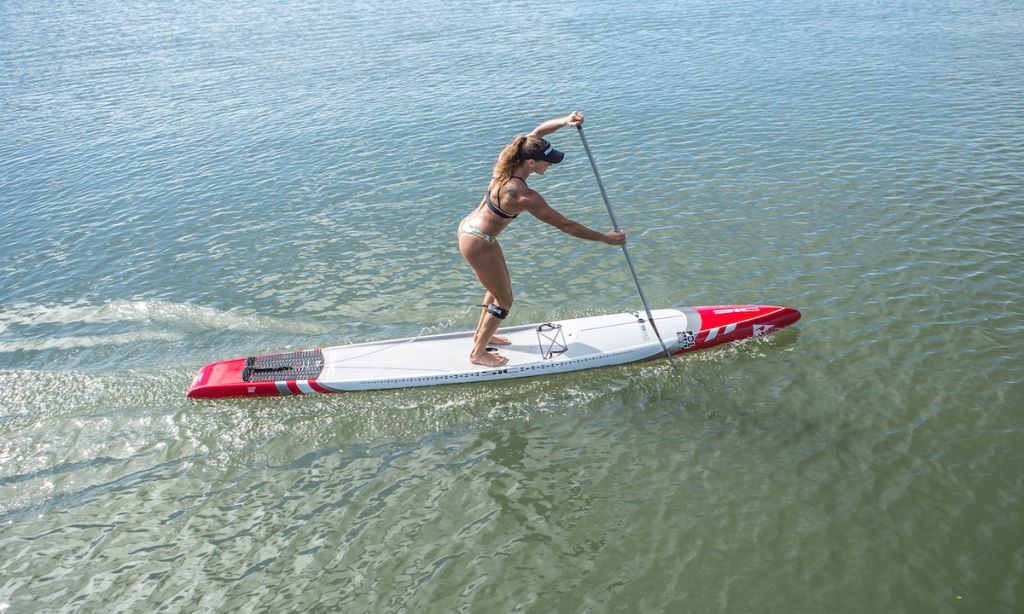 Seychelle, an absolute beast on the water. | Photo courtesy: SIC Maui
Not only is SIC Maui Global team rider Seychelle a world class athlete and world standup paddle champion racer but she's also a fitness and health guru. Seychelle's nutrition regimen is likely a huge part of why she's been so successful as an athlete and keeping herself in top shape. To get a better idea of her routine and how she fuels her body we checked in with Seychelle and asked her a few questions. Check it out:
1) For a 1-hour workout, how do you fuel your body prior, during, and post workout?
I make sure to be well hydrated and well fueled before beginning a workout. In terms of energy and recovery, I like to take a holistic approach to nutrition. It's not about what you eat right before a workout, although eating the wrong meal can certainly affect your body in a negative way. It's more about how you fuel your body on a regular basis. Developing eating habits that you don't have to think about. And having a training routine that you can stick to most days that fits with the timing of your regular meals. I try not to eat within 90 minutes of a workout as your body needs some time to digest heavy foods before cardio exercise. For a 1-hour workout, technically you do not need to take any nutrition or even water with you. Your body should have enough stored to last you this long, however I usually take 1 liter of water with me, especially in the summer when the temperature is hot! This helps me mentally more than anything. Post workout I always drink a recovery smoothie with super protein, super greens and fresh fruits.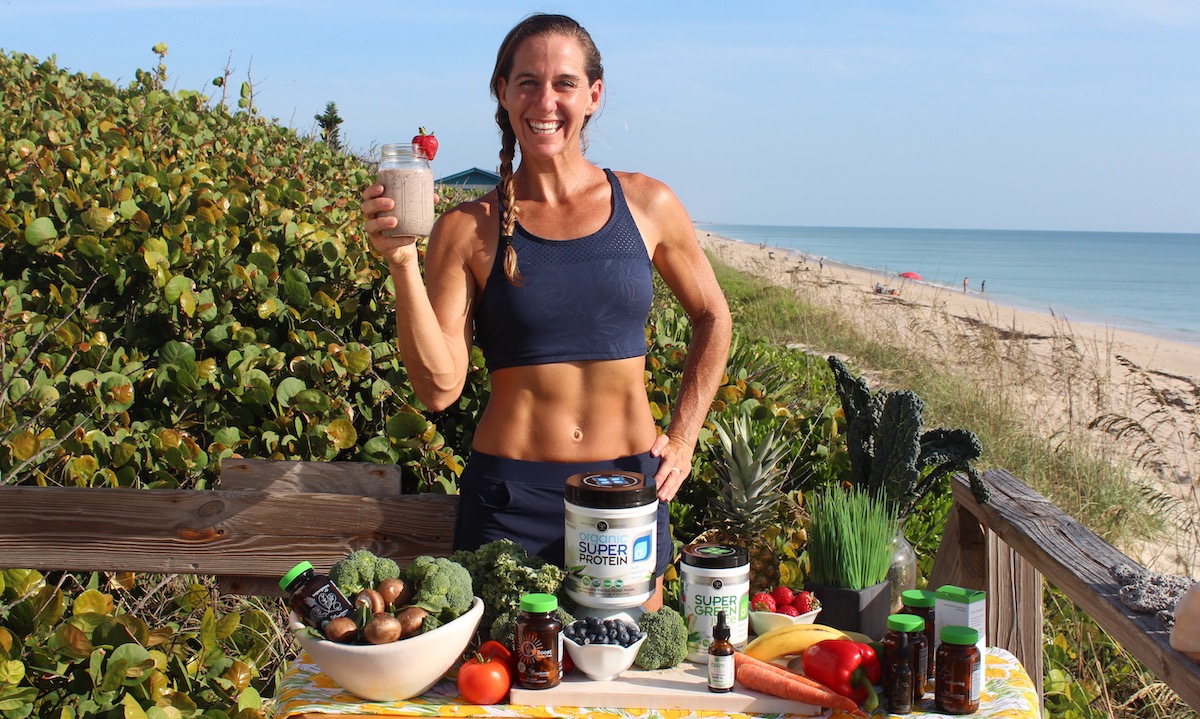 A peek at Seychelle's fuel. | Photo courtesy: Seychelle
2) For longer workouts, how do you fuel your body prior, during, and post workout?
For workouts longer than 1 hour, the same applies for my pre-training protocols. Eat a healthy diet that keeps you feeling energized throughout the day, stay well hydrated at all times, and find an eating and training routine that allows for digestion time between meals and workout sessions. If I am training for longer than 1 hour, I take with me 1 liter of water per hour as well as 1 serving (30grams) of carbohydrates and 1 serving of a high-sodium electrolyte blend. For these I use supplements so that my body does not need to digest solid foods while training and I don't have to stop and eat to refuel in the middle of a session. Post workout I always drink a recovery smoothie with super protein, super greens and fresh fruits. I find this is the best recovery meal for me as I am often not super hungry or able to "stomach" heavy foods immediately after a training session. Drinking a smoothie gets me the protein and carbohydrates that I need to recover right away in a meal that is easy to drink and digest.
For more information on the supplements that I use you can visit seychelle.thegoodinside.com. I use the Organic Super Protein and Super Green Juice as well as several other of their organic, high-quality products.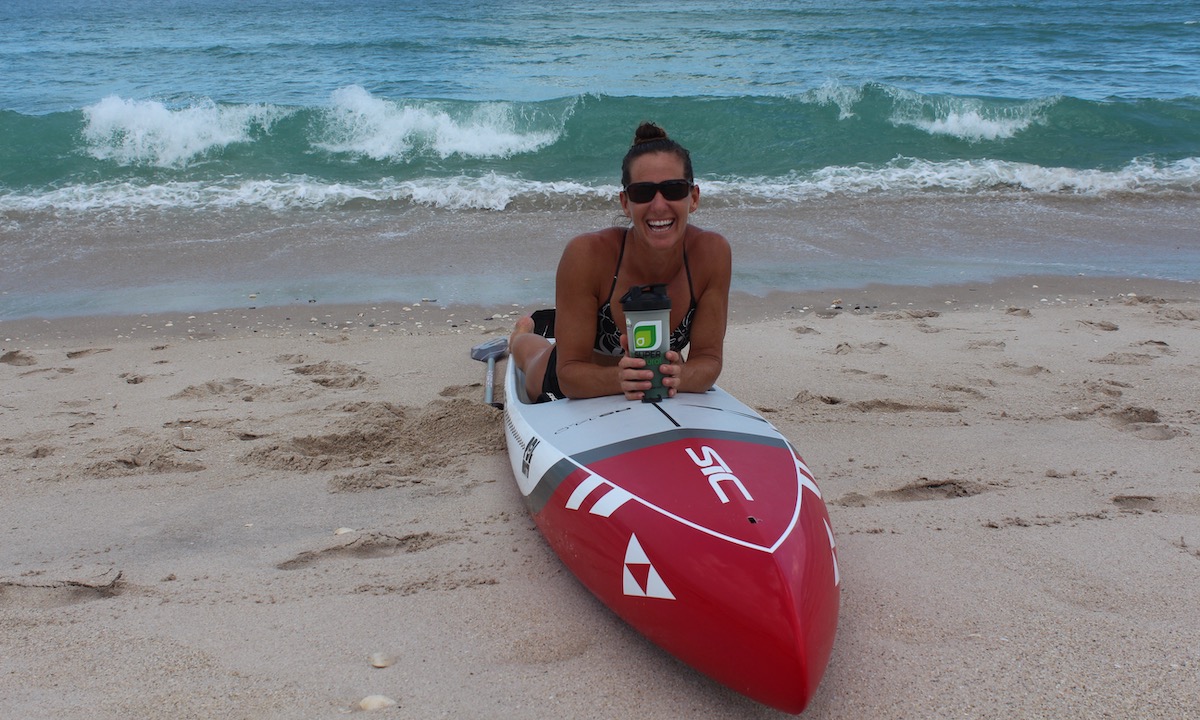 Post paddle smoothie. | Photo courtesy: Seychelle
3) On your daily diet, can you describe what your breakfast, lunch and dinner look like?
My daily diet consists of primarily organic, plant-based, and high-protein meals. Besides my recovery smoothies, I look for whole-food sources of carbohydrates, proteins, and fats and eat a balance of all three macronutrients at every meal. Lots of vegetables, nuts, beans, whole grains and fruits. I recently released an ebook of all of my favorite high-protein breakfasts, lunches, dinners, and snacks. All the recipes can be made plant-based or with animal proteins so it's really approachable for most households to try. I am currently working on version 2 to be released in August along with a round 2 of a group nutrition program to help you learn how to nourish and fuel your body for performance. If you are would like to receive more info click HERE.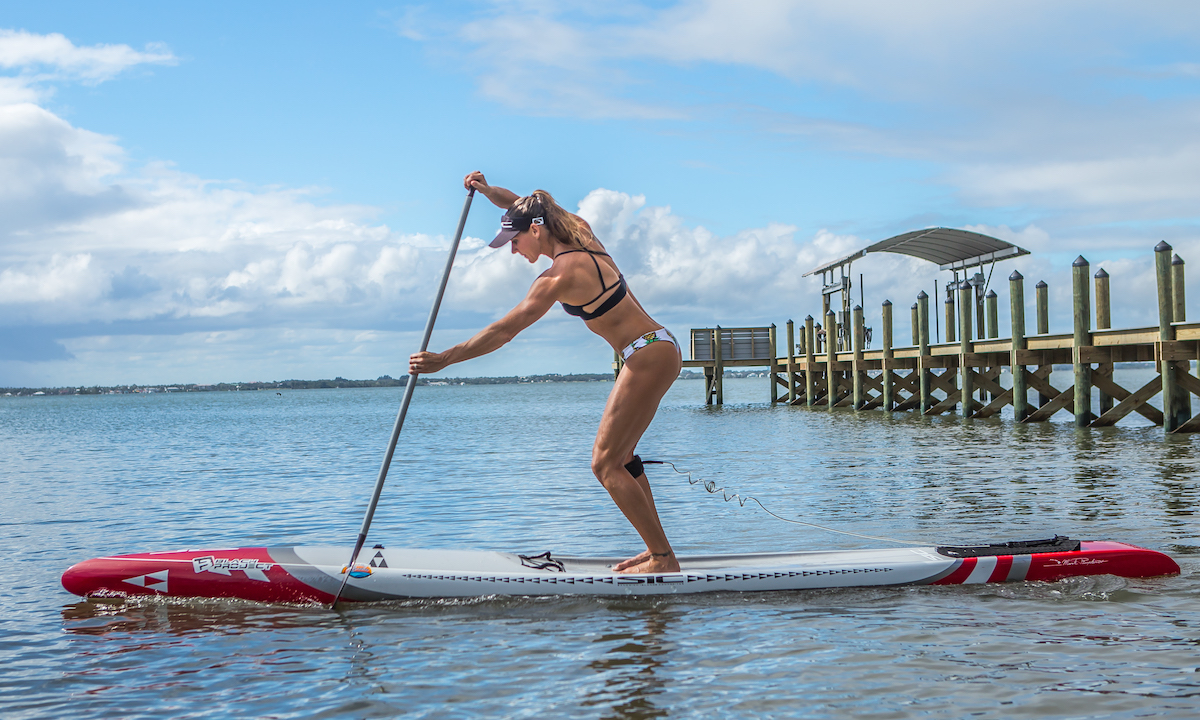 Training on the SIC Maui RS. | Photo courtesy: SIC Maui
For more on SUP nutrition, click HERE.
© Copyrighted Exclusive SupConnect.com Content.
Last modified onFriday, 28 August 2020 12:52

Submit your news, events, and all SUP info, so we can keep promoting and driving the great lifestyle of stand up paddling, building its community, and introducing people to healthier living.
Website: supconnect.com
Email

This email address is being protected from spambots. You need JavaScript enabled to view it.