How to Find Stability for SUP Yoga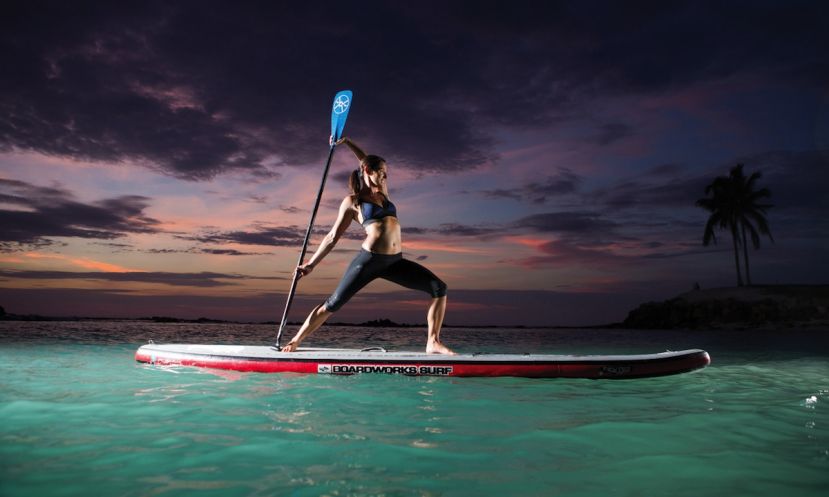 Boardworks ambassador and SUP Yoga guru Jessica Cichra recently released this awesome tutorial on how to find stability for SUP Yoga.
AUSTIN, Texas - SUP Yoga guru Jessica Cichra recently released this awesome tutorial on how to find stability for SUP Yoga. Cichra a.k.a Wave of Wellness as she is known through her blog (which is nominated for 2015 SUP Blog of the Year) travels to Austin and presents an instructional video on Stability for SUP Yoga.
Cichra uses Body Dialogue yoga principles to ground & build a strong foundation, then adds quick and easy warm ups to get you prepared for your SUP yoga practice. This routine can also be used for any type of stand up paddling experience from surfing to touring, recreational paddling & more. Here are her tips for SUP yoga stability:
1. Activate feet
Bring your feet to either side of the handle on your board or the center of your board. Feet should be hip-width or shoulder-width distance apart. From here, you need to find the four corners of the feet. Here, you want to lift and spread your toes, feeling the inner toe mound, the outer heel, the big toe mound and the inner heel.
This activates the arches of your feet. Then you want to lightly set your toes back down so that you're not death-gripping with your feet to stabilize.
Learn more about SUP Yoga here.
2. Anchor legs
Here you want to bring to attention your quads and hamstrings and you want to think of energetically sending the legs down through the deck pad to the bottom of the waterway floor. Here you want to make sure that you keep your knees relatively soft.
3. Activate Core
Squeeze an imaginary beach ball between your thighs so that your inner thighs are active. Magnatize your deep belly toward the lower back so that your core is nice and active.
4. Energy Direction
In opposition, to find the stability through length in your body, as the legs move down, you're going to energetically lengthen up through your spinal column sending the crown of your head up toward the sky.
Now that you have your strong foundation, you're ready to bring some dynamic movement into your warmup! Watch the full video tutorial from Jessica Cichra below and learn even further on how to get stability in SUP Yoga.
Last modified onFriday, 08 December 2017 17:53

Orlando, Florida. Though a SUP Yoga enthusiast, it's hard to find what Cichra doesn't do. She fishes, races, dives and much more. Cichra is one of the powerhouse names of SUP Yoga on the east coast of the USA, with lots of activities and event appearances. You can normally find her and her lovely husband every year at the SurfExpo in her city.
Website: www.waveofwellness.net/
Email

This email address is being protected from spambots. You need JavaScript enabled to view it.