How To Choose A Paddle With Kenny Kaneko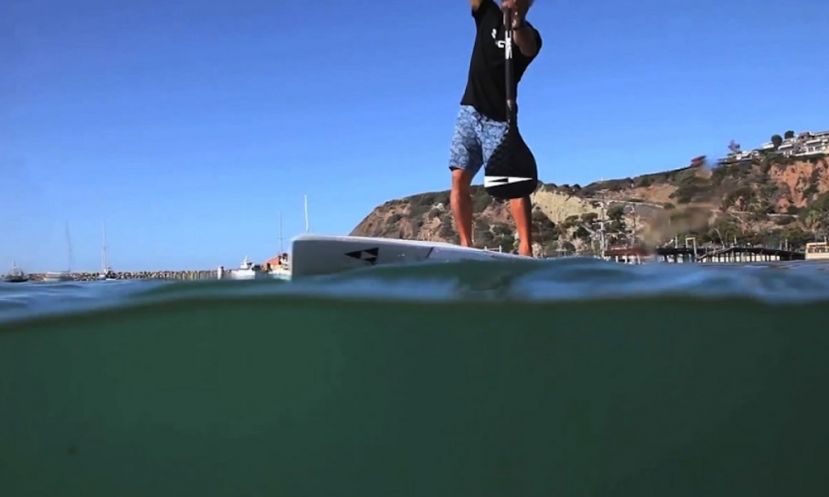 Kenny Kaneko, mid stroke.
SAN CLEMENTE, California - Choosing the correct paddle is one of the most important things to keep in mind when looking for a paddle. In this step by step instructional video, SIC Global Athlete breaks down the process by explaining how a paddler's height and weight play a role in determining how to choose a paddle. Check it out:
How to Choose Blade Size
Two things that make up a blade size is 1. the width of the blade and 2. the length of the blade. A bigger blade is going to allow you to feel the catch of the water, and for beginner paddlers, that is probably the most important thing to feel. Another way to size up your blade size is depending on your strength and weight. For a lighter paddler, around 165lbs or lighter you'll probably want to choose a paddle with an 80" size blade. For a bit heavier of a paddler, a 90" blade should work perfectly for you and if you feel like you're strong enough and big enough to pull a big blade through the water, there is also a 100" square inch blade.
CLICK HERE to see more SUP Tips.
How to Choose Paddle Length
When choosing a paddle you want to make sure that your paddle is long enough to catch the water without bending too much at your hips and at your knees. In order to find a length that should work for you, stand up straight next to your paddle, raise your arm straight and the top of the paddle should be at your wrist. Check out the video tutorial below to see video demonstrations more.
In summary, the right paddle for you is going to be what is most comfortable for you. So before going out and buying a new paddle, try and test as many paddles as you can with differing blade sizes and lengths and make sure you know exactly what you want before committing to your purchase.
To see more from SIC Maui and see what they're up to, check out the SIC Maui brand hub HERE.
Last modified onTuesday, 01 December 2015 15:15

Hayama, Japan - Kenny Kaneko is one of the top stand up paddle racers hailing from Japan and is one of the pioneers in popularizing the sport in the country. Kaneko started paddling outrigger canoe in 2008 and has been racing in Japan and Hawaii for the past 5 years. His outrigger background introduced him to the sport of SUP in 2013. As the defending Japan National Champion Kaneko has a ton of talent and a big future in SUP.
Email

This email address is being protected from spambots. You need JavaScript enabled to view it.