written by Ivan van Vuuren
While using the default "shaka" method when sizing your SUP paddle is a great start, to push performance on your SUP Ivan recommends making a few adjustments. More tips in the SUP How-to & Technique Group.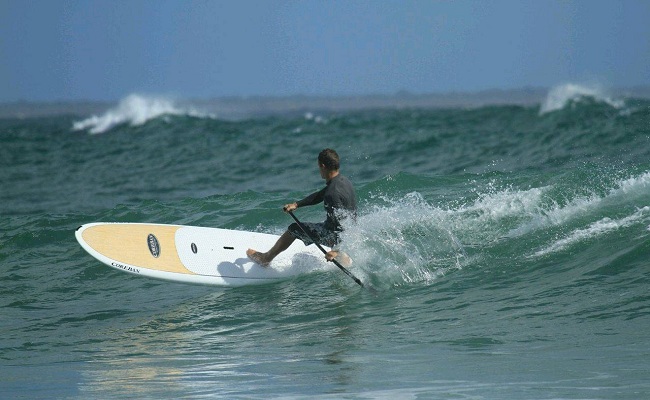 Ivan digs his paddle in for a smooth cutback on his stand up paddle board
Get more tips in the SUP How-to & Technique Group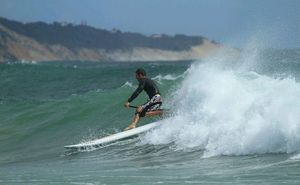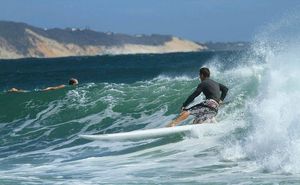 With all the conversations, blogs and forum messages over the years, one of the most common questions is "what height should I make my paddle?"

For the most part, during the early days of SUP everyone would automatically instruct the student to simply do a "shaka" or paddle 6-8 inches higher than your head, great advice especially for the early stages of entering into the sport as a novice. But what about as you improve and want to start pushing the limits and having a paddle that allows progression.

I still believe that personal preference is the key to success but at the same time not to let this mindset restrict your thinking when testing new boards, fins, and especially paddles. What size blade, what angle, how much concave in the blade, flexibility of the shaft all important ingredients when choosing the right paddle and then the big question - Does length really matter?

In SUP racing it has been proven that the exact length relative to your body height will assist in a more efficient stroke but let's zone in on wave riding and see what options we have. For the most part the 6 inch rule above your head is great but next time you get bored and want to mix up your style, try something different and shorten your overall paddle length.

Generally, depending on your paddle and the way it was assembled you can take a heat gun and soften the 2 part epoxy that binds the handle to the paddle shaft. This will loosen the handle and allow you to cut the shaft and re-attach your handle. Remember that once you cut it there's no going back so a good suggestion is to test out lengths on an adjustable paddle that allows for variation.

Initially cut shaft down to head height and reattach handle. The shortened height in itself will require a bit of getting used to, so be sure to shorten in increments as you adapt to the shorter paddle, lower overall paddle height to about nose/mouth height or 6 inches below the top of your head. Even though I have personally been using this height for some time now and adjusting my style accordingly, keep in mind that initially it will take a bit of adapting and also making a mental note to drop your arms when paddling to allow for a stronger stroke.

Overall the pros of a shorter paddle seem to outweigh the longer option for wave riding especially in smaller waves. Quicker paddle transitions, more efficient tube riding, laybacks on the paddle, and more control while riding a wave as the blade is now closer to your body. Try it out, experiment and see what works best for your style. Most of all get out there and enjoy the ride.

About Ivan van Vuuren

After first being introduced to SUP in 1994 by a fellow Maui waterman, Ivan van Vuuren immediately saw the potential of this amazing sport. As a former professional windsurfer (4x South African Wave champion), surfer, longboarder, kiteboarder he quickly picked up SUP surfing and began to promote the sport in the waters of Hawaii and then, more recently, in South Africa. Ivan is a strong ambassador for the sport and continues to introduce people to the benefits and enjoyment of SUP.
What size is your SUP paddle?
.
Last modified onWednesday, 28 January 2015 10:23

After spending the first part of her life in Minnesota, Morgan traded in her snow boots for sandals and moved to sunny California. After graduating with a degree in Communication from The University of Southern California, she eventually made her way down south to San Diego and is taking advantage of the living by the best beaches and burritos California has to offer. If it's sunny, you can find her at the beach relaxing, or exploring the calm water in the bay via paddleboards and kayaks.
Email

This email address is being protected from spambots. You need JavaScript enabled to view it.