SUP Fitness With Nikki Gregg
If your workouts aren't fun, then maybe you should be doing them on a SUP! Nikki Gregg shows us how it's done in her new Stand Up Paddle Fitness DVD. Get your copy today and start feeling the burn.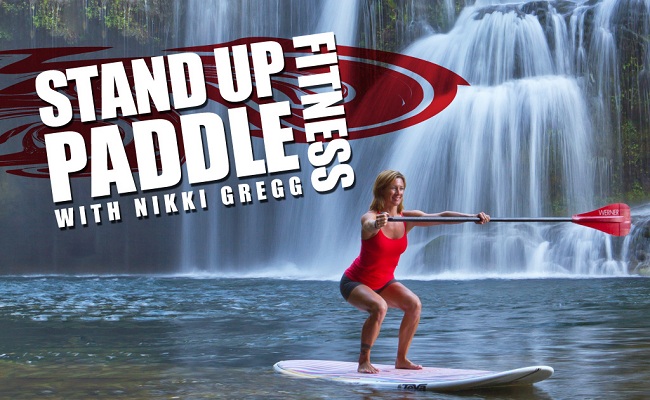 Nikki Gregg walks us through optimal SUP fitness gear, beginner and advanced SUP exercises and provides key tips from some of the leading athletes in the SUP world.
Check out Nikki's profile on SUP Connect.

Fitness professional and athlete, Nikki Gregg, will show you how to safely and effectively transform your body and reap the health benefits of stand up paddling while having fun in her Stand Up Paddle Fitness video.

In the video, Nikki will show you recommended equipment and gear for fitness paddling and cover important paddling techniques to give you a solid foundation of skills to paddle more efficiently and minimize exposure to overuse injuries and muscle imbalances. "This video gives you the necessary tools to safely and effectively use stand up paddling for fitness," says Nikki.

As a long-time advocate of bringing workouts outdoors, Nikki says, "Stand Up Paddling is a fun way to sculpt your body, strengthen your core, improve your balance, and increase your overall well-being."

Along with a variety of beginner and advanced stand up paddle workouts, Nikki's SUP fitness video includes valuable tips and advice from top athletes from the SUP industry.

"Whether you're new to this sport, or have been paddling for a while, I know you will be able to take away some useful information from this video."

Find out why she is known as the "First Lady of SUP Fitness" as she takes you through the following:


Essential gear for fitness paddling
Comprehensive board trim and maneuvering exercises
Effective forward and turning stroke techniques
Two separate SUP workouts designed to challenge all fitness levels
Downloadable MP3 audio workouts for instruction on the go
Pro tips from top SUP athletes

About Nikki Gregg

Nikki Gregg is a standup paddle fitness expert and owner of NRG Lifestyle Fitness Training. With years of experience as a personal trainer and now being one of the world's greatest ambassadors for women SUP, she offers keen insights on the fitness aspect of standup paddling and is one of the biggest proponents for taking fitness classes out of the "gym" and onto standup paddle boards, where the dynamics of the water and the beauty of the environment make it for a much more effective and motivating body trimming experience.
.
Last modified onMonday, 26 January 2015 12:25

After spending the first part of her life in Minnesota, Morgan traded in her snow boots for sandals and moved to sunny California. After graduating with a degree in Communication from The University of Southern California, she eventually made her way down south to San Diego and is taking advantage of the living by the best beaches and burritos California has to offer. If it's sunny, you can find her at the beach relaxing, or exploring the calm water in the bay via paddleboards and kayaks.
Email

This email address is being protected from spambots. You need JavaScript enabled to view it.