Many SUP Connecters have experienced the feeling of SUP Yoga for themselves, evidenced by the photos our users have posted. Learn more about the sport and follow us as we introduce new SUP Yoga poses each week.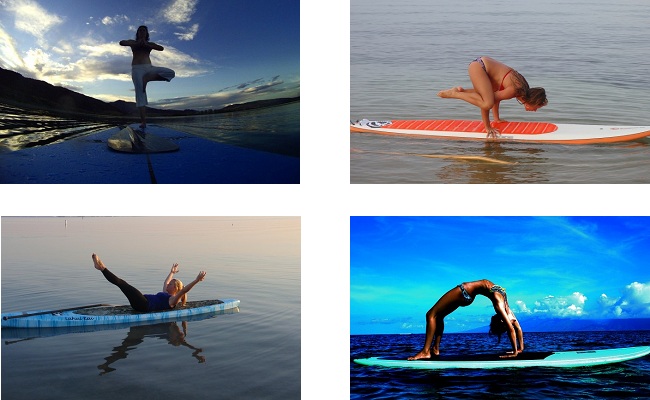 A big thanks to SUP Connecters Lauren Peterson, Alex Mauer, Donica Shouse and Karen Mirlinbrink for posting these great pictures to SUP Connect.
Join a SUP Yoga group or start your own on SUP Connect
SAN DIEGO, California – Stand up paddling has seen rapid growth within the past two years. That growth has allowed for unique innovation and synthesis with other outdoor activities and a good example of this creative combination is SUP Yoga.

By combining the core strength required to balance on flat (or choppy) waters on a SUP with the flexibility and meditation inherent to Yoga, a whole new branch on the SUP tree has been born. SUP Yoga continues to grow each day as more and more people recognize the unique benefits in combining these activities.

Annabel Anderson, Kiwi athlete and professional stand up paddler, talks to SUP Connect about the growth of SUP Yoga and why it is so important to her.

SUP Connect: You were recently on location in New Zealand to shoot some SUP Yoga photos. Tell us more about your involvement in SUP Yoga and why this niche within the SUP community is growing so fast.

Annabel Anderson: Yoga has been an integral part of my life since I was about 17 when I had broken my leg badly ski racing and it soon became an important part of my rehabilitation every time I was injured.  I also quickly realized the mental benefits of yoga and have used it regularly for many years to bring some balance and equilibrium to a busy schedule.

SUP yoga all started one day when I was playing around on the Serpentine (a famous lake in the heart of Hyde Park in London) and I soon started to find that having an unstable platform brought even more challenge to getting into, and maintaining different asanas (poses) and it has grown from there.

I incorporated various basic asanas into the Les Mills Paddle Fitness series that I designed and ran when I was in Auckland and it found great favor with some of the groups I was coaching, especially my Babes on Boards groups. We shot a lot of beautiful images out in NZ and most recently on the French Riviera and in the canals in London.

SUP yoga will definitely have its niche in the SUP community as another way for people to be able to express themselves on the water and to bring new people into the sport of paddling as a whole.  For me, it is about incorporating some important maintenance stretching before or after I have paddled and really helping me feel centered and at one with my board. Once you start doing head stands and inversions on race boards and in light chop downwind, you will know what I mean!

Don't bag it until you try it, SUP yoga is here to stay and will only grow from where it is today.
Do you SUP Yoga? Post your pictures and poses to be featured in next week's SUP Yoga article.
.
Last modified onThursday, 22 January 2015 15:37

After spending the first part of her life in Minnesota, Morgan traded in her snow boots for sandals and moved to sunny California. After graduating with a degree in Communication from The University of Southern California, she eventually made her way down south to San Diego and is taking advantage of the living by the best beaches and burritos California has to offer. If it's sunny, you can find her at the beach relaxing, or exploring the calm water in the bay via paddleboards and kayaks.
Email

This email address is being protected from spambots. You need JavaScript enabled to view it.