2016 Holiday SUP Gift and Gear Guide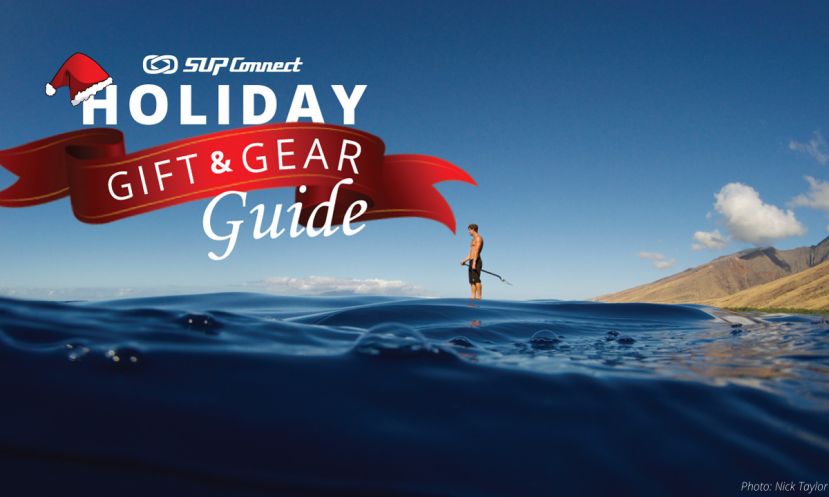 SAN DIEGO, California - Can you believe 2016 is coming to an end?! With the gift-giving holidays right around the corner, it's time to think about getting something awesome for the SUP'er in your life so here at Supconnect, we've put together a gift/gear guide of the newest and coolest items to have recently hit the shelves and racks on the SUP market. If you're looking for something to get for your lover, mother, brother, sister, friend, or anyone for that matter this holiday season, this guide will be perfect for the stand up paddler in your life. And who's to say you can't get a little something for yourself, 'Tis the season after all! Treat yourself to something you've always wanted! We've put together a list of SUP gear, SUP accessories, SUP boards and all the must have's for everyone from a beginner to the advanced SUP'er, so there's sure to be something in this guide for everyone!
Take a look at the 2016 Holiday SUP and Gift Gear Guide below:
Paddles & Accessories
Boardworks Adjustable Paddles

Featuring beautiful graphics over a bamboo veneer blade, these are the most attractive adjustable paddles on the market. They have an easy collar clamp adjustment system, carbon shaft and handle and the dihedral face of the blade provides for straight powerful strokes without paddle "wander".

Werner Paddles Thrive 95

With handcrafted fiberglass blade and shaft, featuring the Leverlok adjustable length system, the Thrive 95 delivers a lot for under $200.00. The shaft adjusts to fit the family with a height range of 4'10" to 6'2. A well thought out and proven blade design is easier on the body with its longer, thinner shape and the dihedral on the face keeps it stable and smooth through the water.

Werner Paddles Rip Stick

Werner Paddles invested in the SUP surfer with the Rip Stick. Developed for riding waves, several design features stand out. An innovative double concave dihedral creates power pockets while stabilizing the blade with a self-centering dynamic. 7 degree offset excels with short-fast surfing strokes and keeps the blade flatter to the water when bracing, stopping it from diving into the wave face. Increased flex reduce stress on the body.

Fusion STEREOACTIVE™

The STEREOACTIVE is the world's first portable floating watersports stereo, designed for the challenge of life on the water. The combination of world-class industrial design, high quality music reproduction, intelligent functionality and an extensive feature set has resulted in a rugged portable stereo that is prepared for anything. Sources include Bluetooth, radio tuner, USB and iPhone & Android audio playback and charging. Let STEREOACTIVE provide the soundtrack to your next SUP Adventure.

LiftSUP Handle

The LiftSUP Handle from SUP Think Tank is constructed of recycled, reinforced polycarbonate and is a patented retractable handle that allows the user a significantly safer and more comfortable way to carry, maneuver and secure their board. The LiftSUP handle sits flush with with the deck of the board when not in use and leaves no large openings to step onto or into. The handle also has a strength of over 850 lbs which provides a solid attachment point for a lock and cable to deter theft.


FCS SUP Ankle Leash

The FCS SUP Ankle Leash is a SUP specific leash offering superior reliability & performance. With day-to-day performance and strength, the Regular Leash will perform to the highest standard in a wide range of conditions. Remember, leashes save lives!

Restube Buoy

The waist belt buoy from Restube is an excellent option for every stand up paddler. The robust pocket with its splint closing system and the exchangeable belt system can be mounted directly to the harness or at the belt. It is for rough use and perfect for kite, wind and wave surfing or SUP. The RESTUBE sports also can be used for any other water related activities. More often professionals are using it for additional personal self protection out there in the field.


Futures Triangle Cutaway Fin

As a favorite all around fin in the quiver, Future SUP have expanded the Triangle series to handle the smaller paddler's fin needs. With a perfect balance between fin depth and surface area, this fin provides maximum stability and paddling efficiency in any water condition. Whether you are racing the open ocean, exploring a sea cave or paddling with friends, this fin series is designed to make time on the water an enjoyable experience.

Maui Jim Sunglasses

Maui Jim sunglasses feature patented PolarizedPlus2® lens technology for brilliant color so every detail is crisper and cleaner and without glare or harmful UV. Maui Jim offers amazing sunglasses that not only have incredible protection from the sun for your eyes but also tons of stylish lenses and frames to choose from. If you're looking to protect your eyes while out on the water, Maui Jim is the best in the business.

SUPerior Tracker

The only product out there to provide instant feedback about your stroke, SUPerior will allow you to see how minor changes in your movements affect momentum and glide. Compatible with and easily installed on all paddle and board types, the system will help you achieve your goals whether they be reaching the podium or strengthening your core.
Boards - Inflatables
Boardworks Shubu 9'6

The SHUBU 9'6″ inflatable SUP is the perfect choice for those looking for more performance in a single chamber inflatable. These boards are ideal for cruising, recreational surfing, river running and family paddling. Complete package includes our Rolling Travel Bag, Bravo 4 pump for quick inflation, in-line pressure gauge, 8″ center fin and screw, and a color matched rubber patch kit.

Starboard Whopper Inflatable

The Whopper Inflatable is one of Starboard's most popular all round models. With a width of 35", it is incredibly stable and works for a wide range of riders up to 115kg. The Whopper Inflatable is ideal for yoga, fitness, and all round cruising, and fits into a rolling backpack for optimal portability. The Whopper Inflatable comes in two constructions: Deluxe or Zen.!

Surftech AT11 Ranger

The new Air Travel Series introduces three unique inflatable shapes to the Surftech lineup that provide boards for paddlers looking for the best option for their recreational and touring adventures. The new boards combine progressive outlines, strategically placed handles with integrated deck pads and fin boxes, and the most advanced technology to create one of the most lightweight inflatable compact travel partners.

NSP O2 Inflatable Allround


With its generous volume, it's easy to balance for riders of all sizes and skill levels. It features a modern, double concave bottom shape and fluid outline which will make this a super fun board on flatwater and in the surf, under light to medium conditions. If you are into SUP Yoga – this board provides the perfect platform! It is also a perfect cross-trainer, recreational flat-water paddler and light wave board. Developed to make the sport accessible to all skill levels it has generous width making it a great first board.

BOTE 11'6 Drift Classic

The Drift inflatable paddle board by BOTE is a fistful of firsts, featuring the first ever wood inlay deck on an inflatable paddle board, BOTE's first Tackle Rac compatible inflatable and comes in its own travel bag. This go anywhere, do anything paddle board is an uncompromising design bringing together all of the best features of our solid boards, with ease of a flexible board, and with several awesome designs to choose from, the BOTE Drift does it in style. *Includes bag, pump, and paddle.

Slingshot Crossbreed Airtech

The Crossbreed Airtech from Slingshot was designed for ultimate versatility on the water. This board is your ticket to user-friendly fun in the great outdoors. The board is lightweight, and super durable and also fits in a backpack making it portable and easy to store. It's great for kids, dogs, families, beginners and experts and comes in four different colors: red, blue, green or yellow and comes with a FCS 2 Fin (no screwdriver needed!)
Boards - Hard Tops
Boardworks Super Natural 10'6


The Super Natural series is about getting out on the water, connecting with nature, and seeing things from a different perspective. Designed for stability and glide, these boards are a pleasure to paddle, great for cruising and mellow surfing. They are the perfect choice for entry level to advanced paddlers at an affordable price.

Starboard Allstar 14'x24.4'

The 2016 SUP Connect Gear of the Year winner for best race board is back and better than ever. The All Star is the most versatile design in Starboard's race range and is the board of choice for many of the world's elite paddlers, including Connor Baxter and Michael Booth. It performs well in all conditions, ranging from flat-water or chop to upwind/downwind and surf. The new All Star comes in two constructions: Carbon Sandwich or Hybrid Carbon.

Starboard Touring 12'6x29'

The Starboard Touring range merges the speed of race model SUPs with the stability of all round shapes. Efficient glide and great tracking make this an ideal board for adventurous riders looking to explore the great outdoors. Fully equipped with bungee tie-downs and FCS inserts. The 12'6 Touring comes in three constructions: Pinetek, Starlite or Starshot.

Surftech Universal TEKEFX

The Universal TEKefx brings the organic texture of bamboo, a translucent array of vibrant colors, and fresh designs to recreational paddling. The TEKefx construction reduces the weight of this high volume, surf-inspired shape, making it a great first board or a must-have addition to your quiver.

SIC Maui X 12.6 TWC

If you want a fast all around fitness/race board that has a bit more width for added stability then the X-12 is your board. Stability means you can paddle further with less fatigue. Stability is also the key to SIC boards winning pedigree as founder/shaper Mark Raaphorst's design philosophy is: You are fastest when standing on your board rather than lying in the water next to it. The wave piercing bow and dual zone rocker offer low drag in "displacement mode" while in calm waters and is stable when in "planing mode" in choppier, off wind conditions. Sharp rails at the tail shear water to maximize speed.

SIC Maui F-14 GC

The F 14.0 offers more volume and stability without sacrificing performance. The wider mid-point and widened tail enables the paddlers to put power behind their stroke and mitigate power loss often associated with rail-to-rail instability. The rocker profile is de- rived from the new Bullet 14.0 V2, which makes the board quick to plane and prolongs the glide. The F 14.0 was designed for the larger bodied paddler who is looking for more stability. It's multi-purpose fitness, down-winding and touring hull design makes this board a crowd pleaser. Make no mistake, if you want to feel confident and secure in all conditions, the F 14.0 will give you confidence in the open water like no other.

SIC Maui Bullet 14' V2 SCC

The Bullet 14.0 V2 is the ultimate downwind racing machine. This board is offered with and without the SIC F.A.S.T. Steering. The outline's widest point has been shifted slightly forward and the rocker flattened, which provides the rider with better stability when powering up in lower wind ranges and smaller chop. You would think that straighter rocker would cause the board to pearl easily, however, the narrowed tail brings the nose up, mitigating purling and unlocking top end speed by reducing wetted surface area. The board has slightly lower volume than the Bullet 14 TWC, but maintains its iconic full volume rails and gradual tuck to promote stability, which incidentally also reduces paddler fatigue over long races or touring distances.

Naish Quest 12' Touring

Designed with accessibility in mind, The Quest 12'0" packs the DNA of Naish's world championship-winning race boards into a stable, all-around touring shape invaluable to a wide variety of paddlers. The displacement bow effortlessly pierces through chop, while the deep single-concave tail and wider outline enhance directional stability, enabling riders to complete more strokes per side. Even volume distribution creates a large sweet spot helping riders of all levels find balanced footing with ease and confidence. Featuring plugs in the nose, the Quest 12 accommodates a bungee storage system that is a helpful addition when riding with cargo.

Pau Hana Endurance Touring


New for 2017, the Pau Hana Endurance is a rugged touring board built for off the grid adventures. The hull of the board is protected with Ricochet so that it can withstand contact with rocks, logs, or any other hard things that may come across it's path. The board glides smoothly and is easy to paddle even when fully loaded with 90 lbs of equipment.

Jarvis Rio Grande

The Rio-Grande paddle board features a displacement hull design making it a great very efficient paddle board for fitness paddling, touring or racing. Despite its speed, it is very stable for new paddlers thanks to 200 plus liters of volume and 31 inches of width. All of this in wood paddle board that is super light weighing approximately 27 pounds. Like all of our boards, this board features our super durable wood construction and laser engraved leather carrying handle and is individually crafted locally in Austin, TX. If you plan to use your wood sup for fitness and touring and want to go fast then consider this your paddle board..
Make sure to head to your local retailer to find all these items and more during this holiday season!
Last modified onMonday, 28 November 2016 11:39

Submit your news, events, and all SUP info, so we can keep promoting and driving the great lifestyle of stand up paddling, building its community, and introducing people to healthier living.
Website: supconnect.com