Surfing Oahu's North Shore With Mo Freitas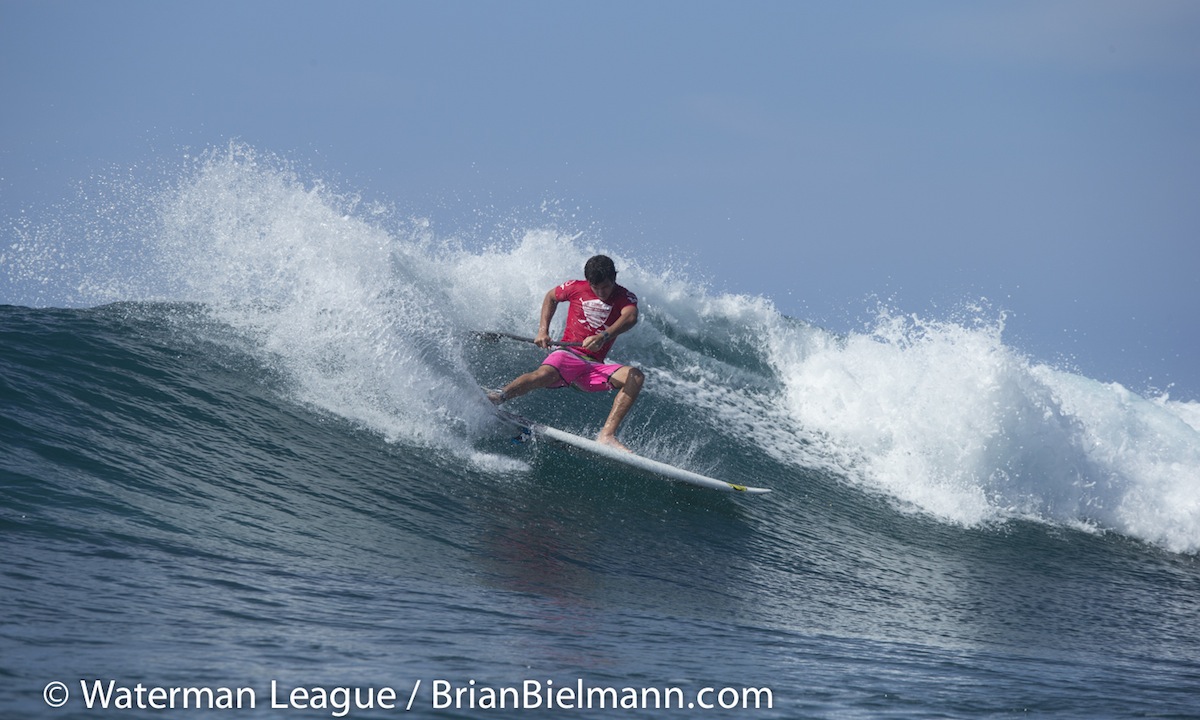 Mo Freitas competing at home early in 2015 at the Stand Up World Series Sunset Beach Event. | Photo: Brian Bielmann
OAHU, Hawaii - When you get the chance to go surfing with Mo Freitas on the North Shore of Oahu, even if your foot is cut open from a reef, you go. As my friend, Haywood Newkirk, said, "It is like playing Augusta with Jordy Spieth."
Step 1: Apply peroxide and duct tape to wound.
Step 2: Try not to be intimidated.
Step 3: Paddle out and have a blast with one of the top SUP racers and big wave surfers in the world.
I met Mo, his Father, Tony, and mother, Rhonda, at their home in Haleiwa. Tony and Mo helped me choose a longboard from their impressive quiver, we threw the boards in the back of an old pickup truck, and off we went to Chun's Reef on a sunny Hawaiian morning.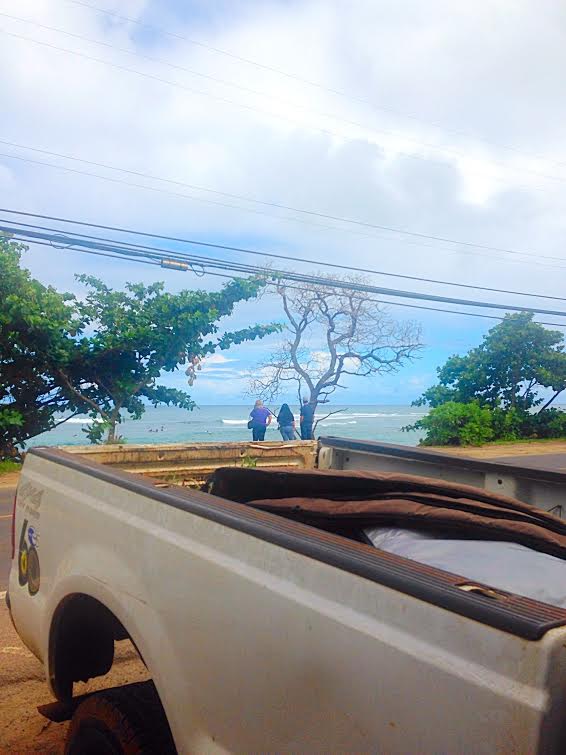 On the ride to Chun's, with the windows rolled down, we talked about life for this 18-year old waterman. "For now I am enjoying being a pro." Backed by a full set of sponsors, including Body Glove, Focus Paddleboards, Future Fins, Waterman's Sunscreen, and Pro Lite Leashes, this SUP star is poised to own the sport. Mo's background in big wave surfing brings an innovative style, power, and finesse to SUP racing. Mo's father, Tony, also an accomplished waterman, is currently acting as "Manager, coach, and pain in my butt." Together with his father, Mo travels the world chasing waves and racing paddleboards. His resume of wins is mounting, including taking the top spot in this year's Payette River Games as well as the Battle of the Paddle Brazil in 2014.
"But I also enjoy filmmaking." Mo has already started his own film company, Modern Productions, which features his own wild SUP surfing adventures set to music. Freitas recently won Paddle Woo's 2015 Film Contest with this short film.
Mo was raised on the waves of Oahu's North Shore. His father, Tony, taught Mo to surf from a young age, and at 14, introduced the grom to standup paddleboarding. Tony even shaped Mo's first SUP race board. Four years later, Mo Freitas is sponsored by some of the biggest names in the industry and is a SUP force to be reckoned with. Holding the #6 spot in the world in SUP racing, Mo just as comfortable surfing the massive waves of his home on the North Shore as he is sprinting against the top names in SUP. Mo likes to surf these giant waves with a paddle; but today, no paddles. Just pure surfing.
I have to admit, I was nervous being out there with Mo Freitas watching and trying to avoid reef. The early September waves were only chest to head high, but I missed wave after wave and wiped out more than once. Watching Mo effortlessly glide through the waves was worth the beating. It was clear this was his playground.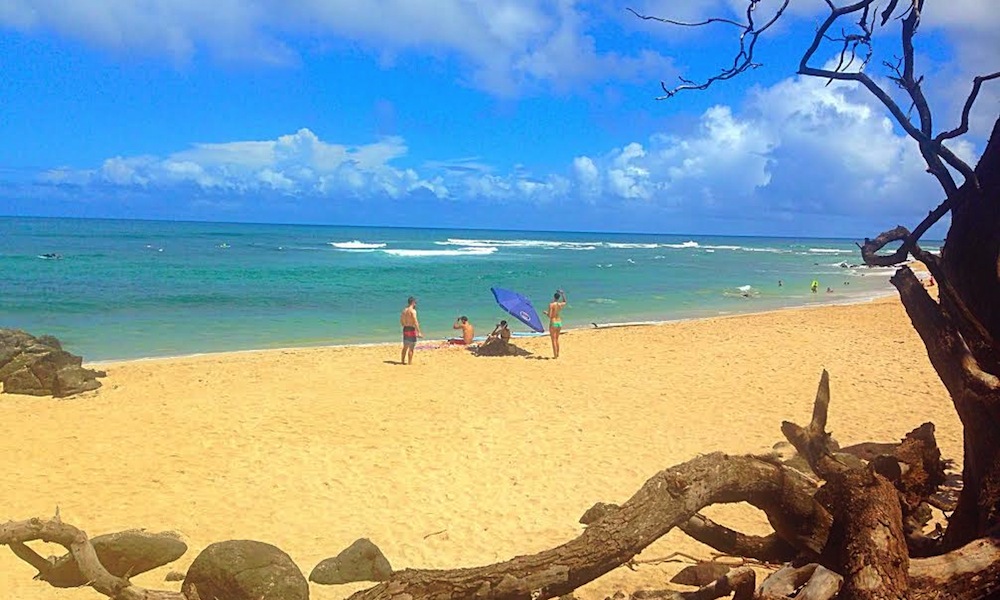 Gorgeous sunny day on the North Shore of Oahu. | Photo: Megan Bryan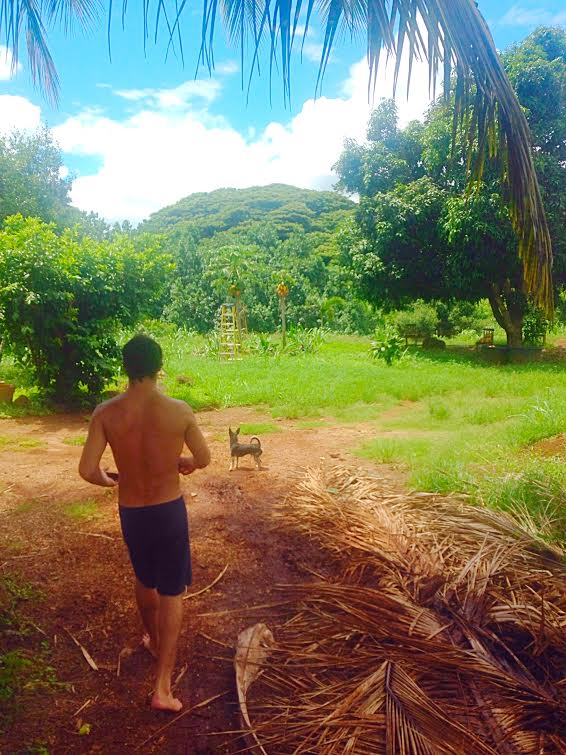 Though Mo was leaving for Japan the following day for the 2015 Hayama Pro Stand Up World Series event, Freitas was humble, patient, and generous. "Go left!" "Try this one!" and "Avoid that spot." Thankful to have a guide for my first North Shore surf, I caught my first North Shore wave right at the end. Mo later told me that the spot where I caught the wave was on dangerously shallow reef. Oops. Glad I didn't fall.
Back at the Freitas' home, Mo and his mother, Rhonda, showed me their Mango trees and the dock on the river in their backyard where Mo often launches to train. "I try to keep this yard in order when I am home," Mo apologizes, though their tropical property is stunning. For this warm and welcoming water family on the North Shore, life is sweet. And for Mo Freitas, the SUP world is his for the taking.
Last modified onThursday, 08 October 2015 16:16

Megan is a water girl who has difficulty sitting still or staying indoors. This health nut spends her days surfing and paddleboarding in the ocean, and writing about others who do the same. Raised in the mountains of Tennessee, she grew up kayaking, climbing, camping, and playing in the woods. Once she discovered surfing and SUP, however, a door to a whole new world opened and she never looked back. Megan loves family, dolphins, chocolate, good friends, and any place with sun and good waves.
Website: www.saltwaterchef.com