How Rand Perkins Became A Paddle Legend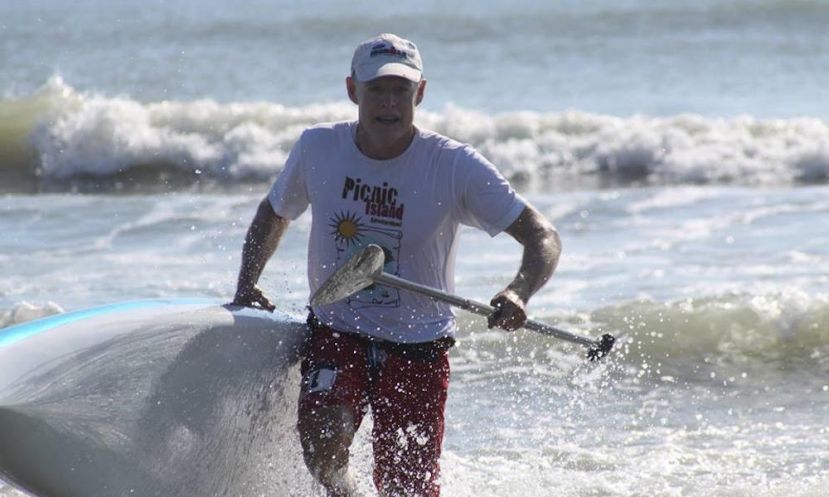 Rand Perkins, still going strong at 63. | Photo Courtesy: Laurie Perkins
CHARLESTON, South Carolina - It was 1980, long before the days of modern Stand Up Paddle Boarding. Rand Perkins was standing to paddle as he raced canoes down class 3 and 4 rapids. Everyone else was kneeling. In those days, paddling in a canoe was executed on one side­ your dominant paddling side. Not so for "the Alien", as Perkins is affectionately known by his competitors. Never content with the status quo of a sport, Rand invented what is now known in the paddling world as "the Perk", a crossover stroke which takes advantage of both sides of the canoe without changing your grip. This stroke is now the standard for all canoe paddlers. Today, 25 years later at age 63, you can find Rand Perkins winning paddle board races around the Southeast, still improvising as he goes. From cutting foot holes into expensive race boards, to bending paddles, to widening openings in kayaks using a garden hose, for the Alien, "it just makes sense in my head." And it works. He is really, really fast.
Perkins is now a semi­retired architect and builder who races paddle boards with his wife, Laurie, when he is not playing with his grandsons. But here's the thing:­ he is beating guys half his age in races. Regularly. More than a few frustrated paddlers have found themselves standing below the Alien on the podium scratching their heads, wondering, "Who is this guy and how did he beat me? He's 63!"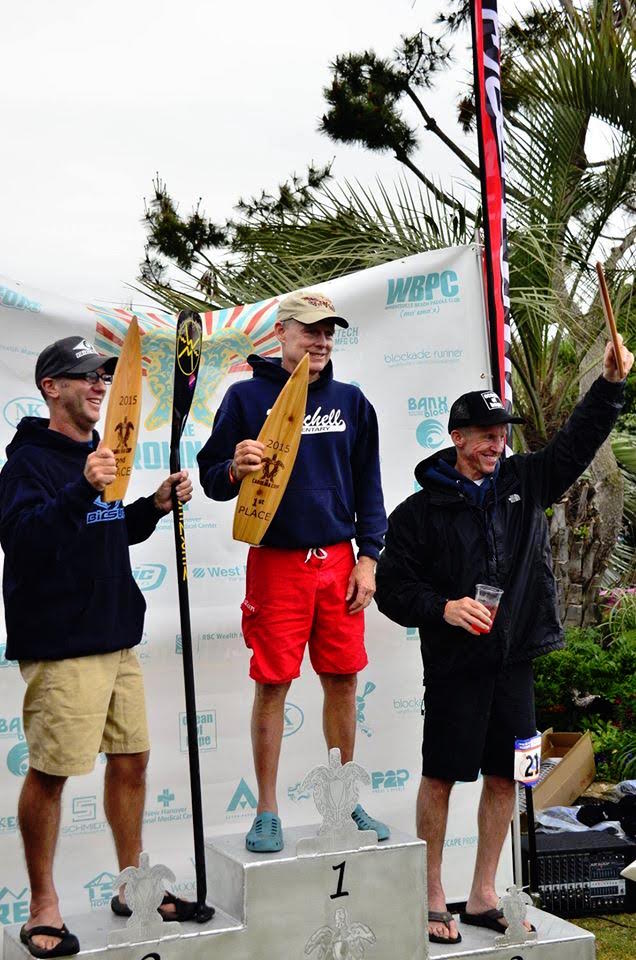 There's a story here: Rand's insane paddling did not happen by luck. This sixty­-something is destroying his competition as a result of years of training and experience as an overall outdoorsman, and a keen competitive mind.
A former high school track athlete, Rand discovered canoeing and whitewater sports after college. During his post­-college years in the 1970's, Perkins competed in triathlons, canoe and kayak races, adventure races, and road bike races. "I was racing whitewater slalom races in kayaks, similar to slalom skiing. I was always one or two slots out of the Olympic team, but I was older, in my thirties, by this time." In 1980, Perkins took a Summer job as a guide at Nantahala Outdoor Center in Bryson City, NC. The Summer gig turned into a ten­-year career, and a home base from which Perkins honed his paddling skills.
Rand continued to excel in adventure sports across several disciplines. "The canoes we raced were plastic vessels, 36 inches wide. I am not too tall, so it just made sense to stand so I could get more leverage from each stroke." So, while all of his competition paddled on their knees, the Alien flew past the crowds, standing.
On a side note: he says that a lot­ "It just makes sense." I am not sure he realizes that the rest of us would never think of this stuff. I digress.
"People were just beginning to experiment with taking bikes off­ road. I took a beach cruiser and modified it so I could ride it on trails." Incidentally, Rand's bike concoction was not too dissimilar to today's mountain bikes. As the sport of mountain biking progressed, Perkins became one of the top competitors in the country. Only racers from Colorado and California could beat him. Rand, who has never been in an airplane, ever, would drive across the country to races in Colorado, show up in paddle shorts, and win.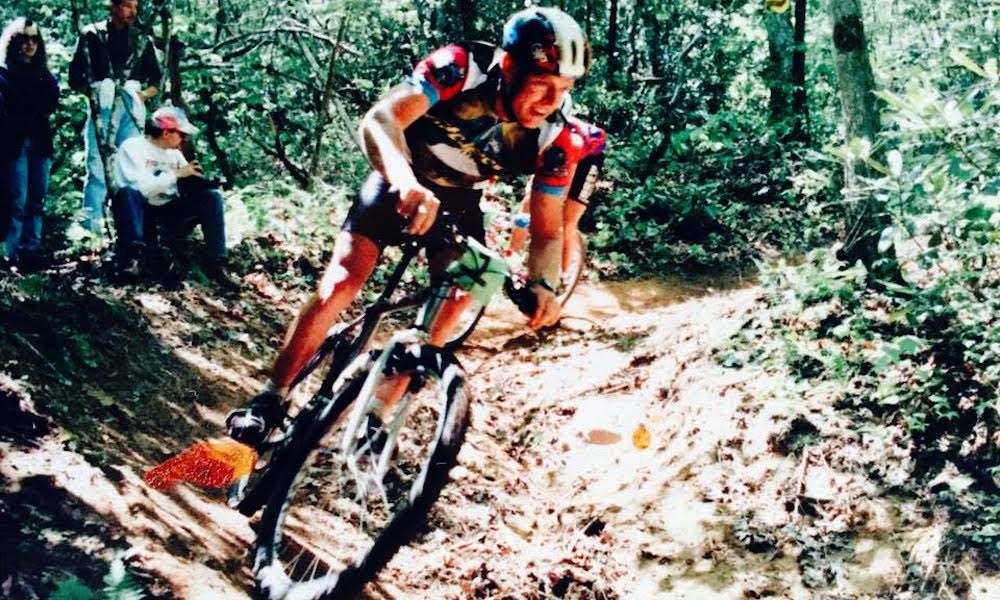 Rand during his mounting biking days. | Photo Courtesy: Laurie Perkins
"I was on a different level with mountain biking than I am with paddle boarding. I was more known back then." Though there was no internet at the time to record his career, he was the Southeastern champion for years. "Kayaking definitely helped with mountain biking. It requires a lot of core strength, which helps on the trails." Rand's successful mountain biking career continued throughout the 1990's, along with his successful career as an architect, until his body began to feel the wear from the grueling sport.
Enter standup paddle boarding. Rand's wife Laurie actually suggested the sport to the seasoned paddler, as the mechanics of SUP fit so well with Rand's athletic history. "SUP is a lot of leg endurance. Paddling and mountain biking gave me significant aerobic and leg training. My paddling background gave me a feel for the stroke, so I had an advantage. At first I tried surfboards, but they were so slow. There were not many race boards at the time."
Rand began training SUP on the flat waters of Fontana Lake in Bryson City, and he was, well, off to the races. "My first race was River Rocks Race in Chattanooga, Tennessee. It was a huge outdoor competition. I did a kayak race in the morning, and my first SUP race in the afternoon. I was 59. I came in 6th overall, and the top five were all pros (among the 5 was professional paddler Chase Kosterlitz...)." This victory made Rand realize that a new form of competition awaited him.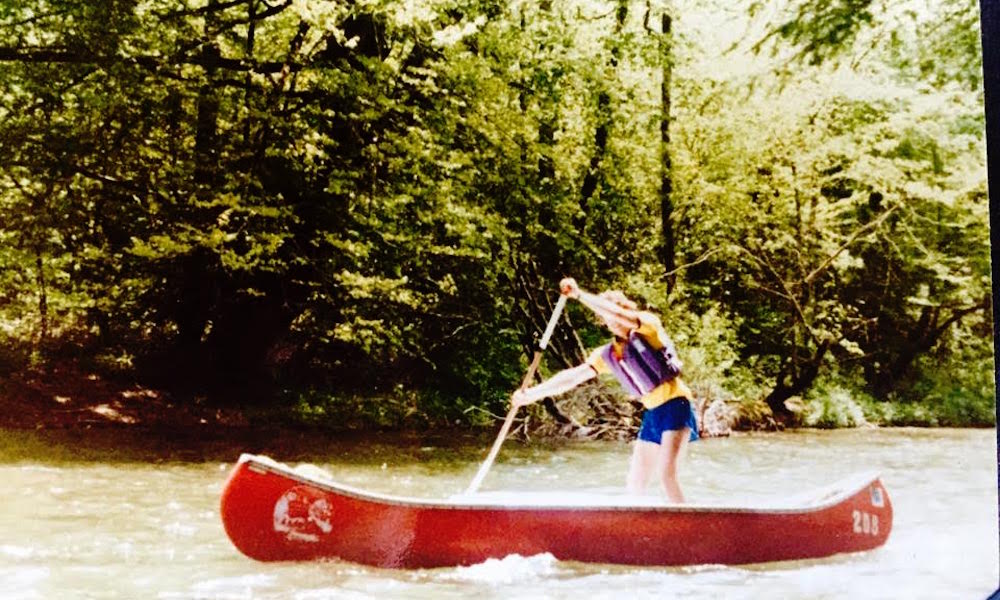 Perkins was stand up paddling long before it was even considered a sport of its own. | Photo Courtesy: Laurie Perkins
Perkins has gone on to amass an impressive resume of SUP wins, including the huge Carolina Cup SUP Money Island Race in Wilmington, NC, a race which draws paddlers from around the globe. "I won the 6­mile Money Island two years in a row. I did the Graveyard course [the grueling 13­mile ocean to sound race course] and came in 2nd in the over 50 category, and top 20 overall. Only [professional paddle boarder and former Olympian] Larry Cain beat me."
Always the engineer, Rand can calculate his progress by the second without a speed coach. "I recently got a 23" wide 14' MHL board, which has gained me 15 seconds more per mile." Though he has been offered sponsorship, Perkins prefers to be independent in his racing, not beholden to any company. He has been known to send back free boards because they were not fast enough.
Visiting the architect's home in the North Carolina Mountains, I was able to see firsthand his enviable collection of mountain bikes, kayaks, paddle boards, and paddles. Almost every piece of equipment has been modified, tinkered with, cut out, epoxied, and otherwise improved upon by Perkins. "I cut a third hole into this kayak to make it a tandem so Laurie and I could paddle together."
In 2015 alone, Perkins has come in 1st place in 12 of the 18 races he has completed. Training roughly one hour a day, he neither drinks, nor smokes, nor drinks soft drinks, and is an exceedingly picky and disciplined eater. He likes to weigh himself once or twice per day. He was taught by his high school track coach the principle of pacing, which he applies to his racing to this day. This calculating athlete is known for being a 'tortoise' in races­ not beginning with a sprint, but frustratingly passing worn out paddler after paddler as the race progresses. "I don't like to talk during races. It breaks my concentration. I focus on my breathing, and chit­chat depletes my oxygen."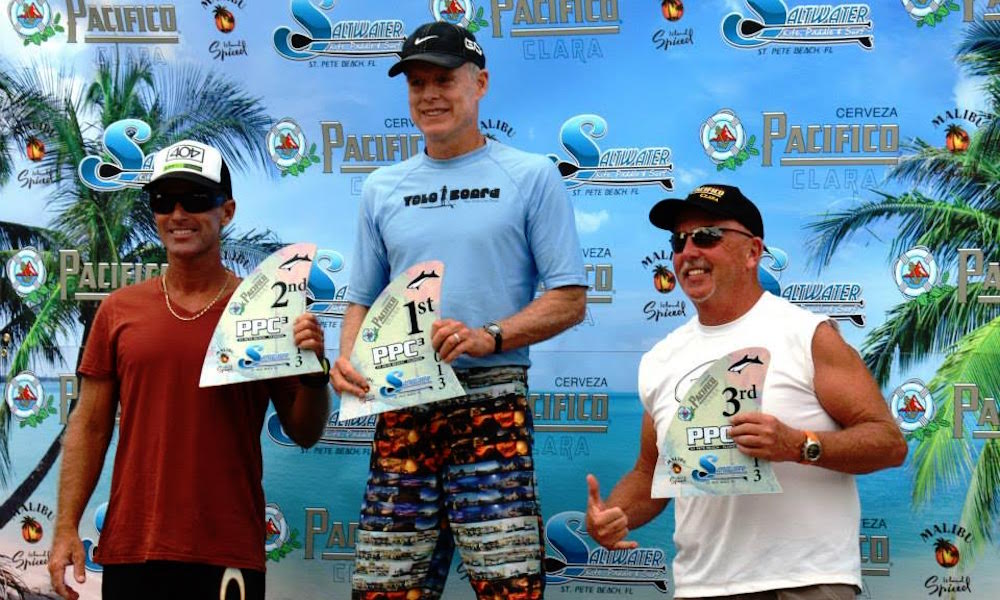 Rand standing at the top of the podium. | Photo Courtesy: Laurie Perkins
"Sometimes I can't believe I am winning races at 63. SUP just suits me. All this training has added up over the years." Indeed. So for the foreseeable future, you may find yourself, as SIC Maui Ambassador Jeremy Whitted says, "chasing the Alien."
To see more from author Megan Bryan, Click HERE.
Last modified onMonday, 11 January 2016 11:33

Megan is a water girl who has difficulty sitting still or staying indoors. This health nut spends her days surfing and paddleboarding in the ocean, and writing about others who do the same. Raised in the mountains of Tennessee, she grew up kayaking, climbing, camping, and playing in the woods. Once she discovered surfing and SUP, however, a door to a whole new world opened and she never looked back. Megan loves family, dolphins, chocolate, good friends, and any place with sun and good waves.
Website: www.saltwaterchef.com
Email

This email address is being protected from spambots. You need JavaScript enabled to view it.