Meet 17-Year-Old SUP Businesswoman, Elle Chase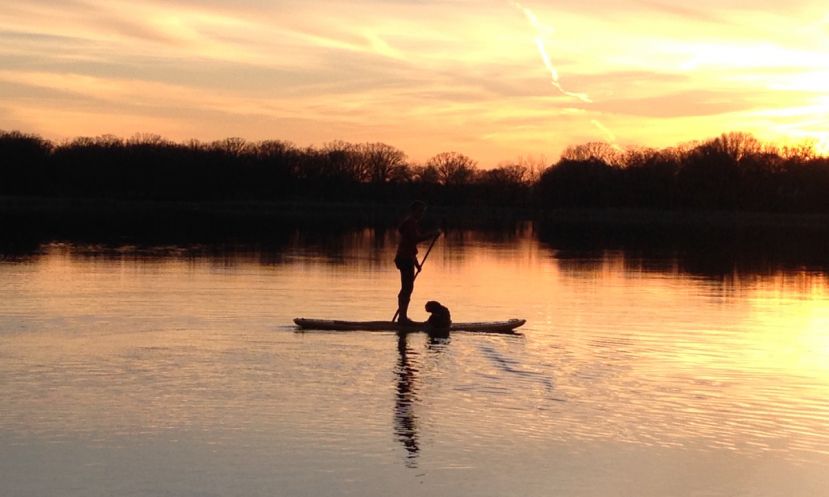 Elle and her best friend. | Photo Courtesy: Chase Crew
OTTERTAIL, Minnesota - 17-year-old Elle Chase isn't like most juniors in high school. Elle is a full-on SUP businesswoman with her extremely successful stand up paddle and kayak rental and sale business, Chase Crew, located in Ottertail, Minnesota. Elle Chase first started Chase Crew just over a year ago and in that year, Chase has seen incredible growth and success. Interested in learning more about Chase and how she's managed to find success at such a young age, we gave her a call to have a chat. Take a look below:

What drew you to stand up paddling and when were you first introduced to the sport?
I live on a summer resort that is nestled in the heart of the lakes area, Battle Lake, MN. Growing up on the lake, water sports are in my blood. I first started paddle boarding in the summer of 2014 with the idea to rent the nine boards I had out to the resort guests. In addition to that we made a banner of advertisement to put up at a local gas station. That summer the only time I saw the boards was hauling them to the next renter. After that single summer of my chocolate lab Jesse and I in a pickup truck running boards down gravel roads and giving tours down the Ottertail river, I knew this could be big.

So you're 17 with a successful SUP business Chase Crew, how did this come about and what gave you the motivation to start a business at such a young age?
I just turned 17 in July, though most people think I'm in my mid-twenties (I think it's the pixie cut). Chase Crew really began in fall of 2014. The experiment with the 9 SUPs earlier that summer had gone amazing, and we were ready to go all in. A little peek into how my family works: My mom that fall, enrolled me in an intense business program called B School vs my dad, who informed me that around 280 Pelican SUPs would be arriving at our front door and I needed to sell them. My favorite part about the summer with just 9 SUPs was meeting the people. As the semi of paddle boards was being unloaded in the spring of 2015 all I could think was "This is going to be one heck of a summer! I can't even fathom how many people I will get to meet, how many people I have the privilege of impacting." That's what I love about Chase Crew, and all of that is possible because of paddle boarding.

How do you manage running a business and being in school? It must be quite the balancing act...
Being that I am so young, school is still a huge aspect of my day-to-day life. I was homeschooled up until 7th grade, then I attended a private school for two years. My sophomore year (2014-2015) I knew I would need every spare second to work on Chase Crew so I decided, along with my parents, that homeschooling would be the best option. This year I am a Junior and doing what Minnesota calls PSEO which stands for Post-Secondary Enrollment Options. In a nutshell, PSEO is free college credits. So along with preparing Chase Crew for next summer, I am a full time college student. It's crazy, but I love it!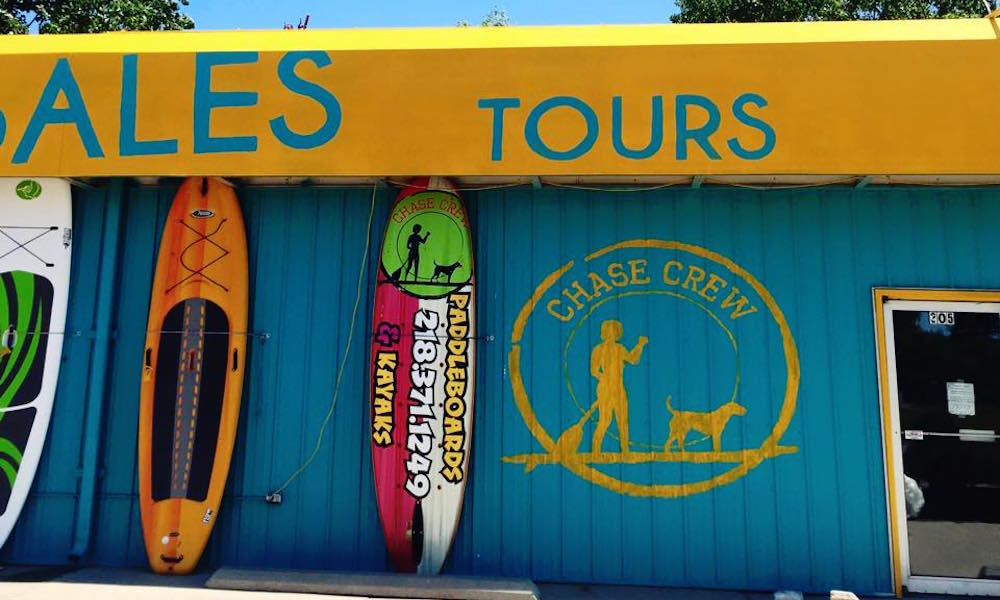 Chase Crew headquarters. | Photo Courtesy: Chase Crew
Do you plan to finish college after you complete your high school credits or do you want to take some time off to grow your business?
I plan on continuing college but I am contemplating a gap year once I complete my AA degree in my Senior year of high school through the PSEO program.

Tell us a little bit about your relationship with Pelican SUP and how you connected with them to supply your SUPs and Kayaks for your business.
When looking at all the different brands of SUPs we chose Pelican because they sell the type of boards that my family would personally use. I live on a summer resort and all of the watercraft we have used in the past and currently use have always been Pelican. Pelican is a name brand that we have trusted as a family for years, and continue to trust.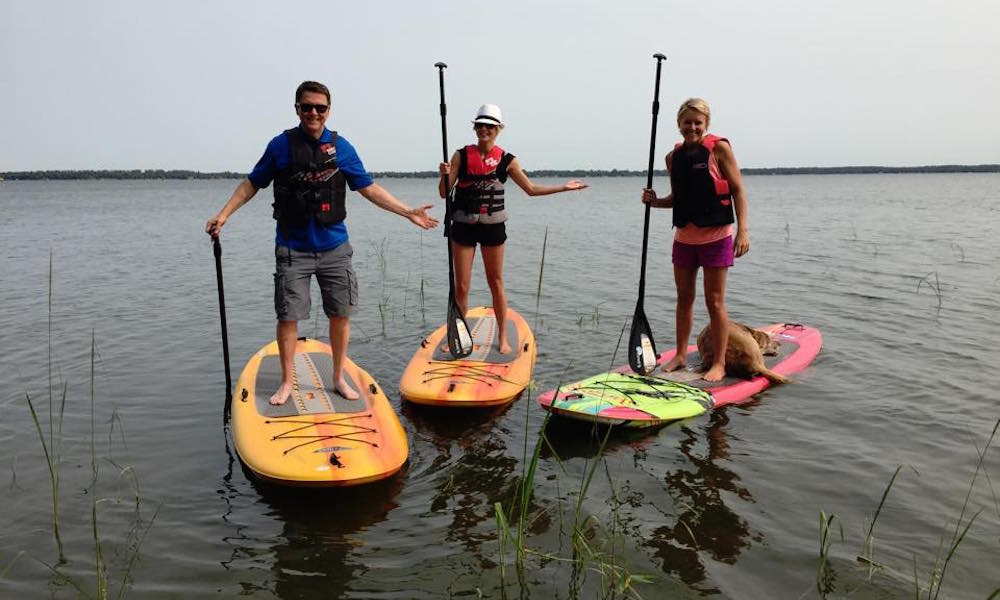 Elle Chase doing her thing. | Photo Courtesy: Chase Crew

Where do you see your business in the next 5 years and what are your plans for the future?
All I know for sure is life is constantly changing. My family is very entrepreneurial and we are constantly developing new businesses. I hope to be able to live a life that embraces those changes and trusts God with the outcome.
After chatting with Chase we were so impressed by her professionalism and charisma at such a young age and we look forward to keeping an eye on her and watching her success grow. If you're interested in learning more about Elle Chase and Chase Crew, check them out HERE.
© Supconnect Copyrighted Exclusive Content
Last modified onThursday, 12 January 2017 16:25

Allie Brown is orginally from Kona, Big Island and, as an islander, her life has been in the water – ocean more precisely. She has been a sponsored competitive surfer, represented the NSSA College National Champions while surfing for San Diego State University, and today remains deeply connected to the watersports lifestyle. Brown is both a shortboarder and a paddleboarder, loving to take out her inflatable SUP for a ride. With a journalism degree from San Diego State University and her passion for the water life, she brings an excellent combination of skill and passion to Supconnect. Twitter: @alliebrown808 / Supconnect Profile
Email

This email address is being protected from spambots. You need JavaScript enabled to view it.