PFD VS Leash: Should There Be Laws?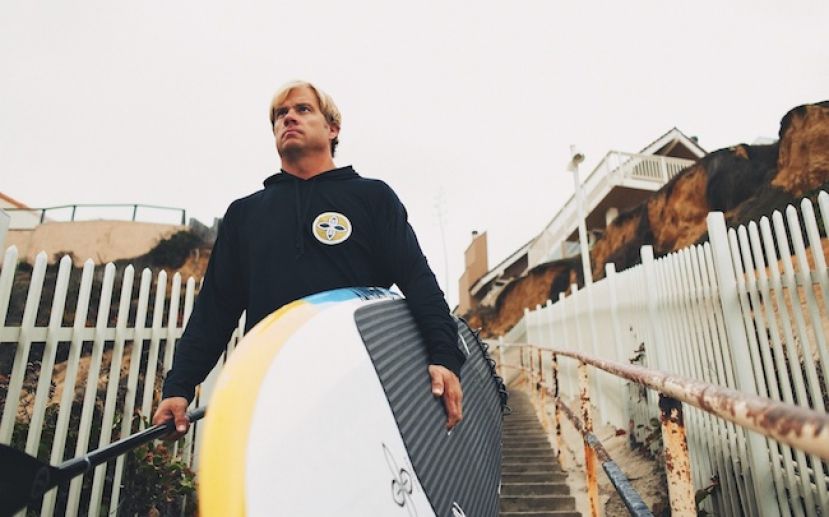 Supconnect chats with Brody Welte on the hot debate of PFD's vs. Leashes. His thoughts might surprise you…
Brody Welte of PaddleFit. Photo: Chad Jarae
A hot topic among the Standup community is whether or not the PFD should be required and/or a leash can be considered an acceptable alternative. Supconnect spoke with Brody Welte about this touchy subject and he shared his thoughts with us on the matter. His thoughts may surprise you!

Tell us a little bit about yourself and your connection to the SUP world.
My name is Brody Welte and I am the founder of PaddleFit which is a SUP coaching and fitness program that helps teach both coaches and the general public all facets of SUP. We have over 1000 coaches in 14+ countries that are teaching the PaddleFit system. I am also a coach with Dave Kalama with his adventure SUP travel camps called Kalama Kamps.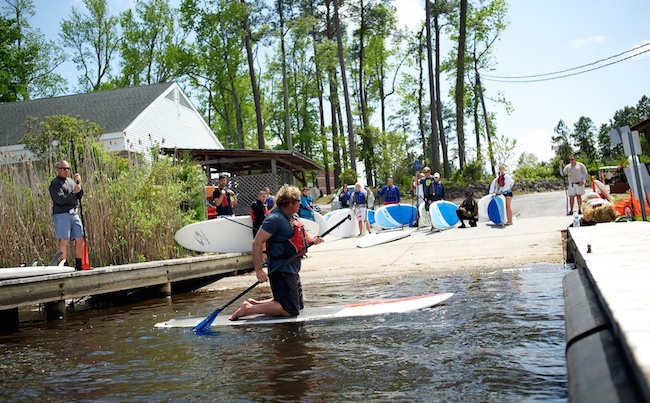 Photo: Chad Jarae

Let's get right to it...Why do you think there is so much controversy hovering over the PFD to be required/not required?
We need to start at the beginning to have a good perspective of why we are where we are when it comes to SUP and PFDs. I think that we all can agree that SUP is it's own unique sport, even though we have aspects of other sports (i.e outrigger, surfing). The United States Coast Guard (USCG) made a fairly quick decision in Oct of 2008 to classify SUPs as vessels. Meaning that we have the same classification as kayaks, boats and canoes etc. So, the ramifications were that we are to have a PFD and a signaling device such as a whistle on us or the board when we are outside of the surf or swim zone. So wearing a PFD is not required, only that we have to have it on the board.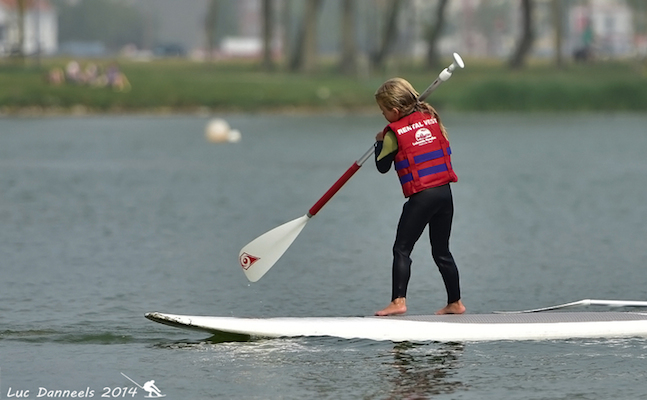 Here is the issue, we are not kayaking or canoeing or boating for that matter. SUP is a unique sport unto itself just like kiteboarding and windsurfing are unique sports and they are not considered vessels when it comes to the USCG PFD laws. The biggest issue with SUP being classified the same as kayaks or canoes is how we fall off of our equipment.
If you take a kayak in flat water the only way you are going to exit the craft is tipping it over and falling to the side. So when you do this the kayak is going to be right next to you meaning you are not going to push the kayak too far forward or backwards because you are falling off to the side. So this allows you to be able to grab a PFD out of the kayak because the kayak is right next to you. Unlike kayaking or canoeing, we all know that in SUP we can fall off the front or the back of the board and push the board up to 20 or 25 feet away or more from us and that is all it takes to get separated from your board (and PFD) and get in trouble.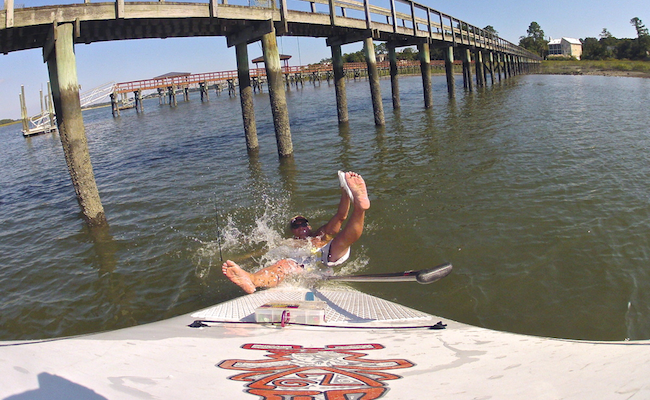 So to sum this up, the laws that we have right now, not only don't apply to SUP, they actually leave a false sense of security and have allowed for unnecessary deaths which is unfortunate.

Do you think that a leash is an acceptable alternative to the PFD?
I know that a lot of people want to trade out the PFD law for a leash law. I am not sure that requiring a leash is the right answer either. We have had at least one death in SUP where someone got their leash tangled and ended up drowning. So once again I am not sure that trading one bad law for another is the right thing to do.
It is true that leashes can be safe for 95% of most paddling but to become a law will have equal amount of issues. When it comes to leashes we need to have situational awareness, meaning that there are appropriate times to wear them and then there are times when we shouldn't. So trading out the PFD law for a leash law is a bad idea.
Photo: Chad Jarae

Do you think that this issue is something to be made into law at the local level, or nationally? Who makes the decision on whether or not this will be a local or national thing?
This is the crux of the problem, there are so many entities that either don't know the current law or think the current law is a great idea. It can get confusing and dangerous in a hurry. I think that we are focusing too much on the law. We can have all the laws that we want but there are people that are going to break them regardless.
I believe that we need to develop a culture of safety. That is something that all of us can control and it starts with the coaches and instructors that are introducing the sport. In PaddleFit we discuss the laws and regulations and make sure that everyone understands them but we also talk about best practices (See below). Just because you follow the law doesn't mean that you are being safe. We have had several deaths where the paddler was following the law(PFD on the board) but the board got away and they drown.
Ultimately if the coaches and instructors set the standard, it really doesn't matter what the laws are because we will have a culture of safety. We see this in windsurfing that every instructor teaching an introductory lesson puts their students in PFDs and then when the student is on their own it is up to them if they want to stay safe or not.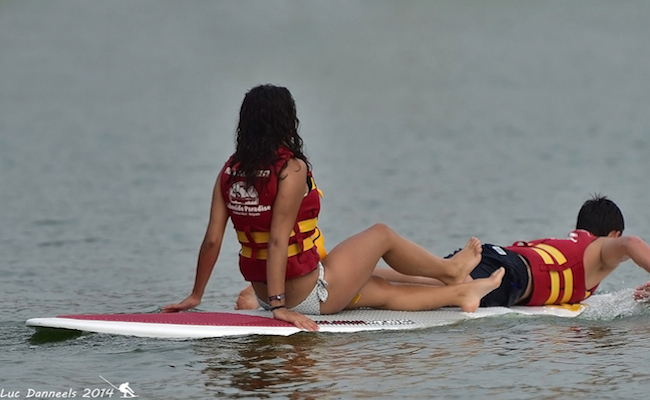 How soon do you think we can expect to see a resolution to this matter?
I don't know if we ever will see a resolution to this. Windsurfing was originally classified as a vessel and they fought hard to get it classified as a recreational toy when it comes to PFD laws but I believe that this is an anomaly.
We have so many entities that have backgrounds in canoeing, kayaking, outrigger, surfing, federal government, state government and local government and they all think that they are right or that they have the best solution and the only best solution that I see and can control is that we set the standard for safety and for fun and to know that we are a unique sport with a unique set of circumstances and challenges. Let's not rely on anyone but ourselves to set the standard to keep the sport safe and accessible.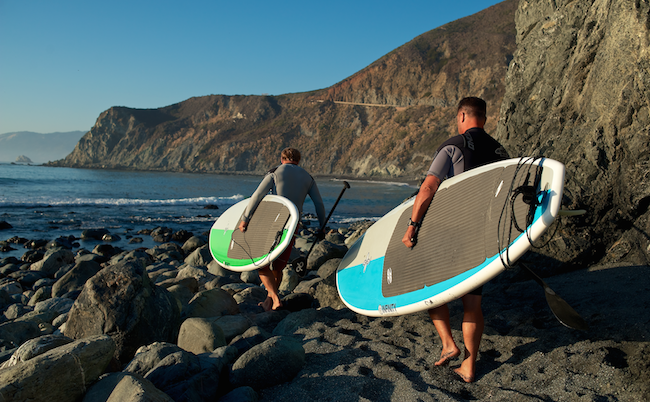 Photo: Chad Jarae

Do you think having a PFD requirement will hinder the growth of the sport in any way?
Two sides to the coin. The first side is that very few people who has been stand up paddling for a while likes to wear a PFD, they can be cumbersome and get in the way. Even when you wear the inflatable PFDs properly (in the front) they hinder the paddle stroke. So as far as pure enjoyment, PFDs can lessen the experience.
Now the other side of the coin is that if we don't keep the sport safe then we will not have a sport to enjoy. If we continue to have deaths then insurance goes up, the cost of the sport goes up and then it makes it less accessible and enjoyable. So how do we solve the issue? Here are some great guidelines/best practices to go by:
1. A PFD is only going to save your life if you wear it.
2. Make sure you are a strong swimmer and if not take swim lessons.
3. If you are a coach or instructor always make your students wear a PFD and a leash if a leash is appropriate.
4. If you are new to the sport or want to try the sport on your own, wear a PFD and leash if it is appropriate.
5. Never paddle alone. Most of the tragedies that we have had were people paddling alone.
6. Spend some time learning hydrodynamics and the weather of your paddling area. The more educated that you are in these topics the better you will be at making the correct safety procedures.
7. Equipment is key, make sure you have the right board and paddle as well as properly working safety gear.
8. Do not be too proud to be safe. Arrogance and pride can only lead to trouble. Instead of seeing how close you can get to danger, see how far away you can get.
9. Most importantly have fun. Yes there are risks but ultimately we love the sport because it is fun, lets keep it that way.
Last modified onMonday, 23 February 2015 14:36