Poynter Takes 2012 to a New Level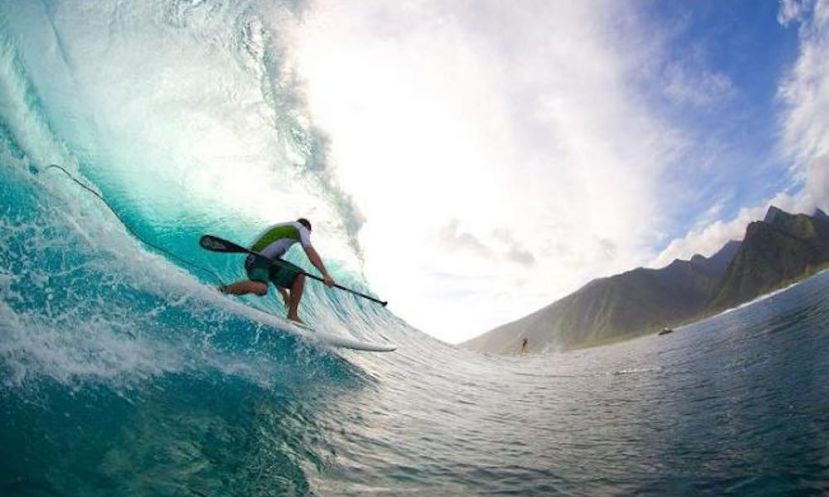 Sean Poynter has an incredible year of accomplishments in SUP. | Photo by Benjamin Thouard
SAN DIEGO, California - All one has to do is look at the Official Sean Poynter Website to know that he is quite a talent, and the proof is in the results. Over the past year of contests, traveling and varied competitions Sean has racked up quite a list of accomplishments. The most recent of which was being featured on the cover of "SUP International" magazine which just recently hit stands.
Sean began surfing at the age of 10 but it was during the summer of 2009 that he first tried stand up paddle. That means it was just 3 years ago that his SUP journey began but already the awards are stacking up.
Recently Sean won the Sapinus Pro which he describes as a, "Special event that one." He also represented team USA at the World Stand Up Paddle Championships in Peru where he took the bronze medal in the men's individual sup surfing contest and received a silver as a member of team USA. Sean also had fun taking 3rd in 2011 at the Hawaii Island Finals, but perhaps the most telling accomplishment has been achieving his current number one position on the Stand Up World Tour. It doesn't get much better than being ranked the number one person in the world.
With great performances on the water, Sean Poynter is also having fun with what comes from the success. For example, not only was he on the cover of SUP International magazine, but he also graced the cover of Water Sports Magazine. Sean has also been really excited that an article titled "A Night With Poynter," which was written by his friend Nick Scarpa about Sean's journey into SUP, was featured in a French magazine called "Get Up". It is a thoughtful, articulate description of Sean's life and conveys his dedication and commitment to stand up paddle and to striving for greatness in all aspects of life. To top things off, Sean has also been nominated for three 2012 Sup Athlete Awards Contests including our very own Supconnect SUP Man of the Year (voting concludes tomorrow - vote here) and was awarded the "Most Committed Surfer Award" at the Sunset Beach Pro.
With all of his success it is no wonder that Sean currently works with three sponsoring companies which are FCS, Starboard and Supreme. Sean recently stated that, "Being with Starboard and working intricately with the R&D team to further progress the designs of the boards and being involved with FCS has been a great pleasure and achievement in itself. Along with Starboard boards, FCS has provided me with the tools needed to step my game up to the next level. Their wide range of fins have allowed me to fine tune my equipment so that I can perform at optimal levels. Riding k2.1's as sides and GL center has been my winning set of as of late and I love it. FCS keeps me straight, and everything outside of that too."
Along with everything else that Sean is doing, he is also working on two new projects. The first involves working with Supreme on a wetsuit line and the second is to film a web series called "Get The Poynt." Together Sean and Supreme are working to develop a stand up paddling specific wet suit line. The goal is to provide efficient wear for the paddler using different construction and layout as compared to typical wet suits. As for the web series, there should be a first episode out within weeks in which Sean will hopefully share some 'poynters' about living a healthy and fit lifestyle.
These are definitely exciting times for Sean Poynter and although the remainder of this year is yet to come, he has already left a serious mark on 2012.
.
Last modified onTuesday, 23 June 2015 20:31
Email

This email address is being protected from spambots. You need JavaScript enabled to view it.