Ron DuBois, A Personal SUP Story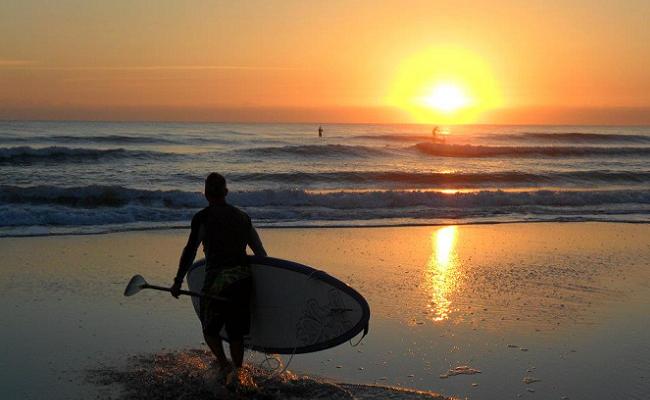 A Personal SUP Story written by Ron DuBois
Part 1: Finding
I learned to surf over thirty years ago with my best friend Dan growing up on Florida's west coast. As soon as we were old enough to drive we started making the trek over to the Melbourne area for better surf conditions. Every trip was an adventure. When it came time for college, we both decided on Melbourne because, you guessed it - surfing. I've been married for 25 years and our first date was a surf movie at the old 'Draft House' in Cocoa Beach (for those of you old enough to remember). All my closest friends are surfers. To take it a step further, I would consider them all-around watermen. We love the ocean and everything it has to offer. We all learned to surf, dive, fish, sail, and respect the ocean. As we got older, with families and careers, we've somehow been able to integrate these things into our lives... or vise-versa. Some of my greatest memories have been surfing with these same guys over the years.
Part 2: Losing
A few years ago I had some shoulder problems (stinks getting old) and eventually had to have a pin put in my shoulder to keep it from separating. Although it solved the immediate issue, it seriously hampered my paddling performance to the point where on big days I could no longer get out. Things went from bad to worse and eventually it hurt every time I went surfing. The mind has a way of figuring all this stuff out and eventually surfing sort of went on the back burner. Bummer. I figured I had a good run and it was time to move on to some other sport that didn't involve as much shoulder rotation. I would surely miss it.
Part 3: Wandering
For the next few years I surfed only occasionally whenever conditions permitted and my shoulder was up to it. I was slowly drifting away from the sport that had been so much a part of my life. Oh, I still called myself a surfer, but the truth is my surfing had been reduced to a handful of memories and the rare excursion to join my friends in the water. Now this is where the story gets a little strange. A dozen years ago a couple of my surfing buddies lost a close friend to leukemia. In response they started a Leukemia Society fund-raising effort up in Crescent Beach called the Crescent Beach Challenge. It basically involves a 5K beach run and a 3K ocean paddle (not for me, thank you) for a chance at the 'Big Kahuna' prize. It's a family-oriented, party-filled weekend for young and old. Well, as fate would have it, about three years ago they raffled off a StandUp Paddle board and guess who won it. I had never really seen one of these in action, let alone thought about surfing one! I took it back to Melbourne and it found a home in my garage for the next few months. Seriously, I never even thought to take it in the surf. That is until I saw a YouTube video of Laird Hamilton riding a SUP at Sunset in Hawaii. Can you say 'epiphany'? A powerful seed had been planted.
Part 4: Rediscovering
Only one question remained; 'Could I get good enough at this to actually surf one of these boards?'.The answer came the first time I ventured out on the next glassy, waist-high day. I know that I looked goofy and uncoordinated. And yes, I was thoroughly embarassed. I fell off that board a dozen times just getting out, but I caught the very first wave that came and surfed it all the way to the beach. It wasn't anything spectacular, but all I could think of was, 'OK, I can do this... I suck, but I can do this. I'm back!' I have to admit that I became a little obsessed by the notion of surfing again. All of a sudden I found myself back checking the surf conditions every day, watching weather patterns, and paddling around the canals to better my technique. Almost like I was trying to make up for lost time. As a result, I got better and better. To make a long story short, I lost 25 pounds in the process, took my wife on a SUP surf trip to Puerto Rico early this year, and moved beachside to be closer to the ocean. What a joy to be able to recapture that lost passion.
Part 5: Learning
What does all this mean? Well, I believe that lessons can be found in everything that happens to us - good and bad. Especially when things don't appear to go the way we want them to. What have I learned from all this? Five simple lessons:
1) Don't ever give up on your dreams. There is a reason you are passionate about something, usually a really good reason.
2) It is often hard to really appreciate something (or someone) until you lose it.
3) Don't ever NOT start something new because you are afraid of looking stupid. That makes for a boring life.
4) If you see someone just starting out (in anything), cut them a break. Try encouragement before judgement.
5) Respect other surfers, the ocean, and each other.
Go SUP!
What's your personal SUP story? Email it to Supconnect with 3-5 large photos at [email protected] We'd love to publish your experience and further Supconnect the world!
.
Last modified onThursday, 21 March 2013 02:18

Submit your news, events, and all SUP info, so we can keep promoting and driving the great lifestyle of stand up paddling, building its community, and introducing people to healthier living.
Website: supconnect.com
Email

This email address is being protected from spambots. You need JavaScript enabled to view it.