Outdoor Retailer Demo Shows Off SUP Boards & Gear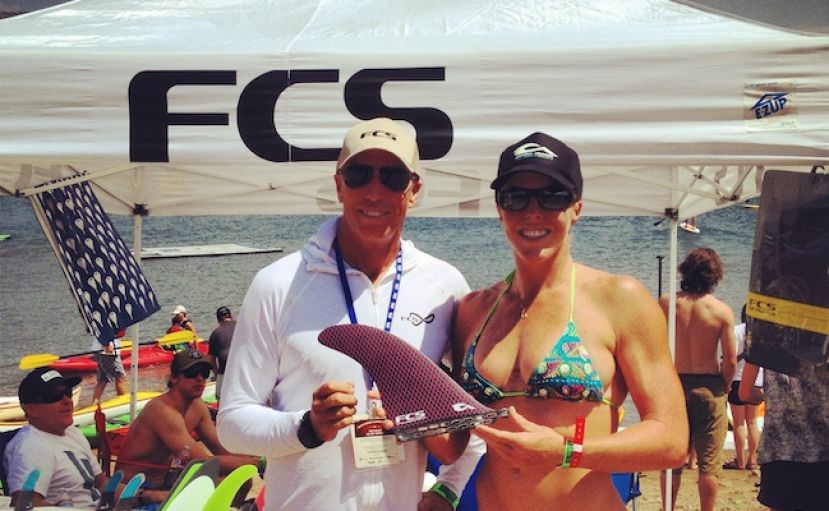 Candice Appleby shows us her new FCS SUP Stand Up Paddleboard Fin!
PINEVIEW RESEVOIR, Utah - Each year there is a very large scale event called the "Outdoor Retailer Summer Market" where major manufacturers of stand up paddle boards meet with retail businesses from across the world to show off their latest and greatest equipment for the upcoming season and to take orders of boards to sell to all of you. Fortunately, for the past few years Supconnect has been on location to bring you imagery and information on all the happenings!
Yesterday was the Open Air Demo portion of the show/market where more paddle boards than one can imagine were lined up along the beach for those in attendance to test and try at Pineview Resevoir in Utah. It was a colorful sight and a fun place to be as all the manufacturers and their representatives conversed with retail purchasers and media about the SUP gear.
Supconnect was able to get many great photos from the event and will share more coverage all week long which you can follow closely on our Instagram or Twitter accounts, which are @supconnect, or by simply doing a social search with the hashtag #SCOR (representing SUP-Connect Outdoor Retailer)!
Enjoy all the photos below for a glimpse of the open air demo and to see some of the great equipment that is either already available or will be available soon:
.
Last modified onThursday, 13 August 2015 17:26
Email

This email address is being protected from spambots. You need JavaScript enabled to view it.