Taku Rides ULI Board & Makes History at M2O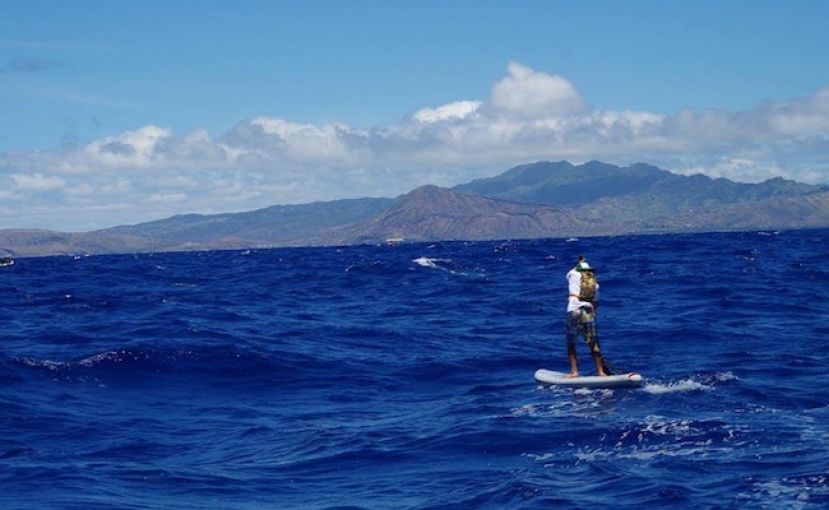 Taku Rides ULI & Makes History at M2O
VISTA, California - Molokai 2 Oahu (M2O) is an historic event. ·Back in 1996 a paddler named Dawson Jones came up with the idea of having a paddle race between the islands of Molokai and Oahu. After discussions with Garrett Macamara and Mike Takahashi (Dawson's training partners) the idea was set into motion and has now been one of the most impressive paddle competitions in the world for 16 years.
Just as Dawson Jones had an idea many years ago, Jim Weir, company founder and inventor of ULI, also had an idea. As someone who had surfed for over 50 years, Jim was keenly aware of the hassles of traveling with a surfboard and decided to dedicate himself to finding a solution. The result was ULI (Ultra-Light-Inflatable) Boards which are easy to travel with and use anywhere from a local SUP spot to extremely remote locations.
At first glance M2O and Uli boards may seem to have little in common, however, on Sunday July 28th, 2013, Dawson and Jim's ideas merged when Japanese stand up paddler Takuji Araki, aka Taku, paddled his ULI board in the Molokai 2 Oahu race with super impressive results. Not only did he finish the race, but he finished 27th overall and came in first for his age group of 30 - 39 year old men in the solo sup stock division. His finish time was 6 hours, 2 minutes and 27 seconds and riding the ULI board was the first M2O crossing attempted or finished on an inflatable SUP!
ULI founder Jim Weir had this to say, "Congratulations Taku! ULI Boards is grateful for your commitment, energy and endurance, and is proud to have broken another barrier with inflatables." He went on to say that, "Taku beat some very experienced, world class paddlers using the best high performance boards available, and this was his first Molokai race on a SUP."
Taku's ULI board was built for him as a race board. It was a typical ULI build with the exception of being slightly more narrow than the stock 14' race board. The dimensions were 14' x 26'' x 6'' and had the standard Kevlar reinforcement strips applied to the deck and the bottom of the board for the entire length. The Kevlar gave the board tensile strength, almost like a spring and maintained the rocker under stress.
Congratulations again to Taku and to ULI for the history that has been made at M2O 2013!
About ULI Boards:
An avid San Diego-based surfer and paddleboarder, Jim Weir invented the ULI (pronounced ooo-lee) to solve the surf travel problem. Short for Ultra-Light Inflatable, the ULI is a rigid inflatable board that rides like conventional surfboards and paddleboards but deflates and folds up to fit easily inside a bag or backpack for travel free from excess baggage fees. Once you reach your destination, simply unroll the board, inflate it with the small hand pump (takes about five minutes) and you're ready to go. To learn more go to www.uliboards.com or call 760.639.1844 and email [email protected]
.
Last modified onThursday, 13 August 2015 17:25
Email

This email address is being protected from spambots. You need JavaScript enabled to view it.