Maddi Leblanc Honors Loved Ones With Charity Paddle, On Board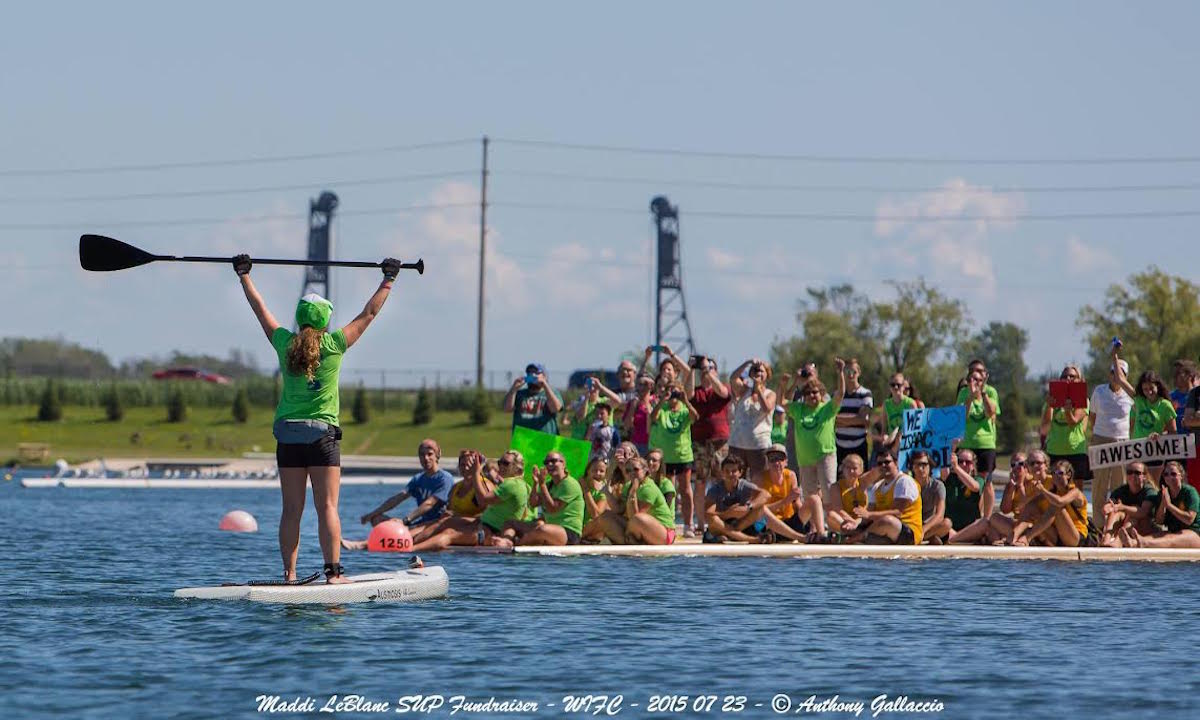 Maddi Leblanc is holding her annual fundraiser "On Board" once again in 2016. | Photo: Anthony Gallaccio
WELLAND, Ontario - The whole reason why I started 'On Board' was because of Julia Turner and Lynn Lambert. They were both two young women who dedicated their lives to helping others. Julia Turner was one of my high school friends, we took grade 9 drama together. Lynn Lambert was a local high school teacher in Welland and my next door neighbor. When they passed I wanted to do something for them because they gave up every bit of themselves for other people. They both inspired me to step out of my comfort zone and give back to my community. It was the least I could do for them. They both taught not only me but also all of Welland to treasure every moment of your life, and dedicate yourself to helping others when you can. They were amazing role models and deserve to be remembered.
On Board is a one day fundraiser for brain cancer research with the Canadian Cancer Society in Welland, Ontario. The day consists of a 10km paddle ride down the Welland Canal on July 14th 2016 at 2pm. Anyone can come out with any type of paddling experience with a canoe, kayak, SUP board, or anything else to join the ride! The paddling journey will start at the Welland International Flatwater Centre on Townline Road. From there, paddlers will paddle to the Pen Financial Credit Union Flatwater Centre, then turn around and head back to WIFC. At the starting point one of On Board's sponsors Ausmosis Boardworks will be hosting a free SUP demo day if adults or children would like to try paddle boarding. There will be a free BBQ as well, along with extra On Board t-shirts that will be on sale for $15. Interested participants should contact me through my Facebook page or email.

| | |
| --- | --- |
| | |
In 2015, Maddi raised over $5,000 for brain cancer research. She hopes to surpass $6K this year. | Photos: Anthony Gallaccio
On Board is important to me because when Julia and Lynn passed away, I never got the chance to say goodbye, and On Board for me felt like the perfect way to say just that. This fundraiser for me is a way of showing that we don't just have to sit back and watch cancer take those we love, we can choose to fight back by doing something good. On Board is so important to not only my Welland community, but other communities at large because it brings people together to not only remember Julia and Lynn, but to continue teaching the life values that Julia and Lynn lived for. On Board has taught me that you can achieve anything if you put your mind and dedication towards that. The fundraiser takes place at the Welland International Flatwater Centre in Welland Ontario on Thursday July 14th 2016 at 2pm.
My goals for On Board for this year is to get about 20 paddlers to come out (we had about 12-15 paddlers last year), and to raise over $6000 (we raised about $5,120 last year). My hope for On Board is that it continues to be a successful fundraiser which inspires others to go after their goals in life whatever they may be. Anyone can join On Board by coming out to the canal on the 14th to paddle! Paddlers will meet at 1:30 where they are encouraged to bring a kayak, canoe, or SUP board as well as a personal flotation device such as a lifejacket. There will also be limited boards available to rent provided by the Welland Recreational Canal Corporation. At 2pm the paddle will start and will take approximately 2-3 hours. Afterwards, participants are welcome to grab food, take photos, swim and socialize. This event is a great way to get some exercise while trying something new! Those who do not want to paddle are welcome to come to the canal to watch and enjoy a fun summer day! To donate you may directly donate by cash or check to me (checks can be made out to the 'Canadian Cancer Society') or to donate online please follow THIS LINK.
Last modified onThursday, 03 March 2016 13:56

Email

This email address is being protected from spambots. You need JavaScript enabled to view it.