Fiona Wylde Shares The Stoke At "Paddle With The Pros" Event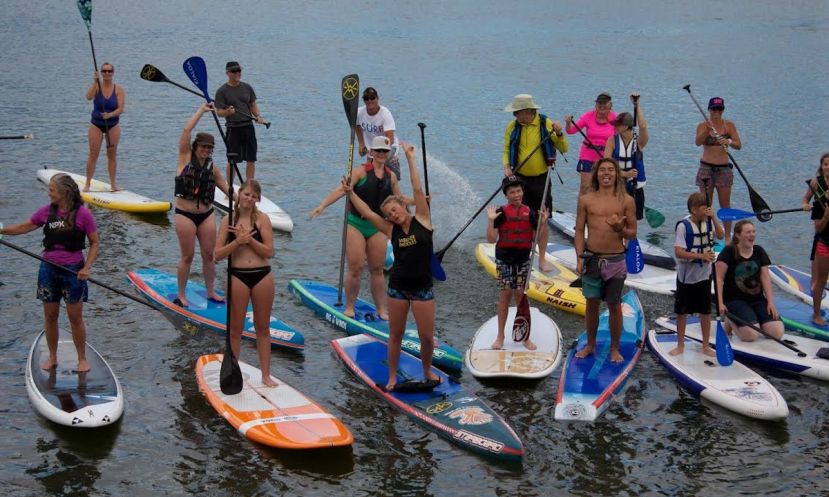 Fiona Wylde having a blast at the Paddle with the Pros event.
HOOD RIVER, Oregon - Werner Paddles' stand up paddle athlete, Fiona Wylde, may be one of the most talented water women in the world. But what means the most to us is that she is one kindest, friendliest people you will ever meet. These and all of her positive traits were on display at a recent "Paddle with the Pros" clinic hosted by Big Winds in her home town of Hood River, Oregon.
"Paddle with the Pros" is a program that gets some of our top athletes on the water with paddlers of all abilities. Some want advice on moving up to the next level of racing, some want to hear more about what the life of a traveling pro paddler is like and others just want to get on the water with the athletes they look up to. At just 18 years of age, it wasn't that far back that Fiona herself was just starting out, trying SUP and eventually joining Big Wind's "JET" youth development program. So anytime she can get on the water and share the stoke of SUP that was passed down to her, she will jump at the opportunity to give back.
All in all over 40 paddlers came out to join. Some to support their local Hood River hero, others just to get on the water with friends and family. What it's really all about.
Thanks to everyone who helped out and made this a success, most of all Big Winds for their part. But it seems like Hood River and the Columbia were the ones that really showed up for Fiona. What a day to get on the water.
Last modified onMonday, 18 January 2016 15:14

Hood River, Oregon - Fiona Wylde comes from the American capital of wind and kite surfing. So (no surprise!) she is into both of those sports. But more interestingly, she comes from one of the greatest kids SUP programs, hosted by Steve Gates, owner of Big Winds. Wylde's raw talent and discipline found a catalyst in that venue and group, catapulting her into the world stage and the top of the stand up paddle competitive scene. After graduation, she was diagnosed with Type 1 Diabetes. But that has not stopped her. Instead, Wylde is now becoming all the more of an inspiration for the millions of people who face that challenge while aiming to continue to live that outdoors athletic life.
Website: www.fionawylde.com/
Email

This email address is being protected from spambots. You need JavaScript enabled to view it.