Final Day of Surftech Shootout 2013 Webcast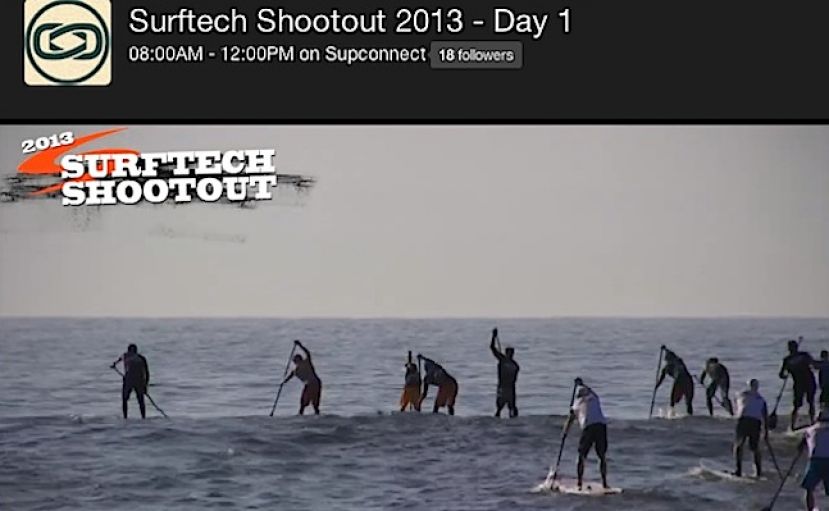 There were amaing camera views and angels yesterday. Watch today's scene NOW! - Click Here
SANTA CRUZ, California - A huge congratulations to Candice Appleby and Slater Trout for their stand up paddle race wins yesterday at the Surftech Shootout. Unlike previous years, the weather was gorgeous and the overall conditions were ideal. The surfing contest in the afternoon also brought some epic moments with Steamer Lane pumping and the contestants stoked! But, don't take our word for it... WATCH IT FOR YOURSELF!
WATCH TODAY'S ACTION HERE:
Watch the events here on Supconnect, on the Surftech SUP website or at other participating websites as seen below.
WATCH YESTERDAY'S ACTION HERE:
Watch the events from Saturday March 23, 2013 on the Supconnect Youtube Channel or on the Supconnect Ustream Channel.
The Webcast will begin at 8:00 A.M. PST on Sunday March 24th. There will be novel equipment used to bring you the main events and you can look forward to a wealth of information from the athletes about their sponsors, gear, favorite places to paddle and the best SUP advice they have ever been given.
No Excuses - Watch and Communicate Anywhere:
Don't miss a thing and communicate on social media using #SurftechSO13
Also, watch on the go with your cell phone by downloading the Ustream App and going to the Supconnect Channel.
SUNDAY EVENT SCHEDULE:
Sunday:·Shootout Final Rounds, 8:00am - 3:00pm·
Sunday:·Cowells SUP Classic Final Rounds 10:00am - 3:00pm·
Sunday:·Shootout Awards Ceremony, 4:00pm
Supconnect would like to thank all of our sponsors and stand up paddle websites who have shared this webcast including Supthemag Magazine, The Standup Journal, SUP Gladiator and SUPracer.
.
Last modified onTuesday, 08 March 2016 17:32
Email

This email address is being protected from spambots. You need JavaScript enabled to view it.