Kai Lenny Wins Sunset Beach Pro 2013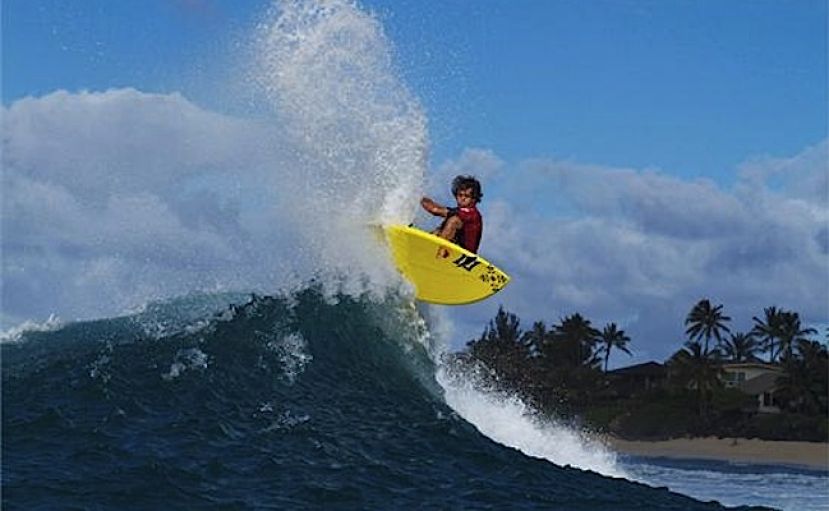 Kai Lenny, Naish Rider, Stand Up World Tour, Sunset Beach Pro 2013. Photo courtesy Waterman League.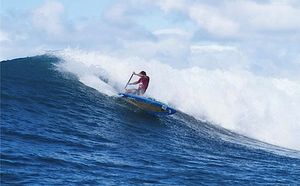 Robin Johnson - Sunset Beach Pro 2013 - Mistral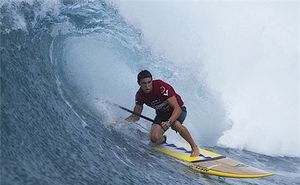 Kody Kerbox - Sunset Beach Pro 2013 - Naish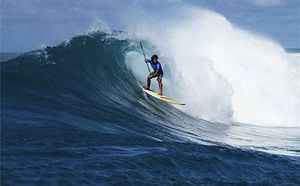 Poenaiki Raiohna - Sunset Beach Pro 2013 - Naish
TURTEL BAY, Hawaii - Kai Lenny, who is from Maui, Hawaii and rides for Naish, was a focused man this year at the Sunset Beach Pro and is the 2013 Sunset Beach Pro Champion.
In 2012 he finished 3rd overall in the stand up world tour but appeared to come out with major focus and determination in the first event of 2013. After working his way into the final he put together an impressive 16.5 heat score to take it all.
According to the waterman league, Kai produced "critical and high risk turns completed with skill and flair, impressing the judges and crowd alike and earning him the first notch on his belt towards the 2013 World Title."
Robin Johnson, team rider for Mistral and who is from Oahu, took second place overall and gave an impressive performance with his local expertise. He fought hard until the very end and as a man in his early forties continues to be an extremely strong competitor among all the other much younger finalists.
The young Kody Kerbox, another rider for Naish and who is from Maui, Hawaii, took third place. In the words of the waterman league, "Kody was attacking the lip vertically, like Kai Lenny (Naish), pulling off high risk turns with ease and making his statement on the 2013 season. There is no doubt that we will see a great deal more of Kody Kerbox in 2013, as proud father and surfing great Buzzy Kerbox watches on."
16 year old Tahitian, Poenaiki Raioha who also rides for Naish, came in fourth overall. He is described by many as a "young phenom" and is already proving his great skill. He also made the 2012 Sapinus Pro final where he finished 2nd, so to have this 4th place result just further proves that he is already a force to be reckoned with.
There were many other incredible performances throughout the competition and it will be interesting to stay tuned and watch the rest of 2013 unfold. The next Stand Up World Tour Event will be held in Ubatuba Pro, Brazil from April 16th - 21st.
.
Last modified onThursday, 27 August 2015 16:44
Email

This email address is being protected from spambots. You need JavaScript enabled to view it.