Cronsteadt and Anderson Win the Air France Paddle Festival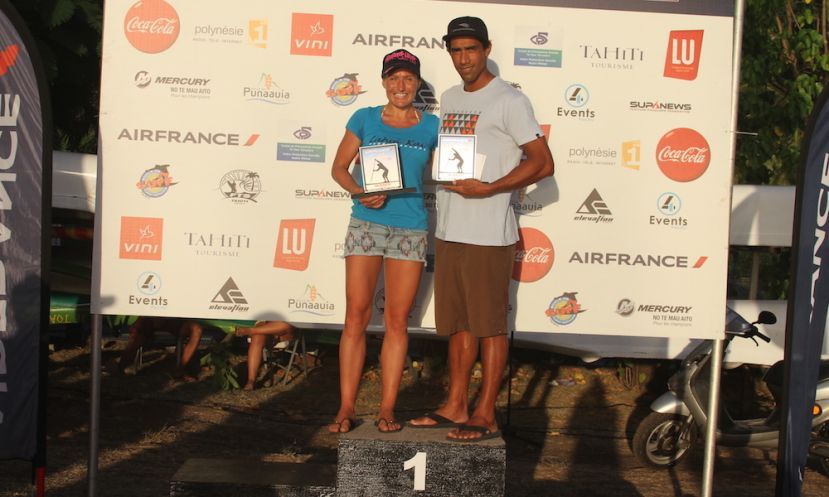 The Elite Race Winners at the Air France Paddle Festival. | Photo: Supconnect
TAHITI, French Polynesia - It was an insanely beautiful day here in Tahiti for the second annual Air France Paddle Festival. Not only were the beaches packed, but the ocean was filled with hundreds of racers that took part in the festival. Both elite athletes and amateur paddlers alike joined together and participated in what's sure to become the South Pacific's largest stand up paddling competition.
The competition was fierce between the athletes as Tahiti is known to breed some of the best paddlers in the world. That being said, it was no surprise that the Tahitian Beast himself, SIC Maui athlete Georges Cronsteadt, took home the victory after a solid showing and leading throughout the entire Elite Race.
(Left) Georges Cronsteadt. (Right) Annabel Anderson, Elite Race winners. | Photo: Supconnect
On the women's side of things it was Kiwi Annabel Anderson to come out on top against some of Tahiti's best female paddlers. It wasn't until a few days before the event that Annabel had decided to participate in the festival as she was coming off of a bad case of the flu. Annabel wasn't at 100 percent, but it sure didn't show as she came in looking strong.
The sprint races and lagoon races were also a blast and it was awesome to see folks who have only recently introduced to stand up paddling and having them already compete and race in such an awesome event.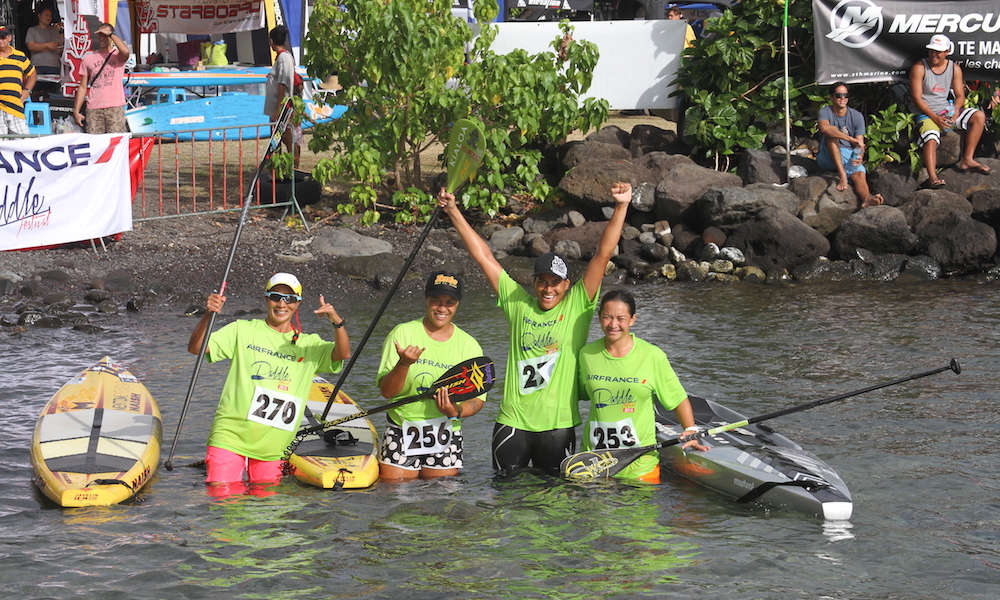 The ladies' Sprinters. The winner was Hinatea Bernardino (second from the right). | Photo: Supconnect
Stay tuned for the full writeup and results for the Air France Paddle Festival in the next couple of days!
To check out SUP events near you, take a look at the Supconnect Events Calendar here.
Last modified onSaturday, 18 April 2015 22:21

Allie Beucler is orginally from Kona, Big Island and, as an islander, her life has been in the water – ocean more precisely. She has been a sponsored competitive surfer, represented the NSSA College National Champions while surfing for San Diego State University, and today remains deeply connected to the watersports lifestyle. Brown is both a shortboarder and a paddleboarder, loving to take out her inflatable SUP for a ride. With a journalism degree from San Diego State University and her passion for the water life, she brings an excellent combination of skill and passion to Supconnect.
Email

This email address is being protected from spambots. You need JavaScript enabled to view it.