Two Men SUP the East Coast
Beginning on March 1st, 2011, Mike and Will set off from Key West, Florida. 120 days later they arrived in Portland, Maine to complete their difficult yet rewarding SUP the Coast journey.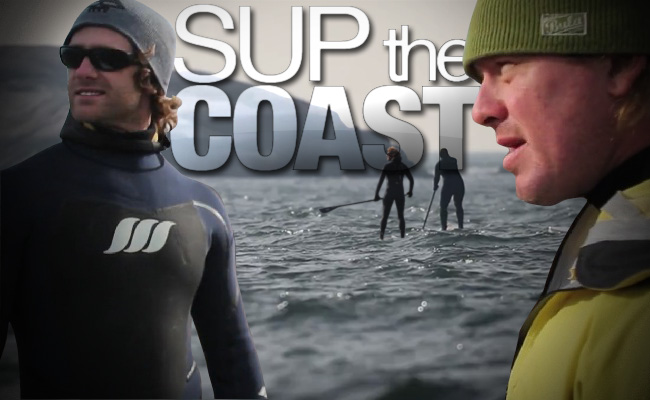 Meeting each other at a secret surf spot more than 8 years ago, Mike and Will became friends through their shared respect and appreciation for the ocean.
Read the SUP Connect interview with Mike Simpson.
PORTLAND, Maine – On March 1st, 2011, Mike Simpson and Will Rich set off from Key West, Florida. With their stand up paddle boards pointed north and with no intentions of stopping until they reached their goal in Portland, Maine, their SUP the Coast journey began. Four months later, after almost 90 days of paddling and 120 total days into their trip, Mike and Will reached the end of their journey on June 29th.

While the SUP the Coast journey may have come to a close, Mike and Will hope to continue to raise awareness and money for the causes they have paddled for, Wounded Warrior Project and SUP Cleanup. On the SUP the Coast website, Mike and Will express their motivations for conquering the eastern coastline of the United States, "We're combining our passions for paddling, people, and the ocean while fulfilling a dream of seeing the East coast from the water."

"In doing this we hope to spread awareness and raise money for two specific causes which stem from these passions. The first is the Wounded Warrior Project, a national organization which supports America's service men and women, particularly upon their return from duty. Regardless of what one's stance is on the US involvement in the Middle East, the fact is that these people put their lives on the line for the rest of us every day. We think it's only right to stand up for those who stood up for us."

"The second cause we are supporting is physically 'closer to home'. We live on, and love, the ocean, and she obviously plays an integral part in this adventure. We have chosen to combine our efforts with a great group of people who work hard ( and have fun at the same time ) to educate others about the well-being of our marine eco-systems on which we so closely depend. SUP Cleanup, a world-wide organization based in North Carolina, couldn't be a better fit for what we're trying to do."

Mike Simpson has been surfing his entire life and when introduced to stand up paddleboarding it was the perfect hybrid of kayaking and surfing for him. He has paddled countless miles and introduced hundreds of individuals to the sport. From surfing big waves to paddling any distance in any conditions, stand up paddleboarding has become his life.

Will Rich grew up in the United States' oldest seaport, Gloucester, MA. The ocean has always been a large part of his life, starting when his mom threw him in at 6 months and he has a hard time getting out ever since, with his longest time away from the ocean being ten days while he made a trip to Europe and spent some time exploring England on his way to surf kayaking in Portugal. Will met Mike while surfing a secret spot that he found by mistake and has now known him for 8 years. He started stand-up paddling boarding 2 1/2 years ago after Mike introduced it to him, and he hasn't looked back.

After over 1,800 nautical miles, Mike and Will have completed a truly epic SUP journey. They have raised awareness and money for two great causes and have introduced the sport of SUP to countless individuals along the way.
Check out the SUP the Coast website for more details on thier journey.
.
Last modified onWednesday, 28 January 2015 12:46

After spending the first part of her life in Minnesota, Morgan traded in her snow boots for sandals and moved to sunny California. After graduating with a degree in Communication from The University of Southern California, she eventually made her way down south to San Diego and is taking advantage of the living by the best beaches and burritos California has to offer. If it's sunny, you can find her at the beach relaxing, or exploring the calm water in the bay via paddleboards and kayaks.
Email

This email address is being protected from spambots. You need JavaScript enabled to view it.