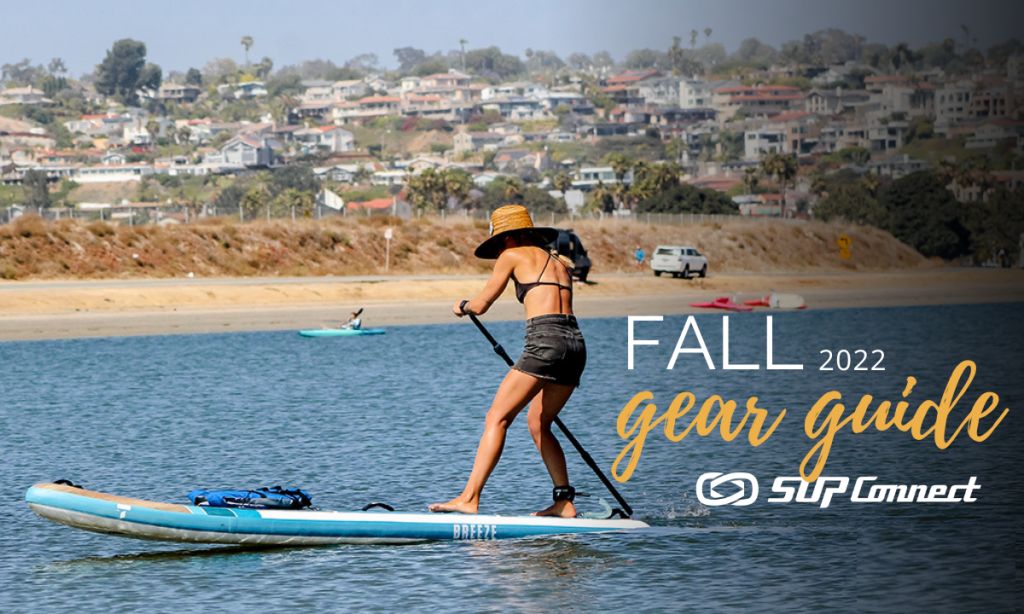 Fall 2022 Gear Guide
SAN DIEGO, California - Seasons are a-changing' and fall colors and cooler temps will be making their way to your oceans and waterways before you know it. Here, we've put together a list of SUP gear, SUP accessories, SUP boards and all the must have's for everyone from a beginner to the advanced SUP'er for the 2022 Fall SUP season, so there's sure to be something in this guide for everyone!
Take a look at the 2022 Fall Gear Guide below:
Paddles & Accessories
YETI Rambler 20oz Travel Mug w/ Stronghold Lid

Enjoy a hot drink from your SUP on a chilly fall day. The YETI Rambler Travel Mug is a great choice for keeping your beverage insulated, leak-free. Learn more HERE.

Body Glove Heritage 2mm Long John Wetsuit

This light suit is perfect for when you just need that extra layer. The Heritage Long John is built with Magna Flex underarm panels and Nano Tritec kneepads. Learn more HERE.

EltaMD UV Sport Broad Spectrum Sunscreen

Don't let cooler temperatures make you forget sun protection! For a long day on the water, this sunscreen is designed to be sweat- and water-proof. Learn more.

Slingshot Switchblade Paddle

The Switchblade is a carbon and fiberglass composite paddle designed for enthusiasts who want a sturdy adjustable paddle that is light weight. Learn more.
Boards - Inflatables
Blackfin CX ULTRA™

With a brand-new shape designed for speed, the BLACKFIN CX ULTRA™ is 10'6" long and 32.5" wide, making it one of the fastest boards on the water. Woven drop-stitch construction and a built-in carbon rail make for a rigid and stable board with excellent tracking, ideal for both beginners and experienced riders. And with a weight capacity of 320 lbs, adults can ride solo or as a pair. Learn more HERE.

SIC Maui TAO AIR TOUR 11'0" PACK

The 10'6" is a perfect board for surfing, cruising, and yoga, while the 11'0" and 12'6" are designed more for recreational fitness and cruising. The 10'6" TAO Air Wind is an excellent board to paddle when there is no wind, and when the wind turns on, you can put your sailing rig on the board and cruise under sail power. Made from the finest Drop Stitch Construction (DSC) and lightweight, durable Support Stringer Technology (SST), these boards are light, stiff, and reliable. They come in a complete package with a 3-piece adjustable paddle, ready to go when you. Learn more HERE.

Pau Hana 10'10" Solo SUP™ Backcountry

The Solo SUP™ - Backcountry is the first hikeable paddleboard, specifically designed for backcountry adventures. It is the lovechild of dirtbag hippies who surf, paddleboard, and kayak, created specifically for digital nomads that want to explore remote waterways accessible only by long hikes or portages. Learn more HERE.

Aztron 2023 Super Nova 11'0" Compact SUP

Pack smaller, travel lighter! Safety and performance folded into one small backpack. Through reduced traction pads and the Double Chamber Lite Tech, it now offers even more convenience in packing with uncompromised function and revamped graphic design. For the 2023 season, the SUPER NOVA 11'0" Compact in the range has been given an outline upgrade to touring SUP, reducing the weight, and increasing the performance of the board. Coming soon on aztronsports.com.

Aqua Marina Fusion

The FUSION features more generous volume and payload that cater to those looking for easier ride and carrying more luggage. The comfortable diamond grooving footpad provides extra grip while the strengthened stainless steel leash D-ring ensures a safe ride in small waves. Constructed with Aqua Marina's exclusive Drop Stitch Light Technology, the FUSION is lightweight but super stiff. Coming with our new customized zip backpack this year, these classic models are highly portable whilst packing everything inside. Learn more HERE.

Check out our review of the Aqua Marina Fusion HERE.

Thurso Surf Waterwalker

Hit the water with confidence on our best-selling inflatable all-around SUP. Designed for beginners and experienced paddlers alike, the Waterwalker's unrivaled versatility and high-quality, durable construction mean no activity or waterway is off limits. Enjoy nimble but stable paddling on rivers, lakes, and oceans, and everything from family fun with dogs and kids, to coastal crusing and overnight adventures, to fitness and yoga, fishing, and surfing! Learn more HERE.

Check out our review of the Thurso Surf Waterwalker HERE.

Slingshot Crossbreed 11' w/ SUP Winder

Wingsurfing is one of the newest emerging sports! The Slingshot Inflatable Crossbreed SUP board now comes with a center keel fin (Sup Winder). The first step to Winging is staying upwind so start your adventure on this super stable board. Double the fun: SUP and Wing board in one. #Slingshotsports. Learn more HERE.

Aquatone Mist 10'4" Compact All-Around SUP

MIST 10'4" COMPACT is easy to get on and built specifically for all levels of SUPers to enjoy a great time. The lightweight core material and unique deck construction allows the board to be packed down to half the size of conventional air boards. It is a board of uncompromisingly high performance that is also friendly to travelling and storage. Learn more HERE.

Body Glove Raptor Pro

Step onto a board that can satisfy your hunger for on-water fun. The upgraded Body Glove Raptor Pro is ultra-stable, highly durable and loaded with great features such as an action camera attachment, laser engraved foot placement guides and a patented multi-functional carry handle that doubles as a water bottle holder. Its complete package includes everything needed for a day on the water. Learn more HERE.

TAHE 11'6" Beach SUP-YAK + Kayak Kit

The BEACH SUP-YAK 11'6 is a stable, lightweight and easy to use 2-in-1 inflatable kayak and paddle board package for either 2-person or 1-person use with plenty of extra capacity for kids, pets and gear. The innovative design combines comfort and convenience for endless play time on the water with family and friends whether standing, seated or lounging around. 100% Kayak, 100% Paddle Board, 200% FUN! Learn more HERE.

Check out our review of the TAHE SUP-YAK HERE.

POP Board Co. Yacht Hopper

The Yacht Hopper feels as much like a ship as it does a paddleboard. The front & rear mounts for your cooler, additional D-rings for harnessing supplies, and increased volume make this board incredibly stable and ready for adventure. For paddlers who have dreamt of taking their boards farther than the naked eye can see, this board looks forward to chartering its course down winding rivers, across crystal clear lakes, and coastlines with hidden coves. Learn more HERE.

NSP O2 Allrounder LT

Ditch the roof racks today and score some paddle strokes on the fly. This go-anywhere inflatable is something else. Inspired by one of our most popular shapes, the Allrounder LT is perfect for cruising, touring, exploring and traveling with a SUP. Learn more HERE.

Check out our review of the NSP O2 Allrounder LT HERE.

Surftech Hercules Air Travel

The Hercules Air-Travel is the perfect family cruiser. Featuring two removable seats, front and rear deck tie downs, front /side/rear carry handles, thermal debossed deck pad, and extra width for a ton of stability. Dad, Mom, and Kid approved. Learn more HERE.

Check out our review of the Surftech Hercules HERE.

Aquatone Blast 12'0" Inflatable 2-Person Kayak

A 2-person sit-in kayak designed specifically for recreation, BLAST 12'0" fuses performance with great stability on a variety of water conditions. Made of premium drop-stitch material and constructed with a high-pressure deck, BLAST delivers suitable rigidity and comfortable navigation. The integrated self-bailing floor keeps you comfortable and dry all the time when you are out there on flat water or small waves. Learn more HERE.
Boards - Hard Tops
Aztron 2023 Falcon Carbon 6'3" Wing Foil Board

Fly above the new horizon! The brand-new Carbon X 6'3" is the new version of the previous 6'6". With a shorter length and generous deck, this superlight carbon board is specially designed to be fast and in control, on the racecourse and in the air. We've added all the new features such as the necessary bottom handle, multiple foot strap options, and double concave bottom to push the performance to limits. Coming soon on aztronsports.com.

NSP Cocoflax Allrounder

The Allrounder is NSP's ultimate SUP platform that does it all – the perfect blend of fun wave performance and flatwater paddling glide. Plus, its unique look makes the Cocoflax Allrounder stand out anywhere, in aesthetically pleasing earth tones. Learn more HERE.

Surftech Catalyst/Tuflite V-Tech

The Catalyst/Tuflite V-Tech is the perfect board for the whole family. Joe BARK shaped the Catalyst for flat-water cruising plus it still performs well in small to medium surf. Utilizing quality fiberglass, EPS, GreenPoxy resin (plant based epoxy system), and Surftech molding methods, we achieved a very durable and lightweight board. The Catalyst is included with 4 deck tie-downs, ledge handle, rear padded handle, and 3/4 deck pad. Learn more HERE.

Check out our review of the Surftech Catalyst HERE.

SIC Maui Okeanos

The Okeanos is a fitness and touring board that has won awards such as the 2022 Supconnect "Best Touring Board" and "Best Overall Board". The board has been outfitted with numerous tie-downs to mount your cargo. It is super stable rail-to-rail making this a great board to fish off and load with gear for any adventure. Learn more HERE.

Check out our review of the SIC Maui Okeanos HERE.

SIC Maui Mangrove

The Mangrove fits a wide range of paddlers looking for a stable platform for a variety of uses. This stability is provided by the Mangrove's flat bottom and full rails. Its rounded bow glides effortlessly in flat water, cuts through chop with ease, and provides a softer ride. Learn more HERE.

Starboard Wedge

The wave-burglar. The Starboard Wedge has a pro performance and feel without compromising stability or volume. All boards are 32'' wide to provide float and stability for heavier riders to rip. This is a versatile range for big to small conditions, best suited for beginner and intermediate riders. Learn more HERE.
Make sure to head to your local retailer to find all these items and more during this fall season!
Last modified onFriday, 16 September 2022 21:46

Submit your news, events, and all SUP info, so we can keep promoting and driving the great lifestyle of stand up paddling, building its community, and introducing people to healthier living.
Website: supconnect.com