Holiday SUP Gift & Gear Guide 2022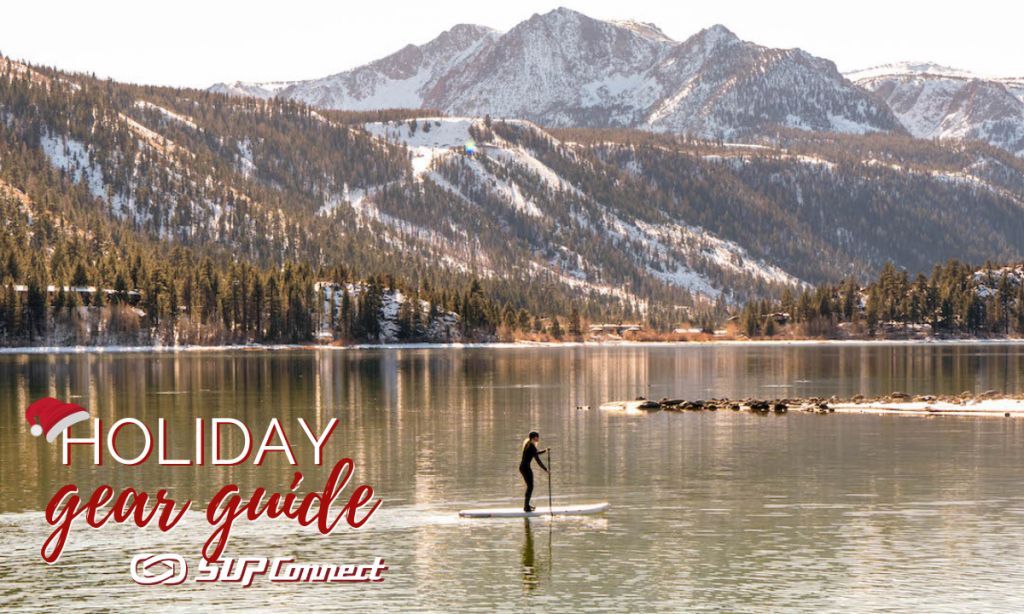 Photo via Surftech
SAN DIEGO, California - 2023 is almost here! With gift-giving season in full swing, it's time to think about getting something awesome for the SUP'er in your life! So, here at Supconnect, we've put together a gift/gear guide of the newest and coolest items to have recently hit the shelves and racks on the SUP market. If you're looking for something to get for your lover, mother, brother, sister, friend, or anyone for that matter this holiday season, this guide will be perfect for the stand up paddler in your life. And who's to say you can't get a little something for yourself? 'Tis the season after all...treat yourself to something you've always wanted! We've put together a list of SUP gear, SUP accessories, SUP boards and all the must have's for everyone from beginners to the advanced SUP'er, so there's sure to be something in this guide for everyone!
Take a look at the 2022 Holiday SUP Gear Guide below:
Accessories
Body Glove 5mm Phoenix Split-Toe Bootie

Keep those feet warm during chilly days on the water! Body Glove's split-toe bootie design allows for increased dexterity. Other features include a Quadra Flex exterior upper, lightweight footbed, sealed seams for added durability, 8.5" boot height, and an easy-on pull tab. Learn more.

iRocker Cell Phone Case

Even while getting in some "me time," it's nice to be reachable if needed. This fully waterproof cell phone case means you can be just a call or text away. Plus, you'll be able to capture and share any cool wildlife you see while out on the water! Learn more.

iRocker Lunch Box Cooler (water resistant)

The perfect gift for anyone you know who wants to come prepared with snacks and drinks. Get them just what they need to keep things cool and organized with the Lunch Box Cooler. This compact cooler conveniently secures to the board's bungee system, so you'll be ready to go on your next SUP adventure. Learn more.

POP Board Co Kayak Seat + Paddle

Sit back and relax! With this seat and paddle, you can transform your SUP into a kayak-style ride. This makes for a great gift for the paddler who wants to mix it up a little bit! Learn more.

Slingshot Blaster V1 Wing

The Blaster V1, at 4.4 square meters in size, is perfect for all rider weights and covers the largest range of wind conditions. Riders of all sizes will enjoy the Blaster's compact design that makes turns and transitions effortless. Use the included pump for quick inflation and off you go, using the perfectly placed handles to power the wing. Whether you use your wing with skates, skis, or on the water, the Blaster V1 is quick to set up and incredibly intuitive to use. Learn more.

VIBE Waterproof Speaker

Whether you're planning a high-powered paddle or a calming SUP yoga session, the VIBE Waterproof Speaker has the tunes to suit any occasion. 100% waterproof, this Bluetooth speaker features a rechargeable battery for up to 5 hours of play time. And it floats! Learn more.
Boards - Inflatables
NSP O2 Allrounder LT

The Allrounder LT is a one-stop solution for traveling paddlers. Ditch the roof racks today and score some paddle strokes on the fly. This go-anywhere inflatable is something else. Inspired by one of our most popular shapes, the Allrounder LT is perfect for cruising, touring, exploring, and traveling with a SUP. Learn more.

Aquatone Flame 12'6 Touring SUP

The Aquatone FLAME 12'6", with its narrow and extended outline combined with a pointy nose, delivers great straight-line performance with effortless glide allowing you to paddle long distances. The generous deck width and volume ensure a comfortably stable stance and easy handling. From flat water to choppy waves our FLAME boards are on another level when it comes to performance. Learn more.

Pau Hana 10'10" Solo SUP™

The Solo SUP™ - Backcountry, is the first hikeable paddleboard, specifically designed for backcountry adventures. It is the lovechild of dirtbag hippies who surf, paddleboard, and kayak, created specifically for digital nomads that want to explore remote waterways accessible only by long hikes or portages. Learn more.

TAHE Breeze Wing Air 11'0

The Breeze 11' Wing inflatable is the perfect board for flat-water cruising with family and friends as well as for going on longer-distance touring-style adventures. This board comes as a COMPLETE PACKAGE including the board, paddle, safety ankle leash, backpack, high-pressure pump with gauge, repair kit, deck bungee for gear storage, carry handles at center, nose, and tail, tie-down o-rings at nose and tail, and "yoga-mat" style traction pad for comfort and grip. Learn more.

Body Glove Porter SKX

The revamped Porter SKX SUPYAK is the ultimate board for your next adventure. With two paddling configurations, an angler accessory plate, action camera mount and more, the Porter SKX is built for those looking for a versatile yet durable board. The Porter is designed to be used as a sleek sit-on-top kayak, but by simply unclipping the removable seat, the kayak converts to a stand-up paddle board. Two ways to paddle and endless adventures. Learn more.

Aqua Marina Vapor

The new VAPOR features more generous volume and payload, catering to those looking for an easier ride and to carry more luggage. The comfortable diamond grooving footpad provides extra grip while the strengthened stainless-steel leash D-ring ensures a safe ride in small waves.

Constructed with Aqua Marina's exclusive Drop Stitch Light Technology, the VAPOR is lightweight but super stiff. Coming with our new customized zip backpack this year, these classic models are highly portable while able to pack everything inside. Learn more.

Aztron Sirius 9'6" Whitewater/River SUP

The SIRIUS 9'6'' is a 2-in-1 SUP that performs in up to Class II white water rapids or small- to medium-sized waves. Thanks to its 36" extra-wide deck, the board has plenty of room to make advanced maneuvers. The foot traction deck features a 5mm thick deep diamond grooved soft EVA foam pad, providing maximum grip and stability to ground your feet as you navigate between the flows and rapids. The fish-tail design is very responsive, capable of making quick turns in choppy conditions. Learn more.

Starboard Zen Inflatable Range

Starboard's budget-friendly inflatable paddle board line offers the best value for riders simply looking get out on the water and have fun. The Zen range features our best selling SUP models and in our leanest, lightest and value-oriented inflatable paddle board construction ever. Built with the best core essentials, these are the best SUP boards for getting started in stand up paddle boarding without breaking the bank. Learn more.

iRocker All Around 10' ULTRA

An endlessly versatile board, the ALL AROUND 10' ULTRA™ offers the perfect mix of speed and maneuverability for shorter and lighter paddlers 5'5" and below. With its lightweight, compact design and ultra-portable backpack, mom will be able to tote this SUP wherever adventure calls her. Learn more.

Crossbreed 11' Airtech Package w/ sUP WINDer

Step into the new and exciting sport of Wing surfing and gather the basics of upwind and downwind sailing on a soft, stable platform before taking the next step to a dedicated foil board. We fitted the popular Slingshot Crossbreed 11' inflatable SUP with a center fin box that houses the removable sUP WINDer keel fin. Remove the center keel fin and you are back to standard paddling with an inflatable SUP that is lightweight, durable, portable, super safe, and it feels like a hardboard when fully inflated. Learn more.

Aqua Leisure Aqua Pro Halcyon Adventure SUP

Designed for the recreational to advanced user, Aqua Leisure's new "Aqua Pro, Halcyon (Hal-see-on) Adventure" iSUP combines many of the features and aesthetics of performance paddleboards with the addition of improved stability and ease of paddling due to its unique scalloped side rails. From the custom designed multi-compartment backpack and user adjustable aluminum paddle to its 8 D-ring tiedown locations, this paddleboard is both highly portable and durable while extremely easy to paddle. The Halcyon Adventure is a patent pending design unique to the industry. Learn more.

Aquatone 2023 ECHO 5'8" Wing Foil Board

Another breakthrough for Aquatone in 2023, the ECHO 5'8" foil board marked our first step into the foiling world. The ECHO introduced a trustworthy board shape for all types of riders. The moderate 5'8" with an extra wide deck is suitable for wing foiling, offering a variety of volumes to suit riders at most levels. The compact board shape is also nicely balanced and easy for riders to get on the water. The Echo will soon be available on the Aquatone website.

POP Board Co. Yacht Hopper

The Yacht Hopper feels as much like a ship as it does a paddleboard. The front & rear mounts for your cooler, additional D-rings for harnessing supplies, and increased volume make this board incredibly stable and ready for adventure. For paddlers who have dreamt of taking their boards farther than the naked eye can see, this board looks forward to chartering its course down winding rivers, across crystal clear lakes, and coastlines with hidden coves. Learn more HERE.
Boards - Hard Tops
SIC Tao Surf 11'6 AT

The TAO Surf series is inspired by traditional surf design. The full nose and rounded pintail help you drop into waves and then carve down the line with ease. The generous widths make the board stable, which comes in handy when punching through the shore break or standing out in the lineup. The Tao Surf is also a beautiful cruising board with a moderate rocker line that tracks and glides nicely through the water. It can accommodate multiple fin configurations (single fin or thruster setup). The overall volume is designed to suit the whole family. This board is available in both 10'6 and 11'6 lengths. Learn more.

Aztron 2023 Martian2.0 14' Composite Race SUP

In this new season, MARTIAN2.0 has radically evolved to an authentic race SUP at 14'0''. As its name suggests, MARTIAN embodies Aztron's imagination and ambition. The standard race size combined with the advanced CST Carbon Sandwich Tech enables unmatched tracking and superb speed. Let the boldly themed MARTIAN2.0 unlock your racing spirit within! This new product is soon to be available on the Aztron website.

Surftech Aleka Tuflite V-Tech

The Aleka/Tuflite V-Tech is the perfect board for any paddler that wants to do it all. Joe BARK shaped the Aleka to be stable enough for flat-water cruising plus it still performs well in small to medium surf. The Tuflite V-Tech utilizes a molded bamboo micro-sandwich construction, quality fiberglass with epoxy and GreenPoxy bio-resin for durability and weight reduction, and includes a 3/4 thermal debossed Bloom™ foam deck pad, deck tie-downs, ledge handle, and rear padded handle. Learn more.
Make sure to head to your local retailer to find all these items and more during this winter season!
Last modified onFriday, 02 December 2022 12:51

Submit your news, events, and all SUP info, so we can keep promoting and driving the great lifestyle of stand up paddling, building its community, and introducing people to healthier living.
Website: supconnect.com