SUP the Coast - Interview with Mike Simpson
After 90 days of paddling, Mike is taking a much needed rest. With over 1,800 SUP miles under his belt and a new SUP distance record, Mike takes a moment to answer some questions about his SUP the Coast journey.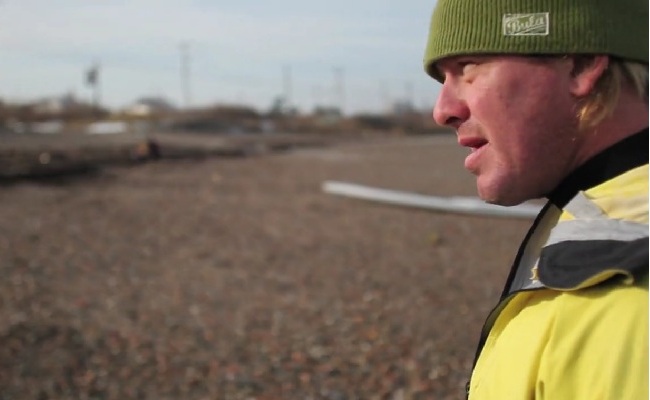 After his epic SUP journey, Mike says, "I would categorize my mind set as in a fog. 1,808 nautical miles....will change anyone's perspective on life...."
Read the original SUP the Coast story here.
SUP Connect: Can you describe how you are feeling right now after coming off of your SUP journey?

Mike: Even though our journey ended almost two weeks ago I would categorize my mind set as in a fog. 1808 nautical miles on an 18 ft. Joe Bark will change anyone's perspective on life, the ocean, as well as our Wounded Warriors.

SUP Connect: What have you been doing back at home now that your schedule of paddle, sleep, paddle, sleep, paddle sleep is over?

Mike: The surf has been up here in Rhode Island for about a week! That's a big deal for the east this time of year. So with that said I've been SURFING!

SUP Connect: Aside from you and Will Rich, who else was involved in the planning / logistics of this journey?

Mike: It was just Will and I paddling but Mimi [Whitmarsh] and Alana [Horne] were here in New England handling logistics. Amazing job I'd say. Because of Mimi's hard work (4-6hrs per day answering e-mails) plus her real jobs, Will and I could concentrate on just paddling.

We were always received by new friends opening their home to us. In return they would get a story or two. Alana also has two jobs and a 2.5yr old and husband. She was handling Media stuff and got us connected with a ton of local and national media.

SUP Connect: What did you eat to sustain an energy level that allowed for daily paddles?

Mike: We self-supported with an average of 65 to 80 lbs. on our boards. Vermont Peanut Butter was our diet. Not totally but we ate a ton of peanut butter.

SUP Connect: What were some of the highlights for you during your SUP journey?

Mike: Amazing pods of dolphins, sea turtles, manatees and fish of all kinds joined us every day. Travelling slow like the Ancients did was a highlight for me; just you, the ocean and the board......simple! The amount of trash we picked up is something to note, bottom line, hundreds of pounds over the trip. Big trash as well as small plastic fragments. We would recycle what we could.
Remember to check out the original SUP the Coast story.
.
Last modified onWednesday, 28 January 2015 12:45

After spending the first part of her life in Minnesota, Morgan traded in her snow boots for sandals and moved to sunny California. After graduating with a degree in Communication from The University of Southern California, she eventually made her way down south to San Diego and is taking advantage of the living by the best beaches and burritos California has to offer. If it's sunny, you can find her at the beach relaxing, or exploring the calm water in the bay via paddleboards and kayaks.
Email

This email address is being protected from spambots. You need JavaScript enabled to view it.