Alex Linnell SUP-PORTING the Mississippi
On June 1st, Alex Linnell set out from the headwaters of Lake Itasca in Minnesota. Over 44 days into his journey, Alex has passed the half-way mark and has logged over 1,200 miles on his SUP. Follow him on his SUP journey.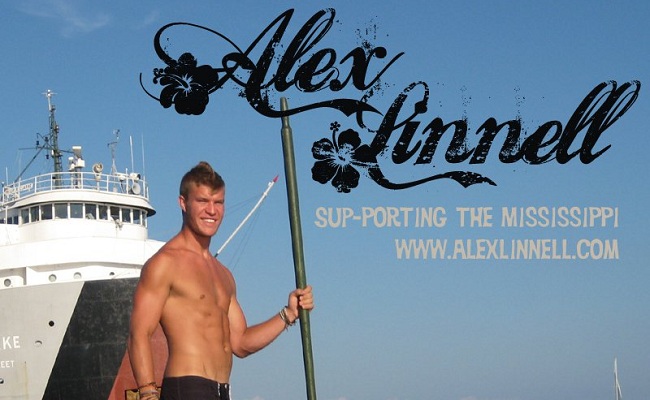 Alex Linnell, born and raised in Minnesota, has always been around the water. Three years ago he was introduced to the sport of SUP using an old windsurfing board and an oar paddle. Photo: www.alexlinnell.com
Check out another SUP Journey from the Mississippi.

SAN DIEGO, California - Last week we brought you the story of two men who have just completed an epic SUP journey. Mike Simpson and Will Rich paddled 1,808 miles from Key West, Florida, to Portland, Maine, breaking the previous SUP distance record of 1,507 miles held by Tom Jones. This week we bring you another SUP Journey from the Mississippi (because that is where all the SUP distance action is right now).

On June 1st, Alex Linnell set out from the headwaters of Lake Itasca in Minnesota with his back to Canada and his eyes on the Gulf of Mexico. His trip down the Mississippi will be an estimated 2,350-mile journey and will take anywhere between 60-90 days depending upon weather, river and mosquito conditions.

When asked what inspired him to take on this paddle, Alex explains "I have always been big on exercising, so this is kind of like my better way to get out and get a good exercise." But it isn't just about building up a crazy core or working on that neck tan, Alex admits "I love this sport and I am trying to promote it and get it out there."

Introduced to SUP by his father, Alex says, "I originally taught myself how to windsurf with a 34-year old Mistral Superlight, eventually my dad brought up an article he read on SUP and I tried it out." Growing up in Minnesota, with lakes always close by didn't hurt either, "All the days I couldn't windsurf on the lakes I would stand up paddle board."

Loyal SUP Connect readers out there will recall that Dave Cornthwaite is also on the same mission. On July 14th, Alex logged his 1,200th mile and as he passed the halfway point down the river he has a healthy lead on Dave. Barring any set-backs, Alex will be the first person to navigate the Mississippi on a SUP. His journey will also shatter the previous SUP distance records held by Tom Jones (1,507 miles) and by Will Rich and Mike Simpson (1,808 miles).

So what does it take to prepare oneself for a journey like this? Well, according to Alex, a lot of "high endurance cardio training." He didn't take this trip on a whim and says that, "Unfortunately in Minnesota, being winter, I was unable to get out on a board until spring break when I was in Florida and got to do a race down there and placed really well. Even though I hadn't been able to train on a board itself, I was able to train a lot on equipment in my basement."

Alex is paddling to raise money for the American Red Cross and its efforts to assist the Mississippi River flood victims. This past spring, millions of residents along the banks of the Mississippi River were affected by unprecedented flooding. While the flood waters have receded, the need for aid and support has not..

Because of the altruistic nature of his mission, Alex has received positive support from almost everyone he has met along the way, "We've had a really positive response when talking to people about why we are doing this, we've also had a kind of like 'you're crazy' reaction from people as well."

Sometimes though, those 'you're crazy' reactions aren't too far off from some of the things Alex has experienced on his trip so far. "In St. Louis we came across our biggest challenge and easily the hardest and most intense paddle I have ever done," Alex says as his tone turns from modest to nervously cautious, "I've never felt quite so close to death, I think, in my life."

Alex continues by laying out the scene of his ego-humbling experience, "I have been in the ocean before, I have been in choppy waters and in ship channels, but this was just ridiculous. It was a gloomy day; rain, a little bit of wind and, between all the barges lining both shores, it was a narrow river at that point. There were a few currents; I mean really high currents that we had never dealt with before, and waves that were crashing from all angles, easily reaching between 4 to 6 feet. I was barely able to handle that."

"I usually handle waves extremely well but this was something that surprised me that I didn't fall in. I had a couple of close calls but didn't take any spills, and fought hard not to because all these boats, enormous tow boats that are zipping around along with smaller tow boats that are zipping back and forth, were changing up their loads."

"It was a real dangerous area. We had tow boat drivers shaking their heads at us. One of the drivers even went to the extent of calling over his horn that we were crazy. So that was a good hour and a half of just insanity."

When he isn't dodging tow boats, fighting intra-river currents or battling through chest high river waves, Alex is introducing the sport of SUP to countless individuals. As an epidemic of obesity continues to clog our nation's arteries and push the sales of sweatpants to near-80's jazzercise levels, ambassadors for healthy, outdoor activities are desperately needed.

Alex is one such ambassador and as he paddles through the towns, counties and states along the banks of the Mississippi he will certainly inspire numerous people to put down the remote and pick up a paddle. "Most people are surprised and try to figure out what I am doing and what it is that I am actually riding on," Alex laughs.

Supported by his father, Stan Linnell, Alex will camp on the banks of the river and equipment will be kept operational by a solar-powered charger, kept dry in adventure-appropriate gear. During his trip, Alex will update followers on his Facebook page, through his Twitter feed and via his GPS tracking system. To support Alex go to the SUP-porting the Mississippi website. Once there, you can donate to the American Red Cross, pitch in some gear and grub to fuel Alex or buy yourself a t-shirt.
Do you have a SUP Journey to share with us?
.
Last modified onWednesday, 28 January 2015 13:24

After spending the first part of her life in Minnesota, Morgan traded in her snow boots for sandals and moved to sunny California. After graduating with a degree in Communication from The University of Southern California, she eventually made her way down south to San Diego and is taking advantage of the living by the best beaches and burritos California has to offer. If it's sunny, you can find her at the beach relaxing, or exploring the calm water in the bay via paddleboards and kayaks.
Email

This email address is being protected from spambots. You need JavaScript enabled to view it.