Mississippi SUP Expedition - UPDATE
Dave Cornthwaite has set out to be the first person to successfully navigate the entire length of the Mississippi River on a stand up paddleboard, a total that reaches 2,400 miles. Below, he takes a moment to talk about his paddle with SUP Connect. Read the original article highlighting Dave's epic journey.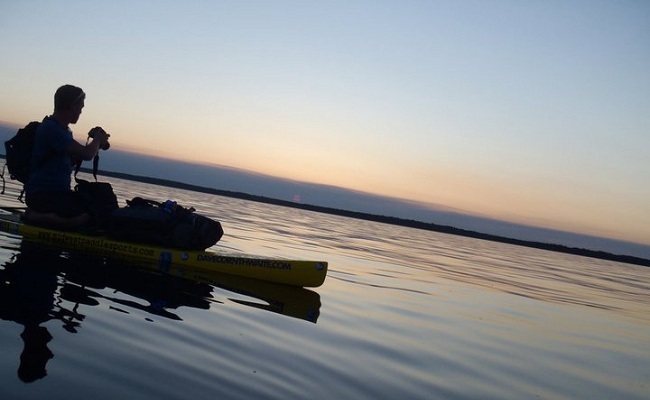 Dave takes a moment to soak up a serene sunset with a pink sky painted over glassy water. Photo Credit: www.davecornthwaite.com
Check out the first article about Dave's Mississippi SUP Expedition.
Why did you choose to include the sport of Stand Up Paddleboarding in your Expedition 1000 series?

I'm trying to make all of my journeys as varied as possible, giving me different experiences, perspectives, muscles! I loved SUP from the moment I tried it and so far it hasn't disappointed. I like to keep things simple, and what could be more simple than a board, a paddle and a couple of bags strapped to the deck?

When and how were you introduced to the sport of Stand Up Paddleboarding?

A chap named Bill Fitzhugh once sent on a test longboard from a company called rollsrolls. I ended up skating that very board across the UK and Australia. Bill kept his eye on my journeys and as the UK rep for Jimmy Lewis SUP decided to introduce me to SUP. He was right, in about ten minutes I'd decided to do a journey on one!

How did you train to get in shape for your 2,400-mile paddle?

I keep relatively fit but actually hadn't had much chance to SUP in the months leading up to the journey. So much time is spent preparing for these things that there's not much time to physically train, so I treat the first couple weeks of any expedition as the warm-up! I did do a couple of smaller journeys last year, though, to get an idea of logistics. I crossed Lake Geneva with my friend Seb Terry, and then crossed Britain with the adventurer Sarah Outen, that 150 miles took 5 days.

What issues do you expect to encounter along the way?

The beauty of travelling on water is that it's so unpredictable, but I expect the main problems to be security of my kit when I go off to resupply water and food, possibly a chance encounter with an alligator and definitely the big ships towards the Gulf.

What are the aims of the speeches you are planning to give along the route?

I know I'm going to be subject to plenty of generous folk along the river, as with any journey, and I'd like to try and give something back. I tend to talk about the pursuit of happiness, the importance of new things and the value of saying yes, all tied into my adventures. It's exciting speaking along the way, because no two talks will be the same! I also hope the talks will raise some money for my charities, AV Foundation and Coppafeel.

What kind of feedback have you received from the local communities that you will be paddling through?

The response has been magic. Offers of all kinds have come through, from accommodation to dinner to beer to assistance with big portages around dams. It's easy to forget how generous people can be when you're going about life day to day, but these little trips always bring out the best in people.

Have many people have expressed interest in paddling with you along the way?

I've been touting the journey as Forrest Gump on a Stand Up Paddleboard! I'm an Ambassador for the Blue Project, and our aim is to combine sport and travel and get people out on the water to see the Blue environment at first hand. In addition people can then raise charitable sponsorship for the miles they paddle with me, so far I expect at least 200 people to join me and I'm sure that number will grow. If anyone out there fancies a paddle, whether for an hour or a week, come along, the water's fine!
Will you support Dave's SUP journey?
.
Last modified onWednesday, 28 January 2015 12:47

After spending the first part of her life in Minnesota, Morgan traded in her snow boots for sandals and moved to sunny California. After graduating with a degree in Communication from The University of Southern California, she eventually made her way down south to San Diego and is taking advantage of the living by the best beaches and burritos California has to offer. If it's sunny, you can find her at the beach relaxing, or exploring the calm water in the bay via paddleboards and kayaks.
Email

This email address is being protected from spambots. You need JavaScript enabled to view it.