Surf4Smile Introduces SUP To Madagascar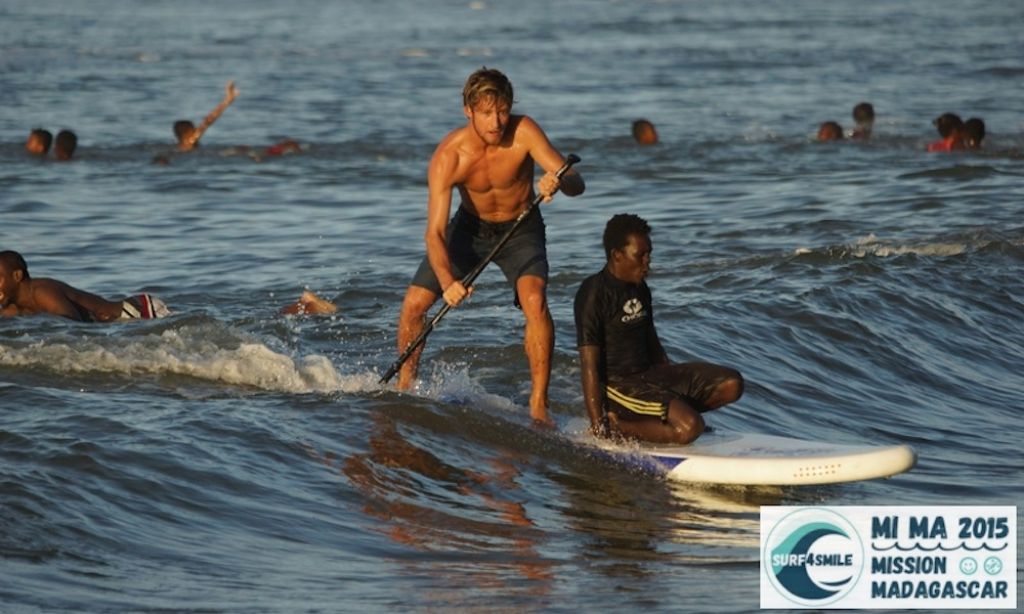 Photo via: Christelle Carpentier
MADAGASCAR, Africa - In August 2015, Starboard team athlete Benoit Carpentier along with the organization Surf4smile created by his brother Mathieu, his sister Alix and a few friends, went on a 10-day mission to Madagascar to meet one community of surfers on the east coast of the island. There, the aim was to share with the locals the stoke to be a surfer through diary thematic activities including: surfing, stand up paddling, lifesaving, swimming & physical training, environmental tips and even basic shaping tips.
Their mission also had a medical part as 3 people of their staff work in this field: they ran free screening tests (hepatitis, malaria, HIV and syphilis) and health care for the local population. For the first time in this area statistics were collected of those pathologies: they'll permit to treat, cure and heal this population.
We caught up with Surf4smiles creator, Mathieu to talk about the trip and his overall view on what it was like, take a look below.

What is surf4smile and how did it come about?
Surf4smile is an association created in 2014 by 5 (aged 15 to 23 years old) surfers/watermen from Brittany. Its aim is to create links with other surfing communities all around the world to share living and surfing experiences. We want to diffuse the stoke while making some ground to improve the daily lives of the people met. Through formations (material can make dependent while formation is the key to self-governance) gravitating around the water world: surfing, stand up paddling, lifesaving, etc. But it's much more than that. We also go into local schools and orphanages to help and inform the students. In Madagascar we also act on the medical and healthcare fields as some members of the association are professionals.
Surf4smile visited Madagascar in August 2015. | Photos Courtesy: Christelle Carpentier
What do you hope to accomplish with Surf4smile?
Basically, we want to share the stoke (to evolve in the water)! We think that surfing, like many other sports and physical activities is an amazing mean to get closer to different people, to create friendships and also brotherhood links. Through surfing and stand up paddling, we create a mutual confidence at the base of all and we hope to help the locals to be able to surf and grow in a way that they identify as good for themselves. When this is gained, we organize daily formations to gather the people we meet.
Why did you choose to travel to Madagascar?
We chose Madagascar because one of our members, Camille, had already traveled there for a civic mission and was somewhat familiar. Camille already had contacts on the island and it helped us a lot when we started to prepare for our mission. Then when we went more into preparations for the trip, we got the confirmation that Madagascar was a great place to start our work: amazing waves, poor but amazingly welcoming people, a lot of children and adolescents, a lack of material, etc.
Tell us a little bit about your experience there.
Well, it was such a rewarding one! We are already planning to get back there during the incoming summer. It was truly amazing. Every person we met had such an incredible story to tell us about, the entire village was so stoked about our venture. Not only the local community of surfers but also their parents, the owners of small hostels, even the local medics all encouraged us and made it possible to help us run our activities and formations in the best conditions possible. And, I'm not even talking about the country, nor the waves discovered. The potential of this country is so huge!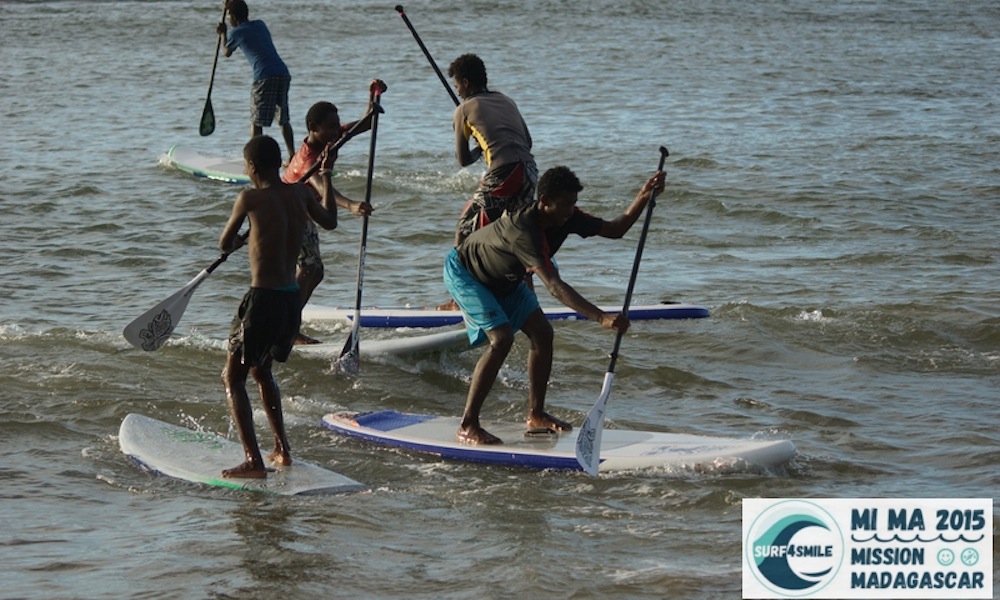 Locals trying SUP for the first time. | Photo Courtesy: Christelle Carpentier
When you brought your SUPs out, was it the first time the locals had seen the sport?
The sport, yes. In fact, a few of them had already seen a guy doing stand up paddle during (a French teacher from Mayotte who used to go there for his vacations) but none of them had actually tried it. For them, though, it was just another way to enjoy the waves and the ocean. As there is no spot that is overcrowded there, they never saw SUP as something bad. In fact, that's more the contrary -- they were just waiting to have the opportunity to try it! Definitively it was a "a première" for them: first try, first fall and so much fun! They loved it!
Check out more SUP Journeys HERE.
How did the locals react to stand up paddling?
They were so stoked, so impatient to try it. We only had like 9 boards so they eventually just started paddling with pirogues paddles and longboards. They have such great balance that's truly unbelievable! They are so skilled, just a few minutes after the beginning of their first try, they were already able to sprint, to get back on the board to turn it, even to catch a few small waves. They were so psyched up that it was really hard for us to take back the boards at the end of the day when it turned to nightfall. Without a doubt it was the activity they preferred.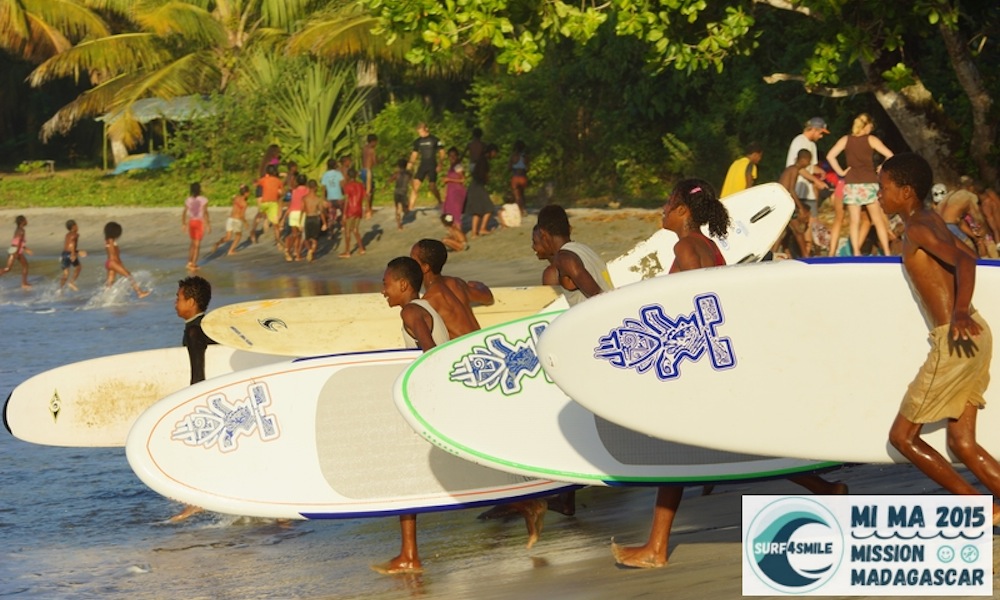 Madagascar locals loving SUP! | Photo Courtesy: Christelle Carpentier
What kind of effect do you think your trip had on the people you met and helped?
After only one stay we can't pretend to have hugely improved the daily lives of the people we met. It would be pretentious and uncertain. But we do see this journey as a great base to keep advancing in this direction. In fact, while we had planned this mission with a long and (sometimes) exhausting preparation we still learned so much out there. Today we know the people, we know the problems, the conflicts and local tensions, we know the needs and more importantly, we gained the trust of the locals.
Briefly if we had to pint the effect we do think our trip had we would highlight four points:
The first one is relative to education: just to make the locals understand that all the Indo-European people are not rich ones coming for vacations to spend their salaries but that some of them could come to share experiences and expertise to create local wellness is a fundamental point. Without this one it is impossible to organize something in a long-term range.
The second one is that through our venue, we managed to gather most of the surfers from Mahambo and Ambatomalama. Arriving there, we quickly learned that if there were around 20 surfers they didn't used to surf in groups. Through our actions, we managed to reinforce the links between all of the surfers, between the youngest and the oldest, between those who own a board and those who don't!
No board, no surf. That's the third point. In fact, when we left, we left 9 surfboards and 2 bodyboards. Each one was given to a group of 3 or 4 surfers so that they can keep on surfing while staying together. Not only did we leave boards, but we also taught them the basics of security in surf so that they always practice in good safety. No doubt that after the lifesaving day they were more able to assume that active and passive security.
And finally, the fourth point surrounds all the medical part of our actions. There, Claudie, Marie-Corentine and Lauriane, alongside with the medic of Mahambo, went on organizing free screening tests for all of the population of the locality. From those tests they made unique statistics on the prevalence of diverse diseases. They will be the bases to act and cure those illnesses from another age.
| | |
| --- | --- |
| | |
Teaching the locals water and lifesaving skills. | Photos Courtesy: Christelle Carpentier
It wasn't all work for the group though. They did have some downtime for themselves and they went surfing and stand up paddling in the area and documented their whole trip. They are working on putting together a webisode series due out later this year, and they've just released a teaser to the series. Check it out below.
Last modified onWednesday, 11 November 2015 08:41

Submit your news, events, and all SUP info, so we can keep promoting and driving the great lifestyle of stand up paddling, building its community, and introducing people to healthier living.
Website: supconnect.com
Email

This email address is being protected from spambots. You need JavaScript enabled to view it.