SUPing The Land Of The Midnight Sun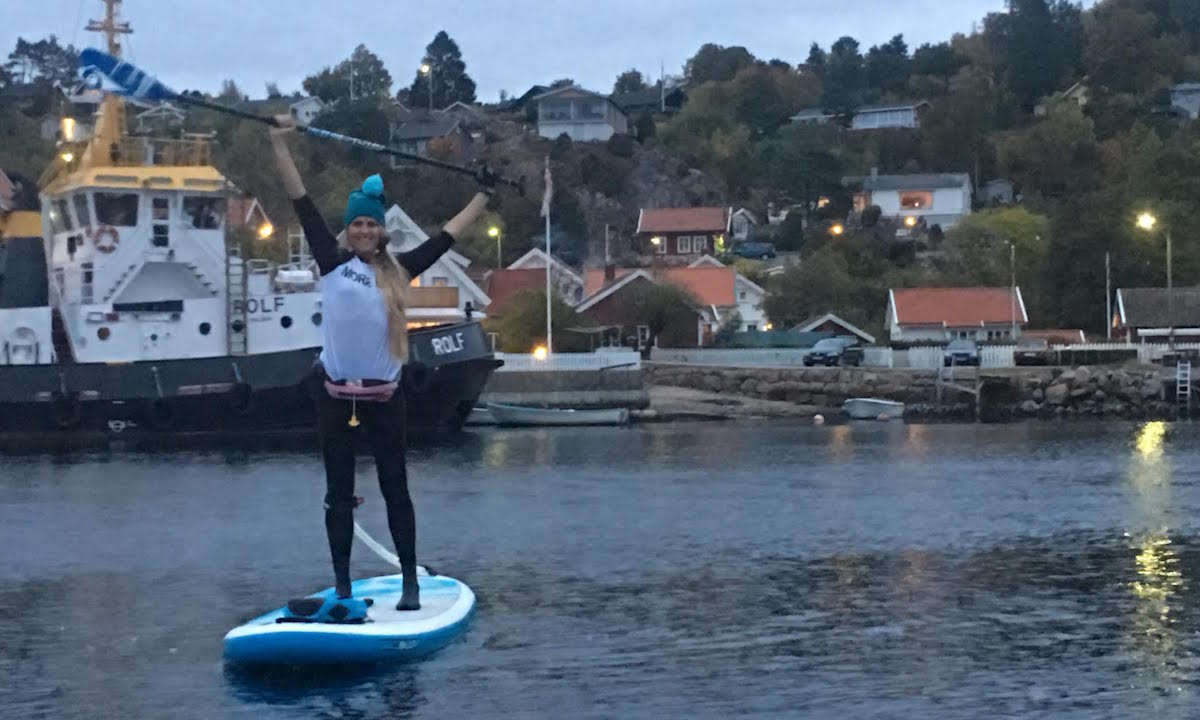 Fresh of the plane and onto the water. | Photo via: Jodelle Fitzwater
No sooner than our car entered the driveway, and I was already drooling over the land of liquid we were encased in. We unloaded our suitcases and our bladders and I looked at Mary and said, "24 hours of traveling and two hours of sleep total…you got enough energy for a paddle?" She giggled and we got back in the car and headed for the cold waters of the Norwegian Fjord nearby. It was the beginning of what was to be a well traveled Northern European SUP adventure.
At dusk we inflated our boards and had just enough energy to cruise the local waterway before it was lights out in this little town of Sponvika, Norway. A local couple watched us from their warm living room window in what could have been amusement or perhaps pondering our stupidity. The lights of the small city and large crab boat made for the picture perfect backdrop for our first night abroad.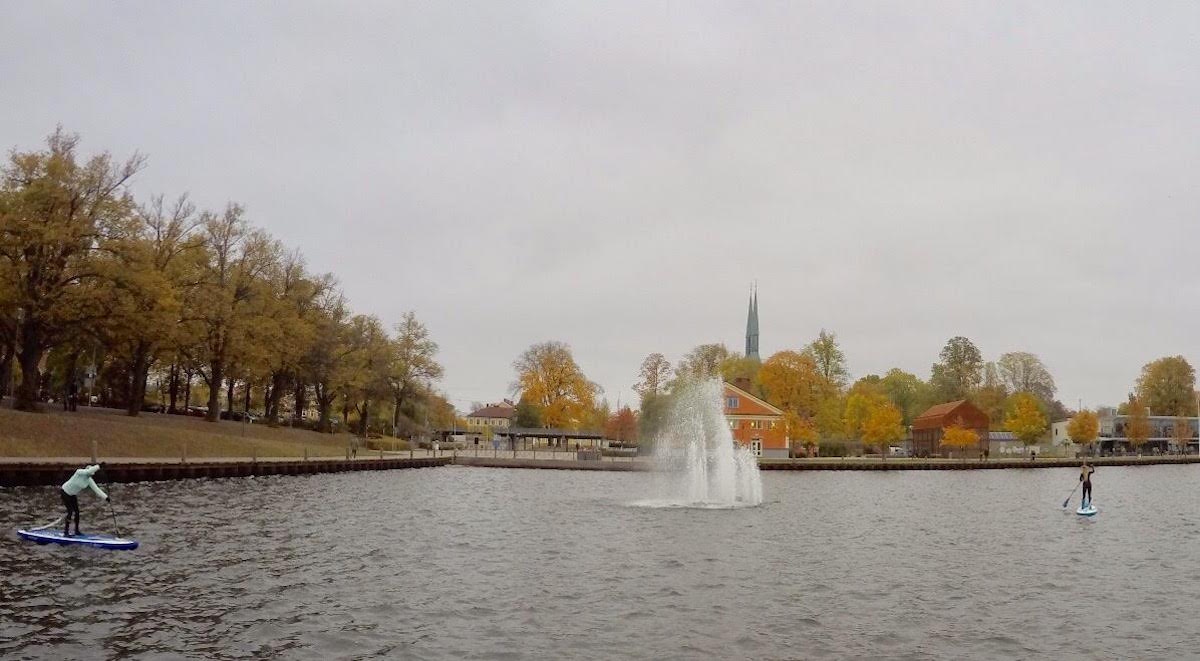 Vaxjo, Sweden makes for a gorgeous place to SUP! | Photo via: Jodelle Fitzwater
Next, it was off to Vaxjo, Sweden to meet up with a local PaddleFit friend who owned the market when it came to SUP in what was known as the Greenest City in Europe. Anna Maslova of SUPerGym showed us her quaint, quiet town with a chilly mid-day paddle on Vaxjo Lake. 47 degrees made for cold hands, but the warm company of meeting with the locals and paddling where they go is in my book what it's all about.
I appreciate that my journey with SUP and my love for sharing SUP thus far has warranted me the opportunity to bring together people from all different walks of life, different parts of our beautiful earth to unite as a family of passionate water-loving and water-seeking paddlers. And my goal with this trip was to make even more of that happen.
The following day we hit the road for Copenhagen, Denmark to lay hold of every little mermaid's dream - the Real Little Mermaid statue in Copenhagen. The little statue fashioned by Hans Christian Anderson draws quite a crowd. Just a quick pic and a touch on her bronze tail and we were honorary mermaids ready to take her energy with us as we sought our next waterway. We needed to warm up and fuel up, so we hit up a place called "ManFreds". Here, in the heart of Copenhagen, each loaf of sourdough rye is organically prepared for 4 days before serving. If you are going to do bread, this is how to do it right. And every mermaid needs a fresh anchovy on top, right?
Jodelle visting The Little Mermaid statue in Denmark and enjoying an authentic piece of sourdough bread from ManFreds. | Photos via: Jodelle Fitzwater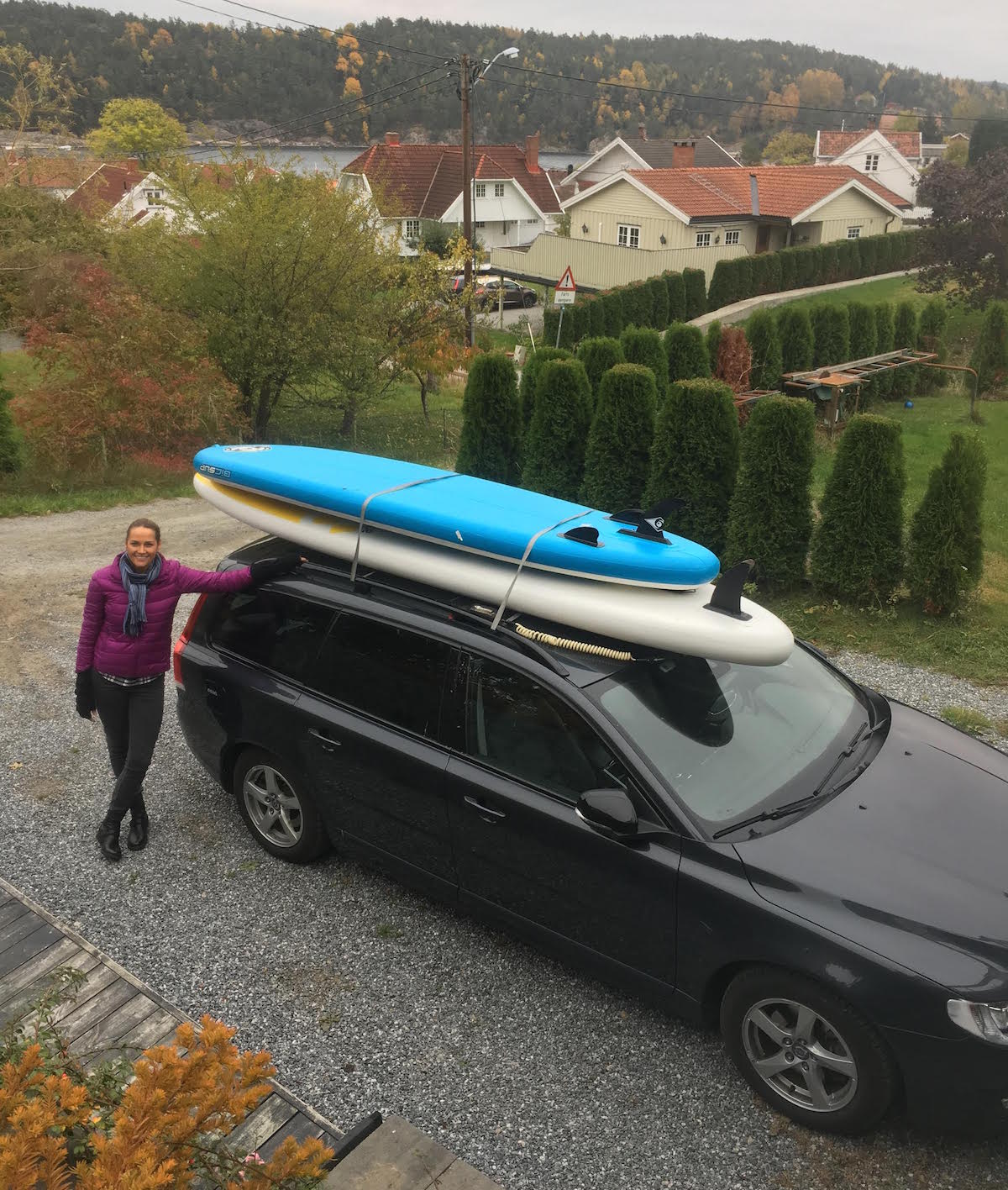 Social Media, love or hate it, opens the doors for your SUP family to grow beyond what you ever thought it may have. And for me, it led me to Titus and Vanja, the owners and operators of SUP Norway in Larkollen, Norway. After talking with them through social media for almost a year, to give Vanja a hug and meet her in person and plan a paddle expedition together over coffee on a chilly evening was enchanting. We instantly connected both online and offline in person and with my Norwegian heritage, I felt a strong connection to her even more so than just our love for SUP. We planned our upcoming SUP meet-up for the following spring and my crew and I headed off to Stavanger, on the west coast of Norway…home of some of the largest fjords in the world.
The 7-hour trek across the country gave way to beautiful mountains, open fields of thickly coated sheep, waterfalls around every bend, and glacier-fed lakes. We crossed over waterways I'm pretty sure had never seen a SUP, and imagined just how much of Norway is undiscovered when it comes to paddle boarding. So much water, so little SUPing The Land of the Midnight Sun time.
We reached Stavanger at nightfall and settled in for the night. With sleep in our eyes we hit the closest salty water access we could find, two miles from our Air BnB. There was definitely a chill in the air and a good amount of wind as well, but we were simply too excited to just watch the water from the shore. The stone steps that led into the water were covered in barnacles as we made our way in. With car-filled ferry's amidst these waters, and modern buildings jutting out from the scenery, you couldn't help but feel the energy of the water.
Jodelle getting aquainted with Old Stavanger. | Photos via: Jodelle Fitzwater
That afternoon we decided to head into Old Stavanger for some shopping, and left the boards strapped to the car. With street clothes on we meandered through the streets, but all I could think of was the calm harbor sprawling across Old Stavanger. As my girlfriends shopped, I started feeling the call. They could sense my eagerness so they found a waterfront cafe and plopped down with my daughter while I ran to grab my board from the parking garage.
In my street clothes and my wetsuit booties, I made my way through Old Stavanger. Bystanders and locals scratched their heads as I walked in 50 degree weather towards the water's edge. Unsure if it was kosher to paddle here or not, amongst giant tankers, and yachts, I quickly threw the board in and away I went. As I felt my blood surge with excitement, I paddled and waved to my girls from the harbor. I giggled with nervous laughter at all the thousands of small jelly fish under the water as far as the eye could see. I made a mental note to avoid falling in. This way of viewing Old Stavanger was incredible and unlimited.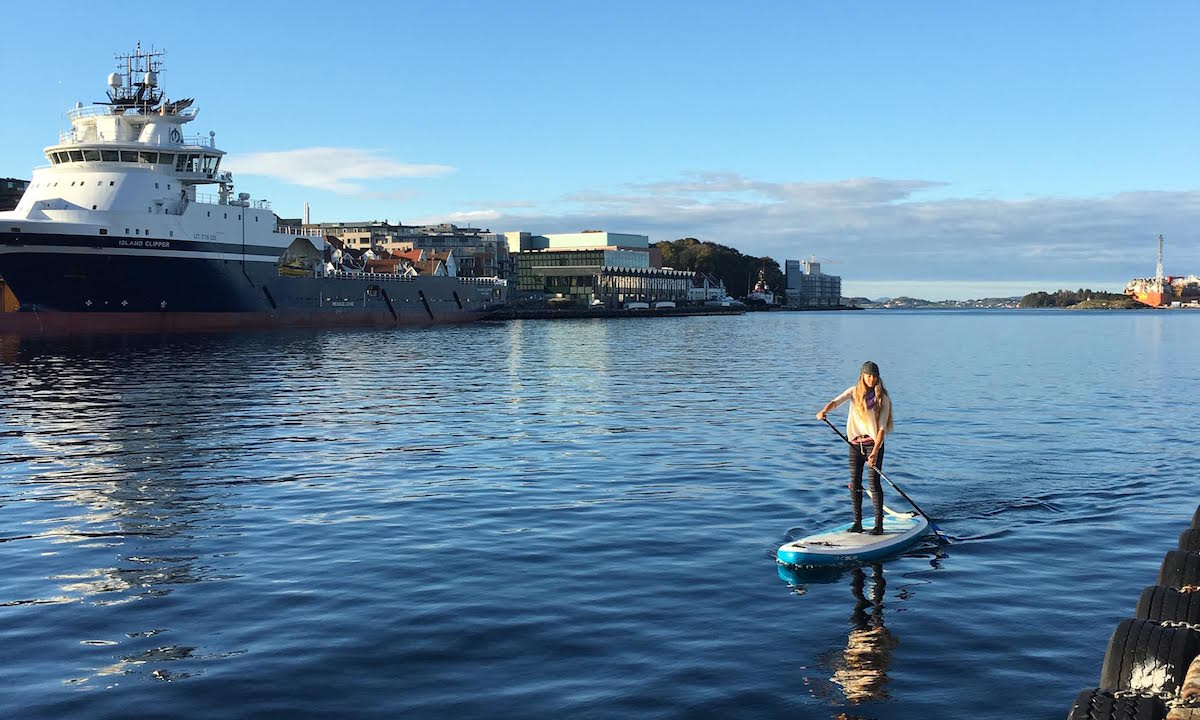 Jodelle in Old Stavanger. | Photo via: Jodelle Fitzwater
With all the liquid possibilities in Norway, it's no wonder my need for standing on water is so powerful. My Norwegian ancestors must have passed down the water-y obsession. At this point, we decided it best to leave the boards inflated and it was a good decision.
The next morning, we ventured into Fjord territory, but didn't make it too far until we came to Sandnes, a lush green countryside town in Fjord country that stole our hearts and caused us to make our own roadside SUP stop. Over a guard-rail we through the boards on the most still lake I had ever seen.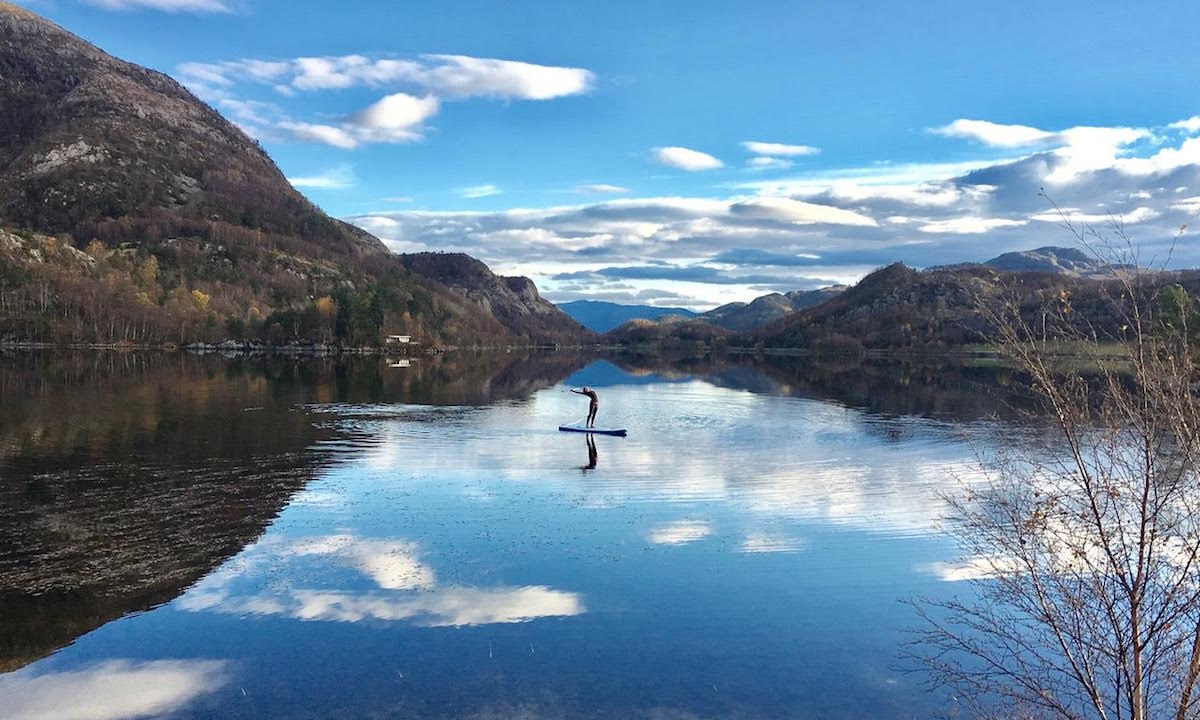 Jodelle taking in the beauty of Fjord territory. | Photo via: Jodelle Fitzwater
Here we relaxed and revitalized our well-traveled bodies with some SUP yoga and listened to the musical sheep with bells on tucked into the mountains around us. Our gentle prehike SUP session was just what we needed before we climbed over 15,000 steps it takes to get up to Pulpit Rock - one of the most popular sights to see over one of the largest fjords in the world, Lysefjorden. The view from Pulpit Rock gave fresh inspiration at still how much water was yet to be discovered by SUP in this amazing country.
Speaking of "how much water"...Even small sets of waves at the local beaches in Stavanger can get your stoke on. The next day's adventures found us at Sola, on a beach known as Sola Strand, where the waves are calm and the openness of the sea beckons to be paddled. We stroked and chatted our way across the expansive bay which is littered with lighthouses and old churches, as the sun filled our Vitamin D tanks.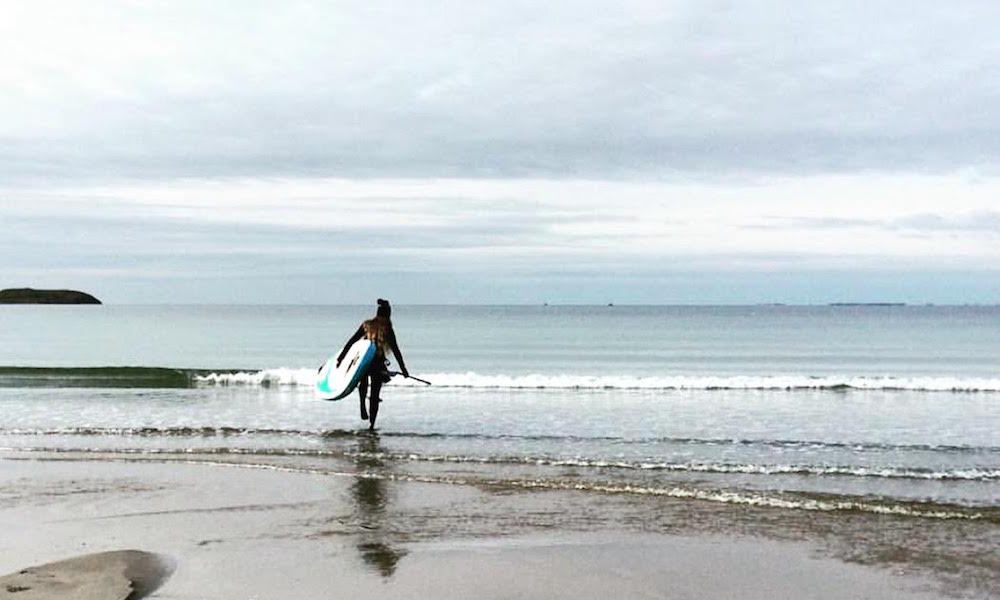 Jodelle heading out at a local beach in Stavanger. | Photo via: Jodelle Fitzwater
Before we knew it, we had our boards strapped to our back, and our mind filled with water-loving memories as we boarded our flight back to the US. Will we go back? Many times. The energy of Scandinavian waters will forever draw me. The landscape will forever tease me to come explore its grandeur. But mostly, the memories created with like-minded, water-seeking, SUP-loving people who become instant family simply because we share a common love is my latest craving that I just can't seem to get enough of. So I'm already planning my next journey back to the "land of the midnight sun", where the sun never completely dims on the horizon, just like my love for building community never will either.
To see more from Jodelle Fitzwater, click HERE.
Last modified onThursday, 03 November 2016 09:06

Branson West, Missouri - Jodelle Fitzwater has been a yoga instructor for over 15 years, and a SUP instructor for over 5 years. She's a BiC SUP Pro Stand Up Paddle Ambassador, SUP TV Fitness & Yoga Host, Certified PaddleFit Instructor, ACSM Certified Personal Trainer, and Certified Nutrition Coach. Oh, yea, and self-proclaimed mermaid.
Website: www.getfitwithjodelle.com/
Email

This email address is being protected from spambots. You need JavaScript enabled to view it.