Man SUPs Entirety of Wisconsin River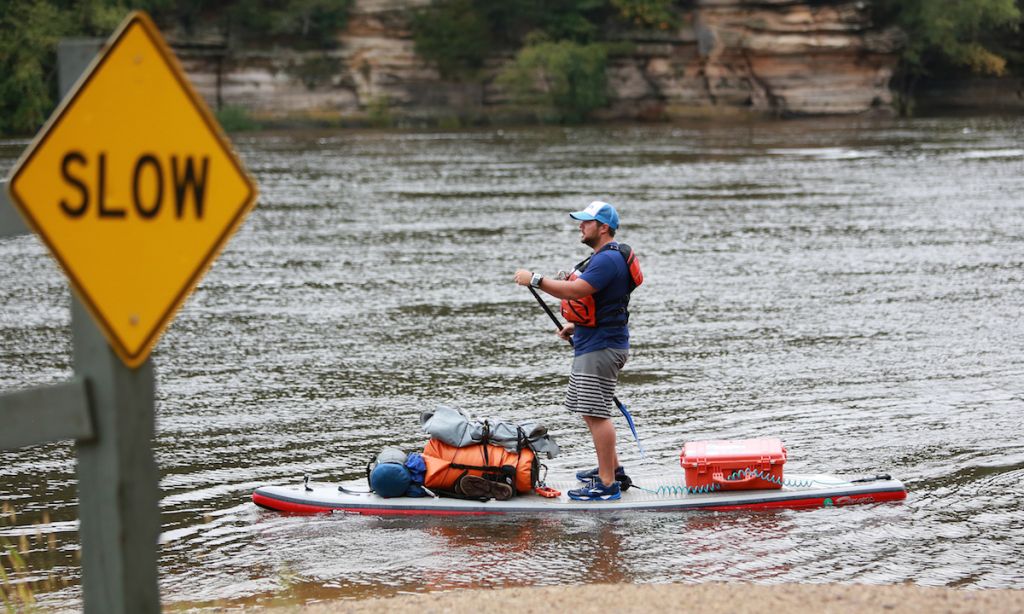 Jesse Hieb paddling the Wisconsin River. | Photo: Joe Koshollek
LAKE MICHIGAN, Wisconsin - Film producer and avid stand up paddler Jesse Hieb recently completed a solo, self-supported SUP journey down all 430 miles of the Wisconsin River. Why? He wanted to create a documentary that tells the story of the revitalization of the river through experiencing all 430 miles of it. We caught up with Jesse to ask about his trip and documentary. Check out our interview:
What is your background in stand up paddling? How'd you get involved?
I got my first paddle board about three years ago. I was working at REI and snagged an 11'6" Surftech Flowrider in an REI garage sale event. It was winter time in Wisconsin so I didn't get to go on it for about 7 months after buying it. Fun fact that I don't share often… I decided I was going to be the first person to ever paddle board across Great Lake Michigan on a paddle board at its widest point, 88 miles. I decided I was going to do it before I had ever stepped foot on a paddle board.
That winter was one of the coldest in history and Lake Michigan actually almost froze over completely. As a result, the lake didn't melt until early summer. So, I had about two months to train as much as possible while working three jobs. That August after logging hundreds of early morning hours, I set out at 5AM to be the first person to cross Lake Michigan. 17 hours and 48 miles later I was trapped in the middle of Lake Michigan with a fierce storm brewing right above me. The next six hours were spent fighting to stay alive. I had a support crew in a boat, but when Lake Michigan decides you have gone far enough there is no convincing her otherwise. It was one of the scariest moments of my life. I never stopped praying.
So, that was my first summer. I had kayaked on Lake Michigan for about six years before that. So, I knew the risks. I knew that the lake had more shipwrecks on it than the Bermuda Triangle. But that didn't matter. I'm not done with the Great Lake Michigan. No one has been able to cross it yet (where it matters most).
Ever since then I have loved paddle boarding over any other type of watercraft. I love the view and the versatility of using a board. I don't race though. I compete in other sports and I leave being on the water as my happy place. I refuse to let my competitive side mess that up. So, you won't ever see me in a SUP race, But you will see me paddling lakes and rivers all over the world!
What is your relationship with the Wisconsin River and why do you have an interest in this river over others?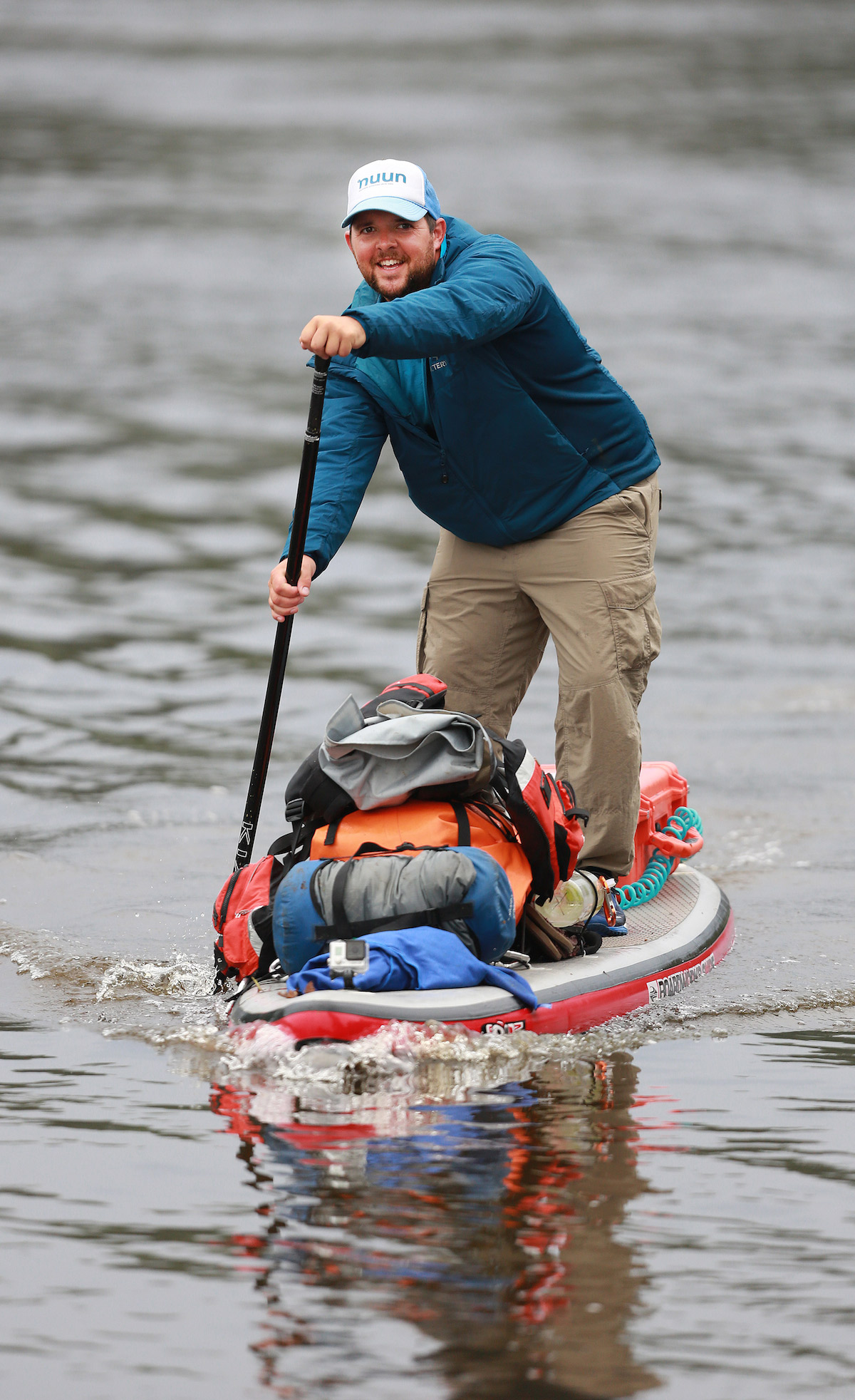 The choice to do the Wisconsin River started out simply because I had been paddling it with friends every Labor day weekend for a guy's trip, seven years running! Last year I decided after the trip that I wanted to go out for an extended trip on my own. Frankly, I knew that I was getting pulled away from my faith and I also knew from experience that when something like this started to happen the best way for me to reconnect to my Jesus was to be out in the middle of creation.
The Wisconsin River was a logical choice. It was in the state that I lived and it was the longest river in the state. It was the type of river that offers every type of river at some point and I knew it would take me about three weeks to finish. That was about how long I felt like being gone for! I actually have a life goal to paddle lakes and rivers all over the world in hopes of inspiring people to fall in love with experiencing their natural resources. So, as much as I love the Wisconsin River, it is just the start of what you are going to start seeing.
What inspired your mission down the river?
Like I said, for me it was all about getting away from the hustle of my life. Where everyone expects you to respond to them because you have a cell phone with email on it. I just needed to disconnect from that and reconnect to what is most important to me in my life. My faith.
But, there is something else. I never planned to make a film or even partner with a non-profit. Originally, I was going to do this whole thing and tell no one except my roommate. Records never mattered to me. It was all about having an out of this world experience and enjoying nature and an incredible river. The film and the non-profit came much later in my planning.
What do you hope to accomplish with the documentary that you're making from this trip?
The film is a documentary about the history of the river told in conjunction with experiencing the river from start to finish. Kind of a reality adventure documentary of sorts. My hope is to help people understand that revitalizing a river despite how impossible it sounds is possible to do. We know it is because it was done on the Wisconsin River. Every reason to ignore the river and environmental regulation was made. But eventually, community members, industries, and governments all decided that no matter what they had to start taking care of the freshwater resource that had been taking care of them for so many years.
Communities around the globe struggling with fresh water issues need to know there is a solution. It has been done before and it can be done again.
How long did it take you to cover the 430 miles?
It took me 21 days. My longest day was 37 miles and my shortest day was 1 mile. I hit some brutal storms and some insane headwinds. I had originally planned on it only taking 17 days. Good thing I was able to hitch a ride half way home and then hop on a bus the rest of the way! Gotta love the versatility of an inflatable board!
What gear did you bring with you?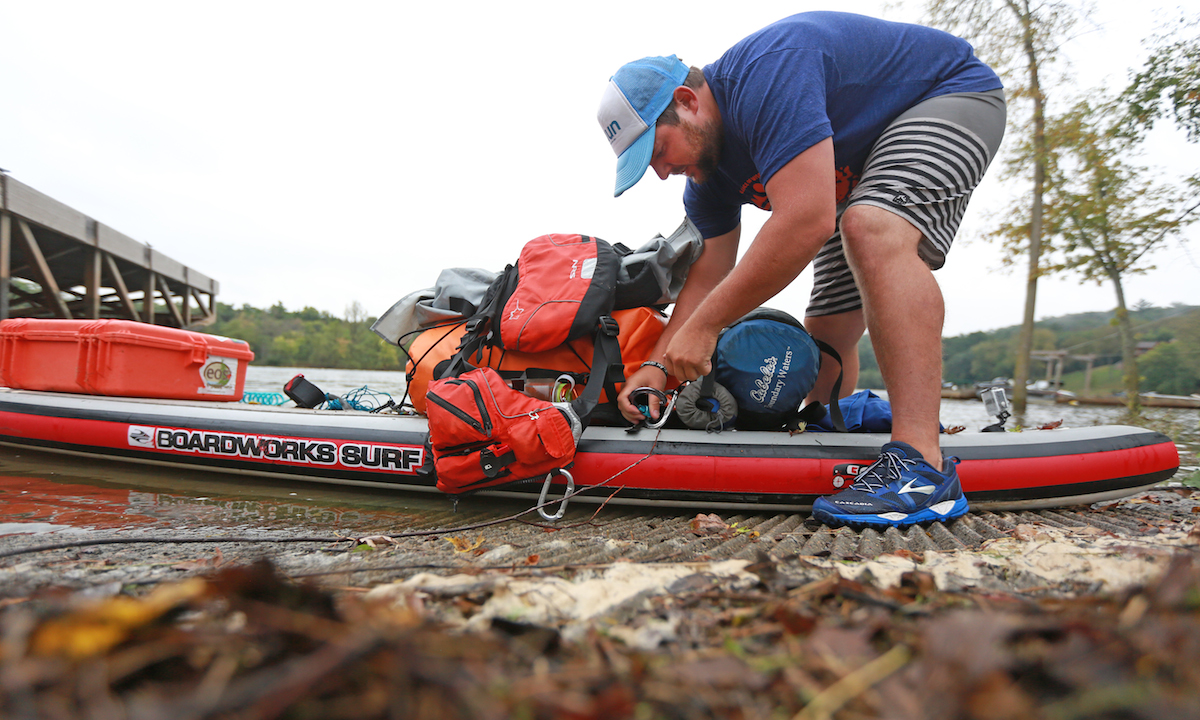 A closer look at some of Jesse's gear. | Photo: Joe Koshollek
That is actually a huge question. The big things include the inflatable Raven from Boardworks and a Kialoa Paddle (I am not sure which paddle it was, it is my backup paddle actually because I cracked my primary paddle just before leaving and wasn't able to get it fixed in time). Besides that I had 17 days worth of nutrition, enough coffee from my local coffee roaster (Valentine Coffee) to give me a cup a day! Also:
Single person tent
A Kammok Hammock
The MSR Pocket Rocket
A pot from Snow Peak
A french press coffee cup from REI
A sawyer water filter
Clothing for anything from hot summer to below freezing weather
And all the camera gear I was willing to lose
What was the highlight of the trip?
The People. I met so many random people and have so many incredible stories. Many of them documented on film. I couldn't pinpoint one time during the trip that I absolutely loved. It was the experience when I was all finished looking back on what had just happened and the people that impacted my life without even knowing it. That was my favorite part. Knowing that my life had just changed in a way that I never expected it would.
Any scary/sketchy moments?
Two major times. One night having to pitch my tent on top of my board while it sat on a rock in the middle of the river… I was so scared I filmed goodbyes to each of my family members. The second time was being caught in a thunderstorm that lasted almost 48 hours… I was so scared at one point I sat in a state park pit toilet for about 10 hours. Lightning was striking all over and I thought I was done for.
Jesse Hieb. | Photo: Joe Koshollek
What would you recommend to a fellow paddler who is interested in paddling the same route you took?
Mentally you are going to go through a range of emotions on this trip. Physically you will have no way to truly prepare for it. You are going to want to get finished when you finally cross dam #26, the last dam on the river. You will have 93 miles of free flowing river left before you hit the Mississippi River. You could probably finish it in two days. If you fall into that trap of wanting to just get finished you are going to miss out on one of the most majestic views in the Midwest. You are also going to miss the opportunity to meet some incredible people. Remember, taking an extended trip is never about the destination it is about experiencing the journey to that destination. Relax and slow down a bit. The Wisconsin River isn't going to disappoint you.
To learn more about Jesse and his film, Gone Paddling, check out his websites: gonepaddlingthefilm.com and jessehieb.com
© Supconnect.com Copyrighted Exclusive Content
Last modified onTuesday, 29 November 2016 14:30

Submit your news, events, and all SUP info, so we can keep promoting and driving the great lifestyle of stand up paddling, building its community, and introducing people to healthier living.
Website: supconnect.com
Email

This email address is being protected from spambots. You need JavaScript enabled to view it.