Second Stand Up Paddler Completes 3 Lakes Challenge, Solo & Unsupported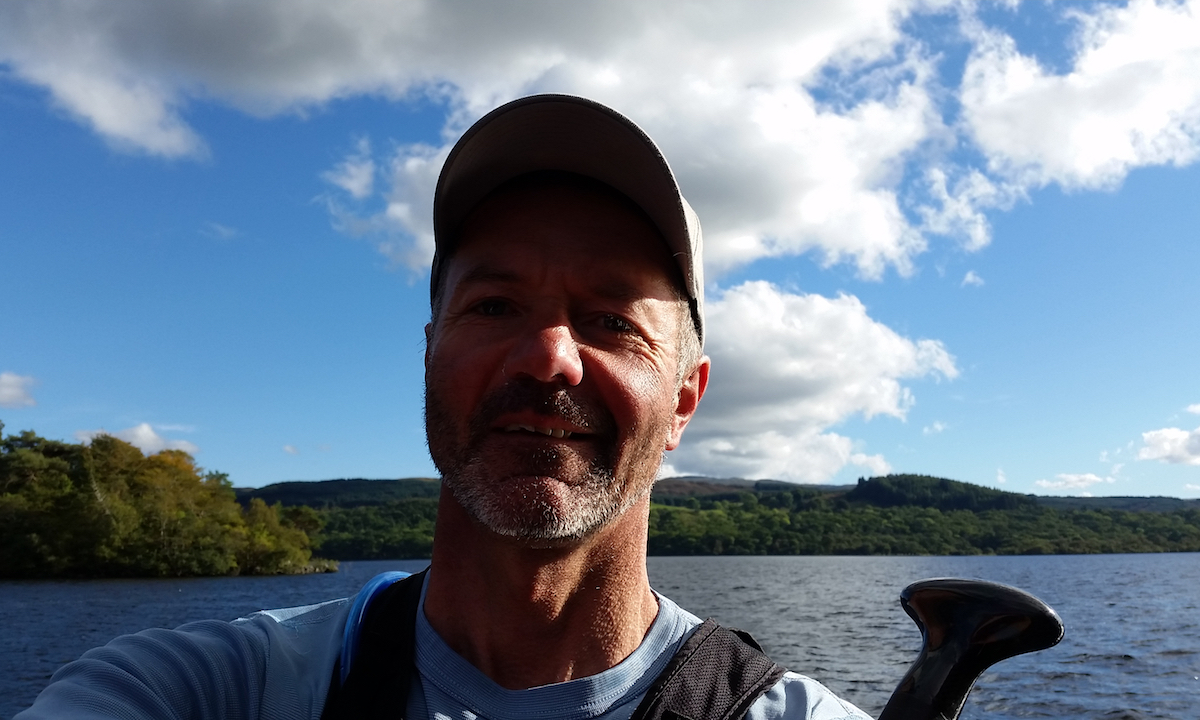 Roger Chandler selfie on Loch Awe lake.
WALES, United Kingdom - As a newcomer to stand up paddling Roger Chandler took quickly to a paddle board, likely due to his extensive background in sea kayaking. After only six or so months experience on a SUP Roger decided to challenge himself and take part in the 3 Lakes Challenge, as the second stand up paddler ever to do so. Here is his story...
I only told two people my plan to paddle board the three longest lakes of Wales, England and Scotland. Around 43 miles and I was battling with self doubt. Had I done enough? I focused on sorting my kit in preparation for my adventure and this helped settle my mind.
So where did it begin? I run a sea kayaking company on Anglesey, North Wales www.coastalspirit.com and love being on the water. Earlier this April I was inspired by Jack Hewlett as I worked with him on his British Canoeing 3 star sea. I've grown up with Jack and he made Stand Up Paddle boarding (SUP) look so easy, so, I gave it ago. After staying on the board for 50 minutes, I was really chuffed and wanted more. I bought a paddle board and over the next few months I started putting some distance in on The Menai Straits, Anglesey and shorter sessions working in the tidal flow of the Swellies. This challenged my balance, reactions and was a lot of fun.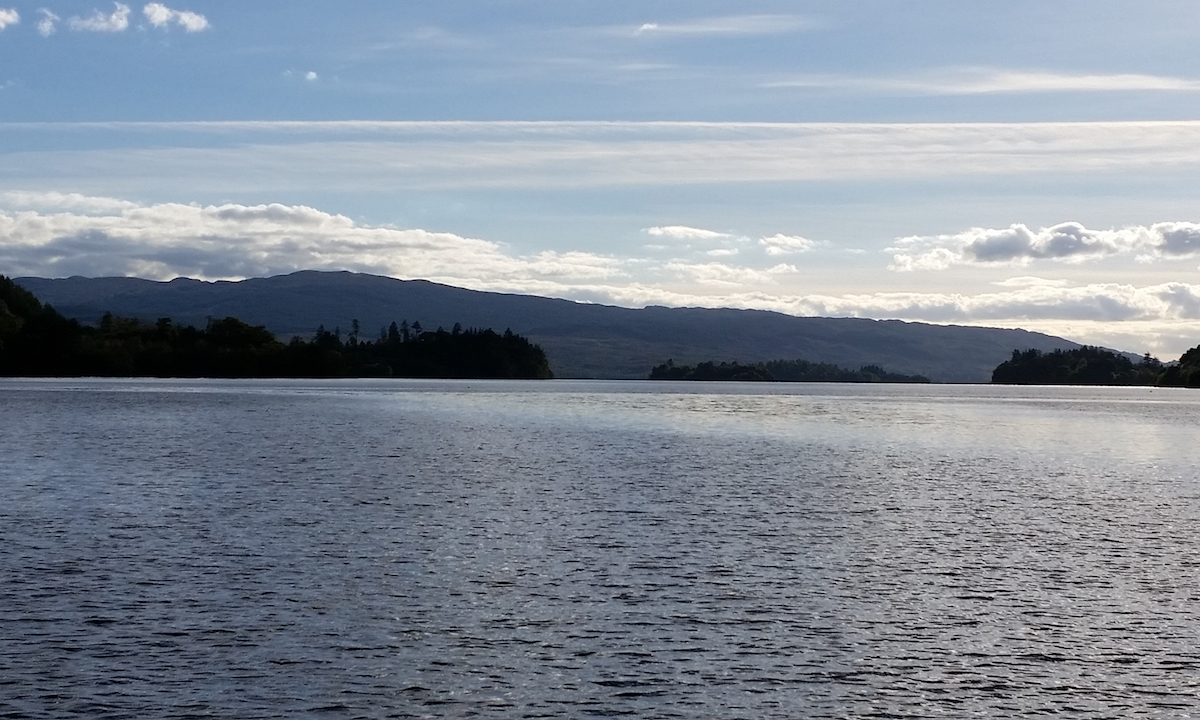 View of Loch Awe. | Photo: Roger Chandler
I had a block of days off coming up late September and early October, which I had been protecting. I was keen to go back up to Orkney or sea kayak around Skye, but the weather was really unsettled for a long trip. Then, I thought what about an adventure on my paddle board? I was aware of the three lakes Challenge and I wondered, "Could I do this?" "Would six months paddle boarding be enough?" I'd done proper long sea kayaking days and expeditions, but what would it be like on a paddle board? There was only one way to find out…
Llyn Tegid (Bala Lake)
Bala Lake. | Photos: Roger Chandler
I got up at 5:30 in the morning and checked the forecast again. No change. I've tended to stick to a saying my good friend Sean shared with me once: 'rub your nose in it and then decide' - meaning the forecast is only a part of the big picture. I decided to set off and have look. I arrived in rain, with the wind blowing down the lake and it was cold. Although it did look like I could sneak up the north shore to the far end and if I could manage that I would then use the tail wind for the return journey.
I went fairly light with a spare paddle, storm jacket (like a big cape), water in a hydration pack on my back, bum bag with camera, flare and snacks. I wore salopette's and a paddle jacket. It felt exciting and deciding to go felt good. I set myself a point on each bay, working towards the next headland and took a pause in each bay. I was experimenting with a different style of forward paddling and it seemed to be effective.
As I reached the far end of the lake the sun came out, I landed on the shore had some food. Back on the water I set off for the middle of the lake, to make the most of the wind on the way back. Two hours and 30 minutes later I had landed and Lake Bala was in the bag! I changed out of paddling clothes, had lunch, a mug of tea and then I was off for the Lakes to stay with my parents for the night.
Lake Windermere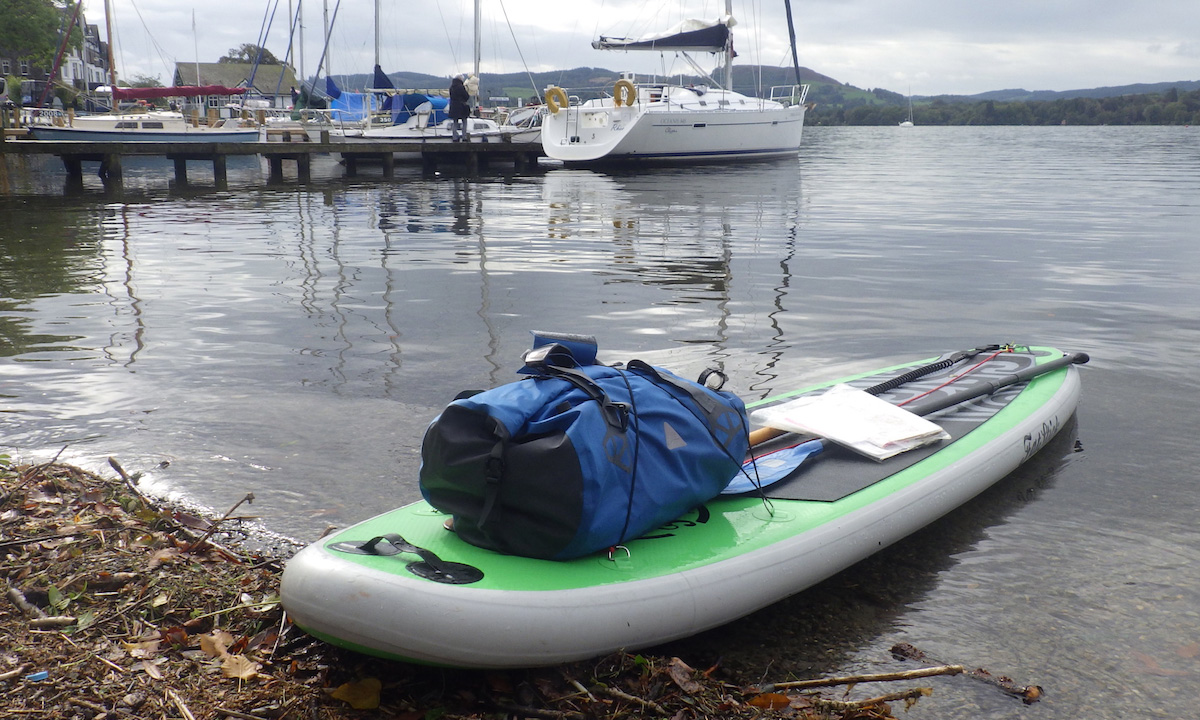 Lake Windermere. | Photo: Roger Chandler
I was up early and at my start point before light. I had more kit this time, with a change of clothes for the other end, my paddle board bag and more food! As I set off there was a gentle breeze against me, I only hoped that's what it remained, gentle. I soon found my rhythm as I moved along the East shore. As I approached Bowness on Windermere I watched the car ferry cross and hung back, deciding which side to cross to. I decided to stay on the East side and worked my way through the moored yachts and then crossed over to the West side, via the Northern point of Belle Isle.
I watched the steam ferry heading for the top of the lake and I squinted into the distance. This was my end point and I could just make it out. A few yachts were out and that breeze I was pleased to say had dropped right off and a glassy glaze had been left behind on the surface of the water. Four hours 12 minutes and I paddled into a bustling Ambleside, pleased with my time. I quickly looked at my watch and I had 20 minutes to catch the steamboat back or, get the one after at 1300. I went for the later one as it allowed me to change my clothes, pack my paddle board and have a big mug of tea and a hot meal before leaving.
Loch Awe Lake
I had now paddled 18 miles, near 30km and I was wondering how the 40 km of Loch Awe would go. It was clear that I was moving at an average of 4.5 km per hour so with breaks the best I could do was around 10 hours. As I drove North I had phoned ahead to stay at the Toran Bay Hostel, as the winds had an Easterly SE component I was planning to paddle South to North. This also meant I was right by the water edges, so up at 5:30am again and paddling away at first light gave me 12 hours of daylight.
The additional item of kit I added was a bivi bag. If needed, my intention was to put my change of clothes on, sleep on top of my board (on the land!!) and have the bivi bag to keep me dry and a little warmer. I had enough snacks, but I choose to leave the stove, sleeping mat and sleeping bag behind. I wanted the thought of a bad nights sleep to spur me on.
I had also thought differently about my clothing and with such a good forecast, decided to wear sandals, thermal leggings, light water proof trousers and a short sleeved thermal top with a hooded long sleeve thermal top. I had gotten too hot the previous two days. The hydration bag had worked really well on lake Windermere and I had another 1lt container of water as well.
I left the jetty in the gloom and my internal dialogue was active and negative with self doubt. The mist was drifting in and I soon realized it was actually fog. It felt like I was really paddling into the unknown, it was cold and there was a dampness to the air. I had around 100-150 meters visibility and a very gentle breeze and swell towards me. All I could do was keep the shore in sight and as soon as I saw a brief headland, I would set a new course. I focused on being as effective as I could with each stroke and began to find my rhythem. Three hours later the sunshine started to show itself and bit by bit the fog burnt off. It was magic to feel the sunshine on my back. Then came a change in the breeze. I headed away from the shore and for headlands further away, now with a welcome breeze on my back. I allowed myself 20 minutes, to land and have a break. Knowing this now had to fuel me for the remaining half of the journey. I had been slower than expected, as the fog had made me keep much closer to the shore, so I had some time to make up. I wasn't going to camp out!!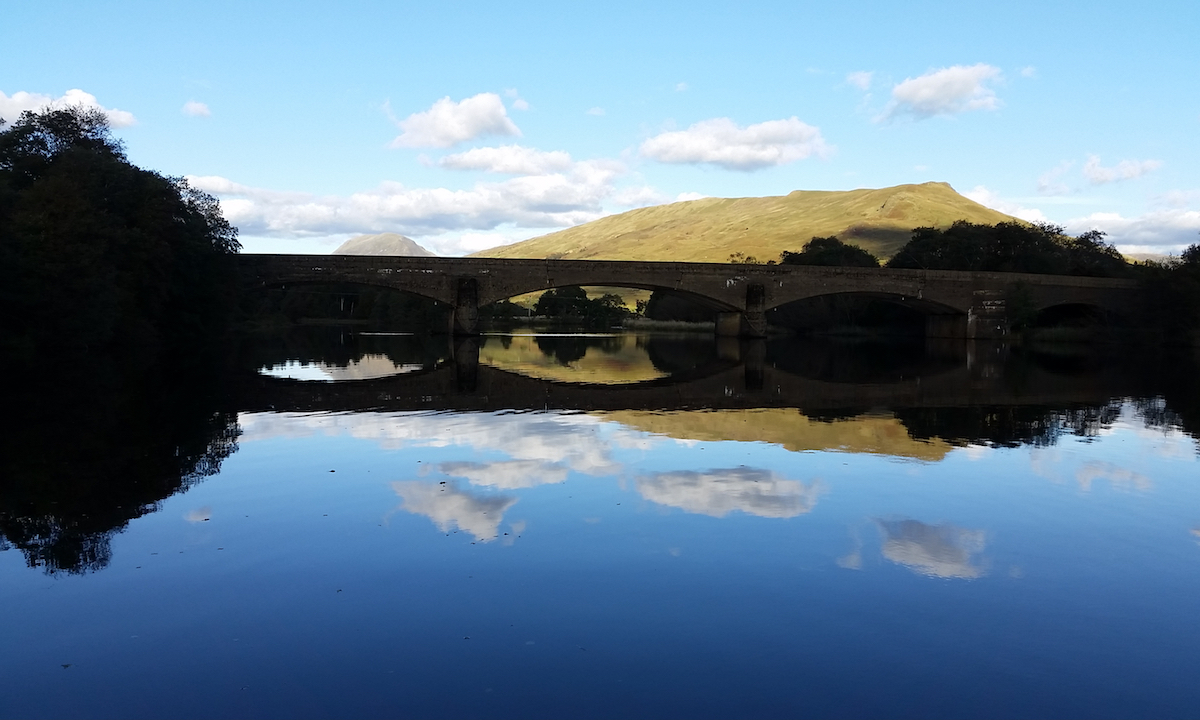 Loch Awe, smooth as glass. | Photo: Roger Chandler
I headed off more in the centre of the Loch and towards the Black Islands, with the breeze just to the right of me. My shoulders were feeling sore now but I could see the NE end of the Loch in sight, and this spurred me on. It was a beautiful afternoon and the mountains and the water looked stunning. I was very pleased to be out there on the water. I paddled towards the bridge in magic light and on a super silky surface. Nine hours 40 minutes was my time and I was really chuffed. I changed and deflated my board, packing it all away and carried it to the car park. I was staying a second night in Torran Bay hostel, and the owner was picking me up. Once back to the hostel I went straight for a shower to get that hot water on my well exercized shoulders! 43 miles, solo, unsupported, in three days and the second person on a paddle board to complete this challenge with a total time of 16 hour and 22 minutes.
To see more SUP Adventures and Expeditions, click HERE.
Last modified onWednesday, 02 November 2016 15:44

Submit your news, events, and all SUP info, so we can keep promoting and driving the great lifestyle of stand up paddling, building its community, and introducing people to healthier living.
Website: supconnect.com
Email

This email address is being protected from spambots. You need JavaScript enabled to view it.