Mississippi SUP Expedition 2011
Dave has set out to be the first person to successfully navigate the entire length of the Mississippi River on a stand up paddleboard, a total that reaches 2,400 miles.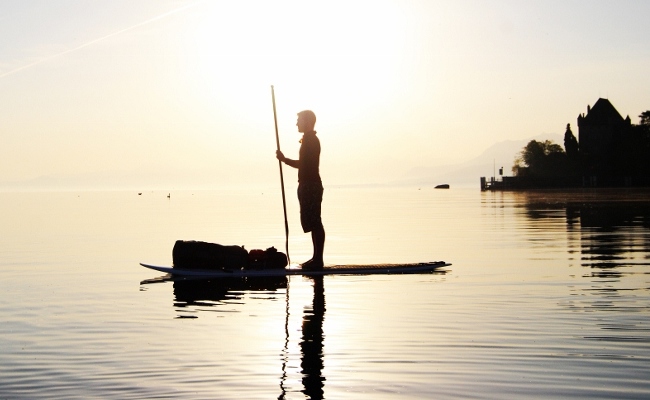 Dave rests on his stand up paddle board in Lake Geneva. Before beginning the Mississippi Expedition, Dave paddled across Lake Geneva to train. Photo Credit: www.davecornthwaite.com
Go to Dave's Facebook page to see more pictures and details of his journey.
SAN DIEGO, California -- The word adventure is thrown around a lot. Most of the time it is an overstatement but sometimes, as in Dave Cornthwaite's case, it is perhaps the most appropriate word to use. Dave has set out to be the first person to successfully navigate the entire length of the Mississippi River on a stand up paddleboard, a total that reaches 2,400 miles. If the journey is completed, he will break the Guinness World Record for distance travelled by Stand Up Paddleboard.

Dave's adventures are largely shaped by a passion for combining sport and travel to encourage people to look after their own little corner of the planet by thinking big, staying healthy and smiling as much as possible.

As an Ambassador for the Blue Climate and Oceans Project, Cornthwaite will be highlighting the ecological and environmental importance of this remarkable river that is vital to the daily needs of over 15 million people, provides drinking water to over 50 US cities and is home to 25% of all fish species in North America.

In addition to highlighting the river's importance, the journey will also raise funds for the AV Foundation, a charity that develops infrastructure and drinking water systems throughout Sub Saharan schools and communities, and CoppaFeel, an innovative breast cancer awareness charity. Dave's ultimate goal of raising £1,000,000 for charity will be acheived by undertaking twenty-five separate journeys of 1000 miles or more, each one using a different form of non-motorized transport.

While most of us start feeling the burn of a SUP session after only a few hours, Dave is paddling for up to 80 days at a pace of 30 miles per day on a journey that began on June 20th. "The distance alone may be daunting, but the communities along the Mississippi are currently facing much greater problems than I will on this journey. I'll be speaking in towns and villages on my way, and hope to encourage thousands of paddlers to join me and help raise funds as I pass through," says Dave. Indeed, the Mississippi River has flexed its watery muscle in recent months and has swelled and flooded the towns and cities along its sprawling banks.

Through The Blue Mile campaign, Dave is inviting members of the public to join him for a stretch of his Mississippi journey, and to raise charitable sponsorship for each Blue Mile they paddle. A Blue Mile is a mile travelled on or beside the water, without a motor, and is a great way to encourage people to fundraise while understanding the environment in which they play, train and travel.

To get involved, please visit the official expedition website at www.davecornthwaite.com
What stand up paddle adventures have you been on?
.
Last modified onWednesday, 28 January 2015 13:25

After spending the first part of her life in Minnesota, Morgan traded in her snow boots for sandals and moved to sunny California. After graduating with a degree in Communication from The University of Southern California, she eventually made her way down south to San Diego and is taking advantage of the living by the best beaches and burritos California has to offer. If it's sunny, you can find her at the beach relaxing, or exploring the calm water in the bay via paddleboards and kayaks.
Email

This email address is being protected from spambots. You need JavaScript enabled to view it.