Rob Rojas Paddles 24 Hours Non-Stop
Beginning at 9 AM on June 27th, Rob Rojas will paddle for 24 hours non-stop to raise money through the Love146 "Tread on Trafficking" campaign. Get the word out to support Rob and Love146.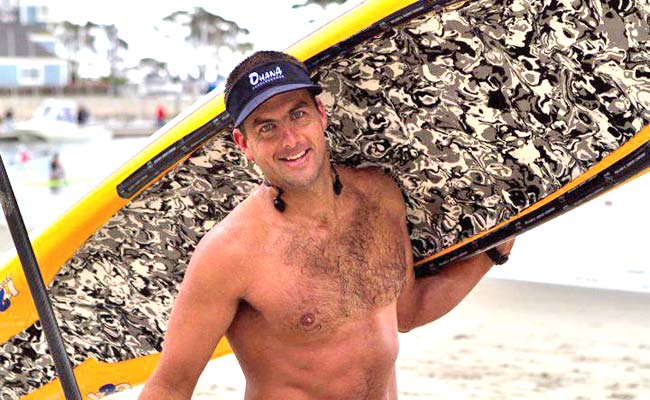 An experienced swimmer and stand up paddler, Rob will test his endruance as he pushes through a 24-hour SUP session.
Get the word out to support Rob and Love146.

DANA POINT, California – Picture an open ocean. It's 1:00 AM and daylight has long since given in to an ink-black sky. The beach isn't too far away but all you can see is the steady glow of a city that lies behind. The board beneath your feet rocks with the gentle sway of deep swell and as you push your paddle into the water, you fight the fatigue your muscles won't let you forget.

Sound like fiction? For one man, this scene is about to become a reality.

Meet Rob Rojas; former NCAA D-1 swimmer, avid stand up paddler and all around waterman. Rob has decided to push his body to an extreme place few have been to raise awareness about child sex slavery and funds to care for survivors and those vulnerable to exploitation through love146.org's "Tread on Trafficking" campaign. The campaign, fueled by over 1,000 "treaders", has raised close to $90,000 so far.

When asked to explain his strategy for his epic paddle Rob says "Most likely during the day I will be paddling mega laps around the headland buoy and Doho buoys, returning to Baby Beach approximately every hour or so. At night, I will stay in the harbor and will be passing Baby Beach approximately every 20-30 min in a clockwise fashion."

The Details

Rob will start at Baby Beach, Dana Point, at 9 AM, June 27th.
He will paddle for 24 hours until Tuesday at 9 AM.
He will switch off paddle craft, using his Ohana SUP Board for most of the journey.
He will cover somewhere between 80-100 miles.
Anyone can join the paddle with Rob to show support or donate money.
Tuesday 12pm, June 28th, Rob Rojas joins Andre and Candice for a live Wake Up Sup Show

About Love146 and the "Tread On Trafficking Campaign"

Founded in 2002, Love146 works toward the abolition of child sex slavery and exploitation through Prevention and Aftercare solutions while contributing to a growing abolition movement. Love146 believes in helping grow the movement of abolition while providing effective, thoughtful solutions.

Tread on Trafficking is a virtual event that happens across the globe beginning May 1st, 2011. Treaders ask sponsors to support them for the number of miles or hours they spend running, swimming, biking, or working out in some form over the eight week period of May & June. All proceeds raised by those treading benefit the work of Love146.

What is your longest SUP session?
.
Last modified onMonday, 26 January 2015 12:53

After spending the first part of her life in Minnesota, Morgan traded in her snow boots for sandals and moved to sunny California. After graduating with a degree in Communication from The University of Southern California, she eventually made her way down south to San Diego and is taking advantage of the living by the best beaches and burritos California has to offer. If it's sunny, you can find her at the beach relaxing, or exploring the calm water in the bay via paddleboards and kayaks.
Email

This email address is being protected from spambots. You need JavaScript enabled to view it.