Chicama, Peru: A SUP Surfer's Dream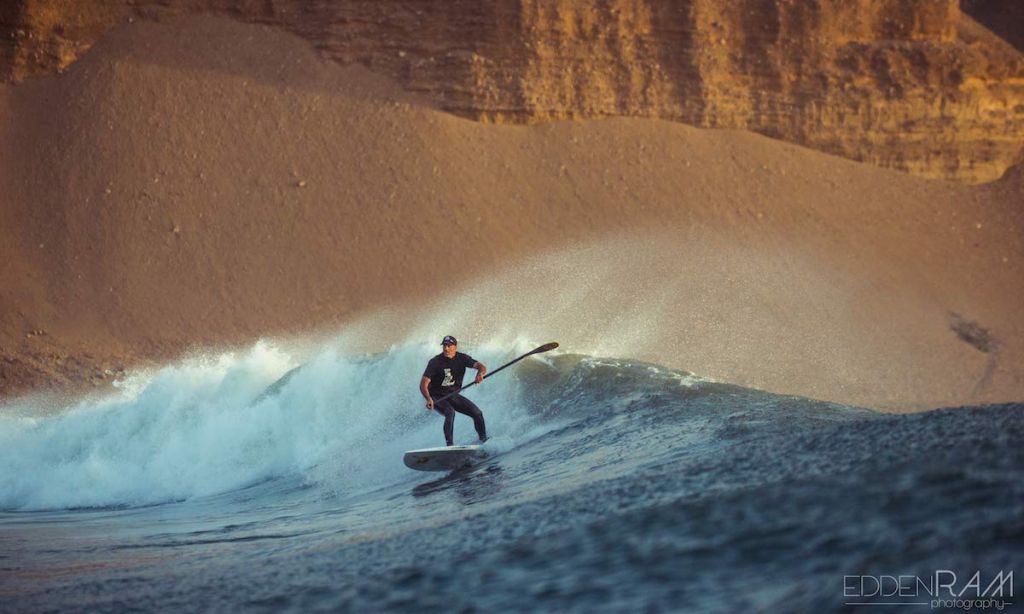 Amit Inbar surfing Chicama. | Photo: Edden Ram
CHICAMA, Peru - SUP surfer Amit Inbar loves exploring and trying new places especially when he can bring his stand up paddle board (SUP), surfboard and other water toys along for the adventure. Recently, Amit ventured down to Chicama, Peru where he got up close and personal with the longest left hand point break in the world. Hear about his journey below.
I entered the world of surfing at age seven together with a childhood friend called Guy. When Guy came back from his first international surfing trip to Peru with unbelievable stories about the waves in the "Kingdom of Lefts"- I knew I had to get there. But life had its own plans, and that was more than 20 years ago, but ever since that moment I have longed to get there and experience for myself what sounded almost too good to be true. Life took me surfing all over the world, I really can't complain, but somehow I never made it to Peru, and that burning desire to ride the world's longest left remained a dream.
In 2015 I was searching for my next surf destination when I decided it was time to make that dream come true and finally surf in Peru. My plan was to experience the waves on as many of my favorite boards as possible, so, I took with me 3 standup paddle boards, 2 surfboards, 2 kites, 2 paddles, 2 wetsuits and 5 leashes – just a tiny bit over weight, but luckily KLM were very considerate and let me take all that with me.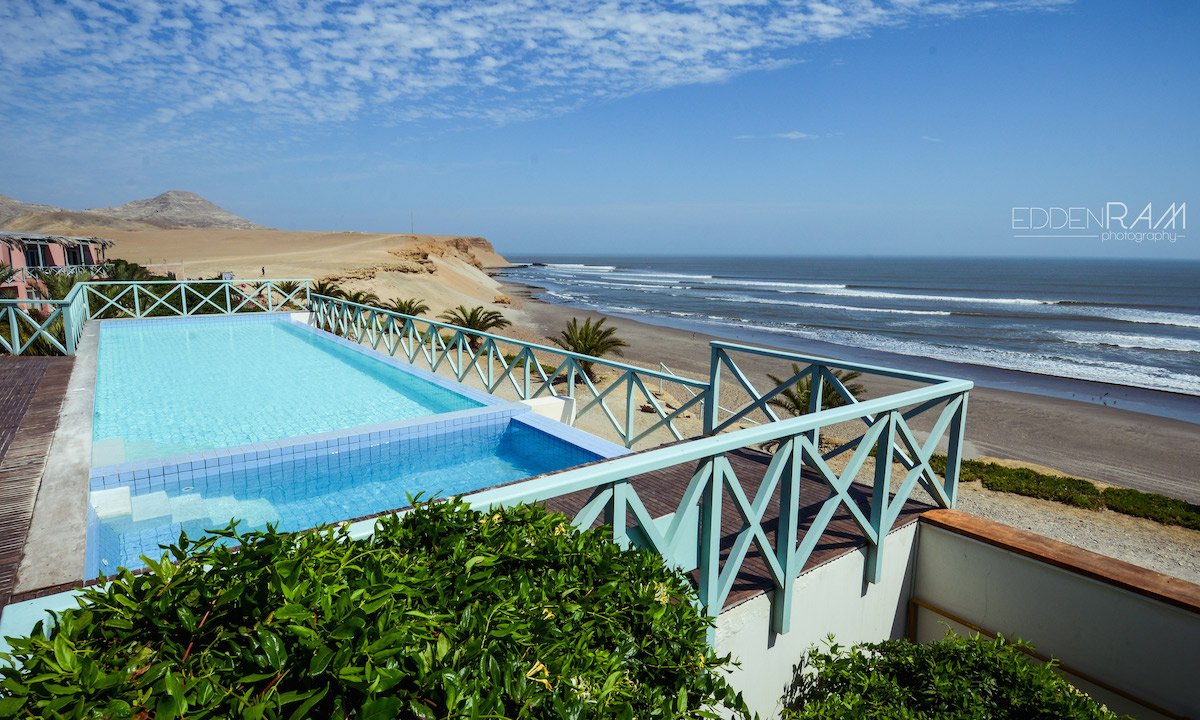 View from the hotel looking at Chicama. | Photo: Edden Ram
We landed in Lima, Peru and headed straight north to Chicama, arriving late at night. We couldn't see a thing but the sound of the waves was so powerful I could feel their energy. I was so excited I couldn't sleep. The Chicama surf resort where we stayed is on the cliff right above the peak, so at first light when I looked out the window I was blown away by the lines of perfect waves, rolling one after another, non-stop like a machine. It was like nothing I'd ever seen before. The Chicama Bay is 4.3 Km long, divided into two sections, "the Cape" – a 2 km long wave, and "The Point" a 2.3km wave. When the swell is right the two sections connect to form a 4.3km long wave, which is the longest left hand wave in the world.
Straight into the water, from the very first wave I caught at Chicama I knew I had struck gold. I was so stoked I could almost cry of joy! Guy, my friend, that first wave was dedicated to you mate. These ARE perfect waves for surfers of almost all levels. It's a long, consistent, forgiving and pure fun wave! It allows the surfer to really improve in any skill or maneuver because you actually get to repeat that maneuver again and again on the same wave without it closing out, the wave just opens out almost endlessly. You can even make mistakes, get out of it, and have another go… or, if you are an experienced surfer just get more radical with each move, and rip what is literally the longest left in the world!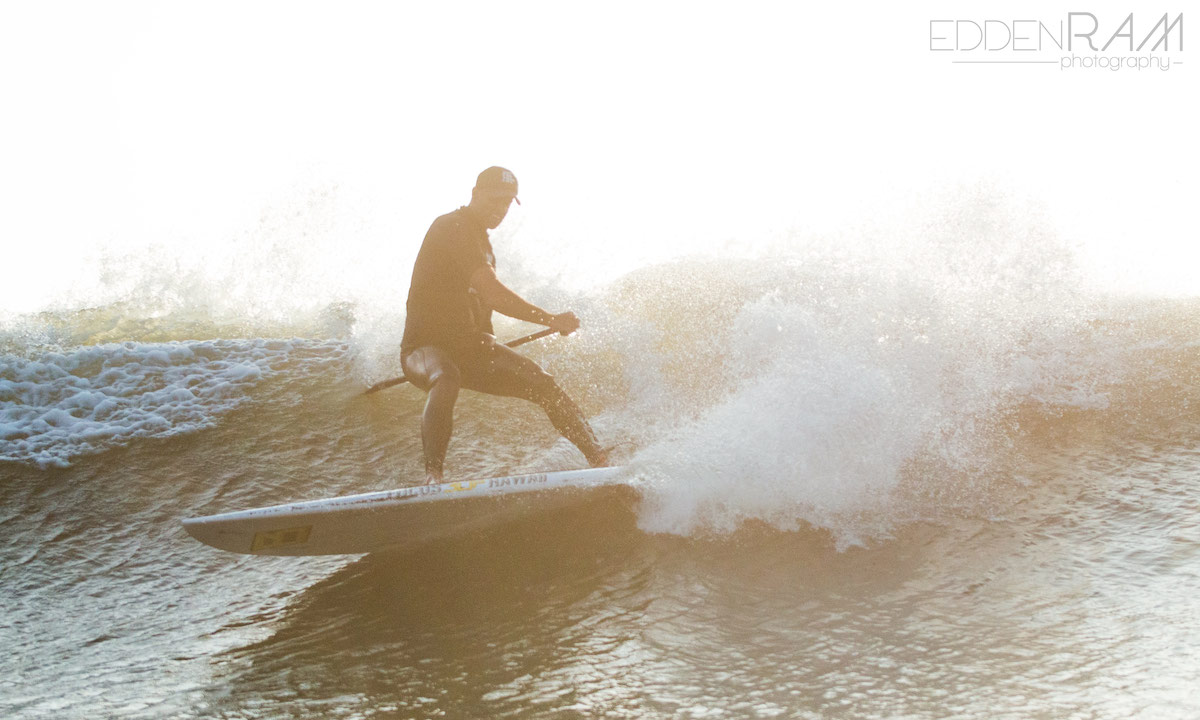 Backlit hacks at Chicama. | Photo: Edden Ram
And its not just the waves that are perfect, it's the whole setting: The mountainous desert scenery, the charming fisherman's village, and the incredible facilities at the Chicama Surf Resort. This is a resort in which every detail was thought of to ensure the best surfing vacation. From wetsuit drying, to saunas, jacuzzi, massages, incredible cuisine, friendly staff and a relaxing surfer's atmosphere.
To top it off, at breakfast I bumped into none other than the famous Wingnut from Summer Dreams. An amazing person and incredible longboarder, who was spending some quality surfing time with his son before he headed off to college. I was inspired by his surfing style, and also by his knowledge and understanding of the all aspects of the ocean, a true water man. The three of us spent a week surfing together in Chicama and at a few other spots around the area together with Miguel- the Peruvian hotel manager, who happens to be a great surfer himself.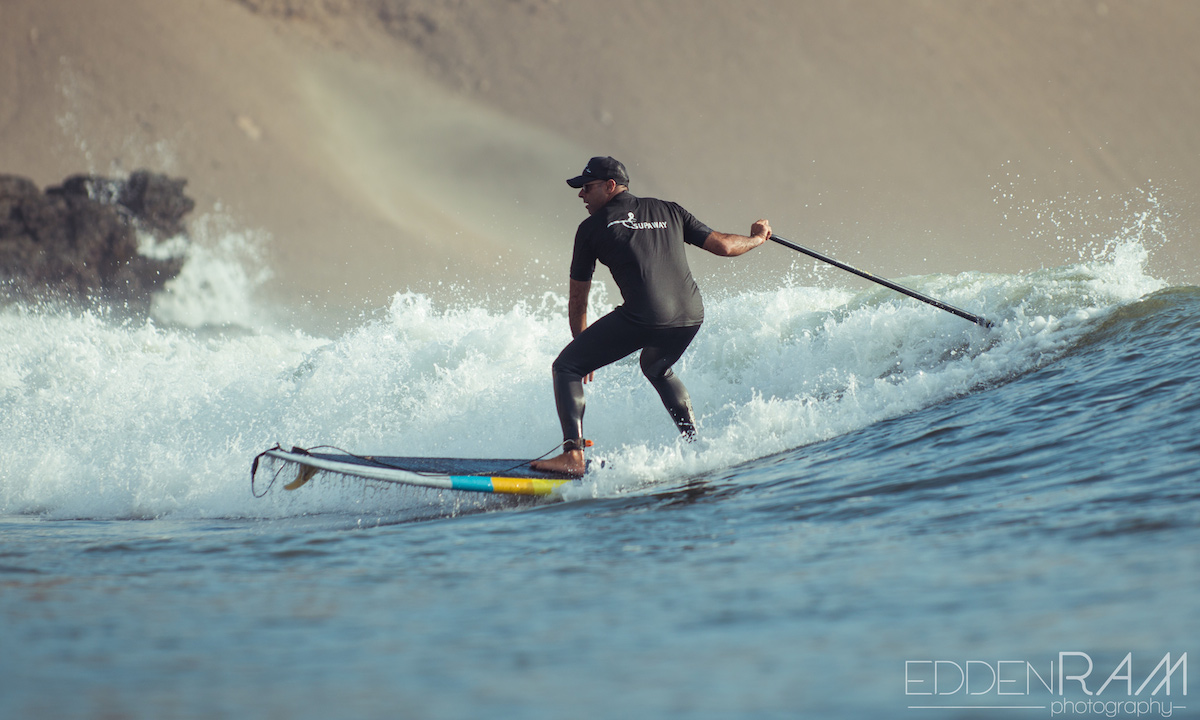 Amit Inbar having a blast at Chicama. | Photo: Edden Ram
Every morning we met at first light, on the deck, where we could see the waves from, we had an early breakfast and then we were off to our first session of the day (usually there were 2 or 3 more).
It was a special experience spending that time with Wingnut, he is extremely knowledgeable in all aspects of seamanship, surfing history, surfing destinations and also understands the surfing industry inside out. Each evening we had fascinating discussions on various topics, and one of the topics that came up was the growing animosity in the water between surfers and SUP'ers ... It gave me the idea to share a wave with him – me on SUP and him on longboard, and create a viral video clip of it aiming at educating the SUP & surfers communities. Besides the educational aspect which was very important, it was just a pleasure to surf with him on the same wave. It's not only his smooth technique and style on the board, it's also the good vibes he spreads all around him.
When Wingnut and his son left Chicama, they left me with two of their longboards. I was grateful and honored to be riding his boards in those perfect waves. We had some fun in the water, sharing waves and carving around each other seamlessly on the wave.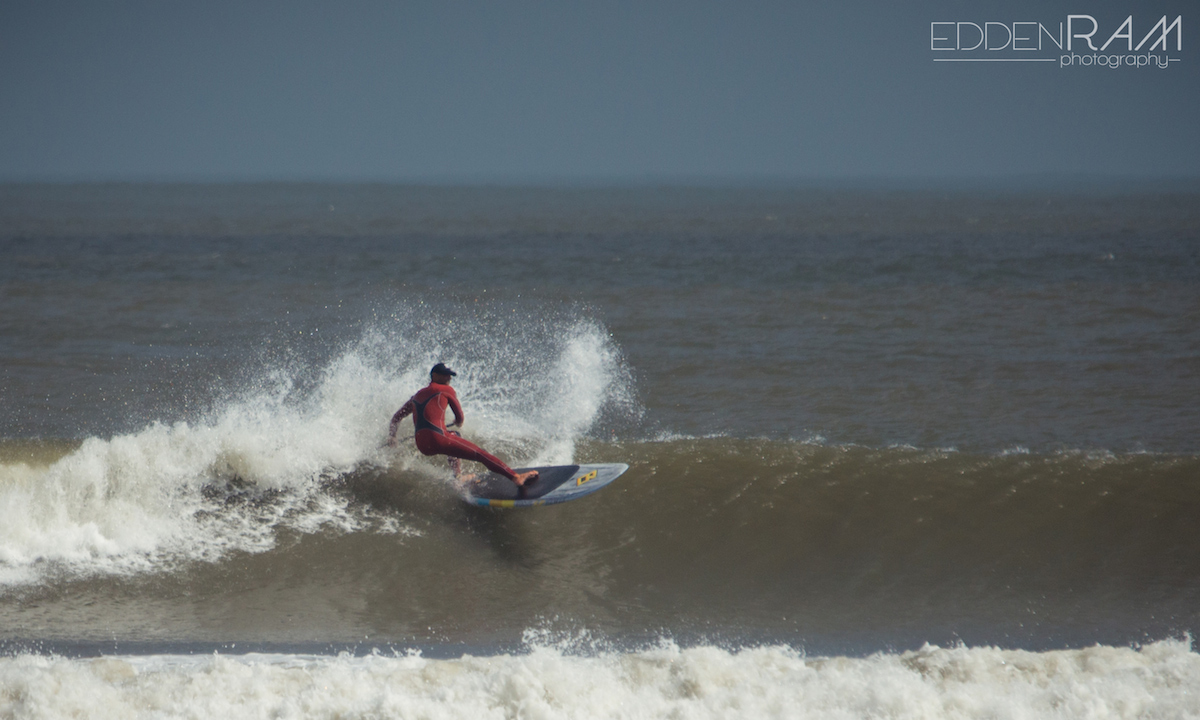 Longest rides ever at Chicama. | Photo: Edden Ram
The food in Peru in general is great, but at the Chicama Surf Resort, the experience was absolutely a culinary festival. No doubt the three healthy nourishing meals a day helped me be able to surf for so many hours without getting worn out. And of course, the Saunas, Jacuzzis and massages were important in keeping the muscles from tightening up. Whether you are soaking in the Jacuzzi, eating breakfast, or having a drink at the bar, you'll have a 180 degree view of the beautiful Chicama Bay crossed by lines of perfect waves.
The people in Peru were amazing, always wanting to help you out and make sure you will have the best experience in their country. I discovered the fisherman there row on straw canoes called "Totora". They have been using these canoes for three thousand years and they are believed to be the ancestor of modern surfboards. I really wanted to try them out, so Miguel took me to a quaint fisherman village, where one of his friends has a few Totara canoes. After a short explanation I was in the water on one, trying to catch waves. Well, it wasn't easy at all! I was impressed seeing the locals catch waves on those boats- with a bamboo cut in half as their paddle… The canoe has a huge rocker to avoid capsizing and a V shaped bottom to maneuver, and the bamboo stick also helps maneuvering (although for me it was really uncomfortable). So, they stand on the canoe, paddle and catch waves- this is the ancestry of surfing and Standup paddling.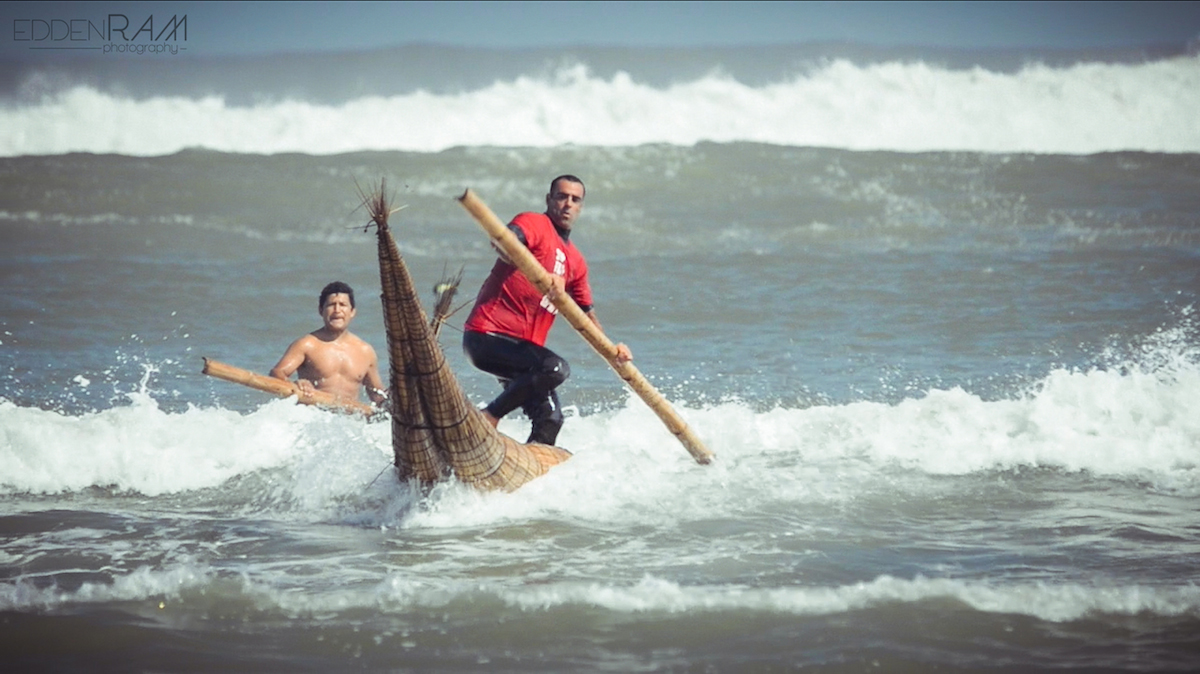 Amit trying a hand at Totora. | Photo: Edden Ram
The only frustrating thing the entire trip was sitting on the deck in between sessions seeing those perfect waves and not being in the water catching them but I had to hold myself back and not overdo it, to avoid overexertion or injuries…After every wave there could be a 15-40 minute walk or paddle back to the peak, so we decided to use a speedboat and jetski to take us back to the peak each time- what a treat!
Whereever I go it's always important to me to check out the local market and taste the local street food, and really "feel" the place. The market experience was great! I tasted so many kinds of corn, delicious local dishes made from fresh fish and seafood, perfect for after surfing.
To sum it up, this surf trip was not only a dream come true for me but it was better than anything I could have dreamt of! One trip was enough for me to know that this is a place that I am going to come back to regularly, and so I have. Since my visit in September 2015 I've been back twice a year, in April and September when the conditions are perfect, and shared the joy with many happy surfers through guided surf camps with my brand Express Your Surf.
To see more SUP Journeys, click HERE.
Last modified onWednesday, 25 January 2017 13:04

Amit is a former European champion and Olympic windsurfer. After completing his professional windsurfing career, he decided to open a surf school in his home town Michmoret and pass his love of the sea to others . Over the last three years he has concentrated his activity on SUP, as in his view this is an amazing sport that can bring any person into the world of water sports in a gentle way. Through their exposure to SUP, Amit has changed people's world, by providing an exciting new connection to the sea. At SUPaway, Amit teaches SUP surfing, trains racing groups, and leads SUP excursions in Israel, and around the world. " Sharing my knowledge and passion for the sea , is what I always wanted to do, the stand up paddling sport has given me the perfect platform to do it."
Website: www.expressyoursurf.com
Email

This email address is being protected from spambots. You need JavaScript enabled to view it.