Bart De Zwart Begins Incredibly Cold SUP Expedition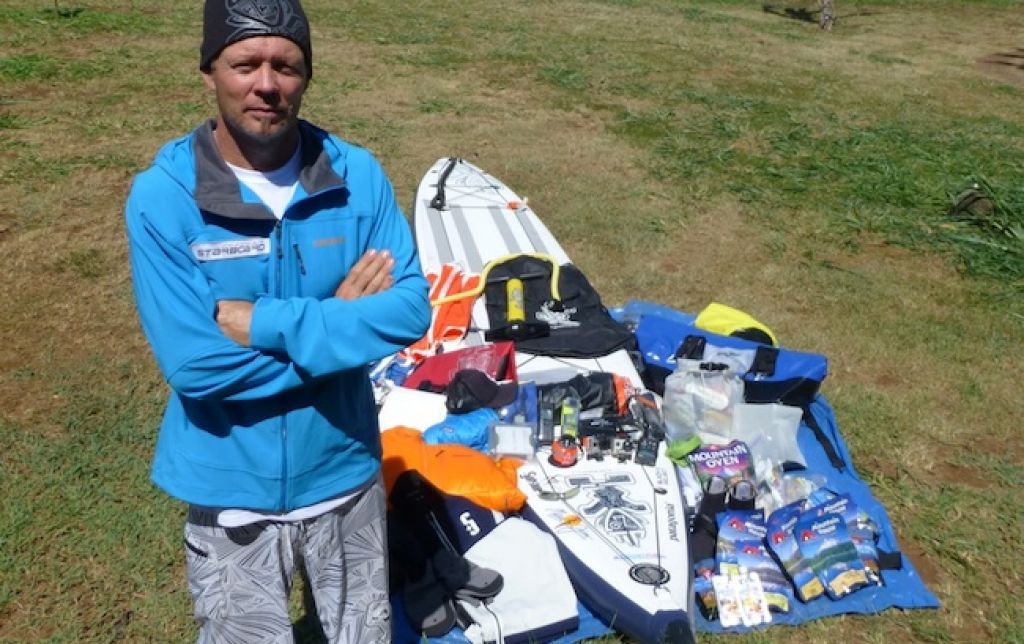 Bart de Zwart with all his gear prior to beginning his 2013 Artic Crossing Expedition.
SISIMIUT,·Greenland - On June 22, 2013 Bart de Zwart, and extreme paddler who dares to do what no other stand up paddlers have ever done, shared that he had a plan to do an Arctic Crossing Expedition on July 15th, and stated that this would be his most challenging crossing so far.
The adventure would involve icebergs, a remote location , weather and a solo / unsupported stand up paddle 200 nautical miles across the Arctic ocean. However, after a week of testing his board with all the gear and checking weather and ice reports, he had to make a very hard decision… could he cross or not?
As of just a few days ago there was still too much ice (a 20 mile ice sheet) in front of his starting point and the weather up there was still very unstable. So with a heavy heart, Bart decided instead to go to Greenland by plane and do a 400 km SUP expedition from Sisimiut to Ilulissat.
Most recently and just today, Bart called his wife from his satellite phone. He is testing his Starboard Astro Inflatable 16' in the ice fjord of the Ilulissat Glacier. He said, "The scenery here is absolutely breathtaking. The sun is out, the ice shows all shades of blue, white and grey. Temperature is a little above 0 degrees Celsius."
All of his clothing is keeping him warm, and his sun glasses protect him from the intense light reflection of the ice which surrounds him as he looks for water ways to get through.
Tonight Bart will test all of his equipment and then sleep on the ice. In the morning, when he awakes, Bart will do another board test and then be on his way south, paddling for 4-6 days towards Sisimuit, but he will be equipped with supplies for 10 days.

Stay tuned and click here to learn more about Bart and to follow his progress! His last satellite message stated, "Paddling strong."
Last modified onWednesday, 28 January 2015 12:09
Email

This email address is being protected from spambots. You need JavaScript enabled to view it.