Paddle Boarding Humboldt County, California
SUP in the Redwoods of Humboldt County - A Farnorcal SUP Paradise
By Tim Haywood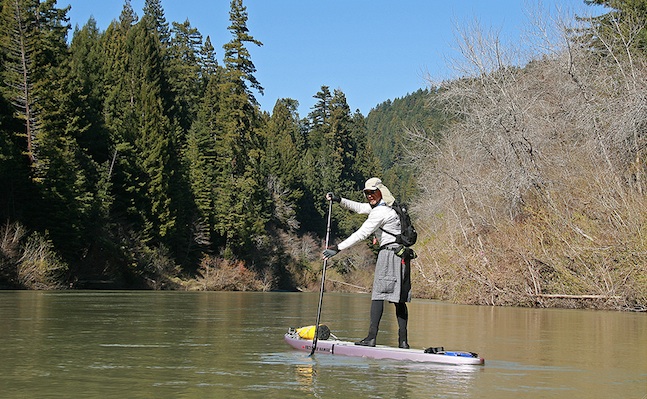 Meet Tim Haywood of All Out SUP. Photo By: Jack Miller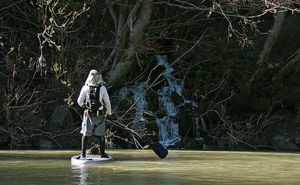 Tim Haywood on SUP in the Redwoods of Humboldt County. Photo By: Jack Miller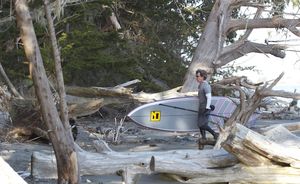 Tim Haywood on SUP in the Redwoods of Humboldt County. Photo by Jack Miller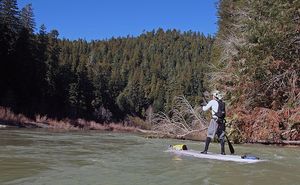 Tim Haywood on SUP in the Redwoods of Humboldt County. Photo by Jack Miller
OYSTER BEACH, California - I'm fortunate to live in one of the most beautiful places on earth. ·More specifically, I live in a place called Oyster Beach in a vacation rental property located on beautiful Humboldt Bay which is situated between the bay and ocean on the Samoa Peninsula. ·Geographically I am on the coast, about 100 miles south of the Northern California / Southern Oregon border. ·This area is most commonly known for the world famous Coast Redwood trees, where most of the remaining 1 percent of the species can be found, including the record breaking tallest trees on earth.
What many people may not realize about where I live is that the Redwoods also offer a paddleboard paradise! There are six rivers, 3 lagoons, several small to medium lakes, Humboldt Bay, and of course, the Pacific Ocean. The rivers include the Smith, Klamath, Trinity, Mad, Eel, and Little rivers. There are also three lagoons which include Big Lagoon, Stone Lagoon, and Freshwater Lagoon, all just north of Trinidad State Beach and Patrick's Point State Park. The options are almost endless.
With the exception of the lagoons and inland lakes, the water is cold but with a 4.3 ml wetsuit, hitting the coast for some sup surf action is still great. Otherwise, depending on skill level, a 2.3 spring suit or board shorts are sufficient for flat-water paddling. The rivers offer all levels of whitewater to play in, and some of the best Steelhead and Coho fishing anywhere can be done right here.
As someone who truly loves both where I live and stand up paddling, I decided to begin operating All Out SUP Standup Paddleboarding about a year ago. This is a small lesson/guided tour company mostly concentrating on tours and lessons on Humboldt Bay around the Woodley Island area near the city of Eureka. I also do custom tours to some of the other areas mentioned as well for paddlers with a medium to high skill set.
As a 50-year-old retired ironworker, originally from Northport, Alabama who moved to Humboldt County in July of 2008. I'm excited to share SUP in the Redwoods with all of you. I'm a cancer survivor of over 30 years, and since discovering sup 3 years ago have gotten into the best shape of my life. I live with my dog, Cali girl, and enjoy a pretty simple lifestyle. I'm into shopping local, living as sustainably as possible, good music and arts and healthy eating. I like to garden, fish, ride my electric hybrid bicycle when it's not raining and of course, standup paddleboard as much as possible!
It would be a pleasure to share SUP and the lifestyle of this part of the world with anyone who is up for a new adventure to see beautiful lands and discover different waterways as we explore on SUP in the Redwoods of Humboldt County.
For more information please visit www.alloutsup.com or contact Tim Haywood directly at [email protected]
.
Last modified onWednesday, 28 January 2015 11:02
Email

This email address is being protected from spambots. You need JavaScript enabled to view it.