Paddle Boarding Juneau, Alaska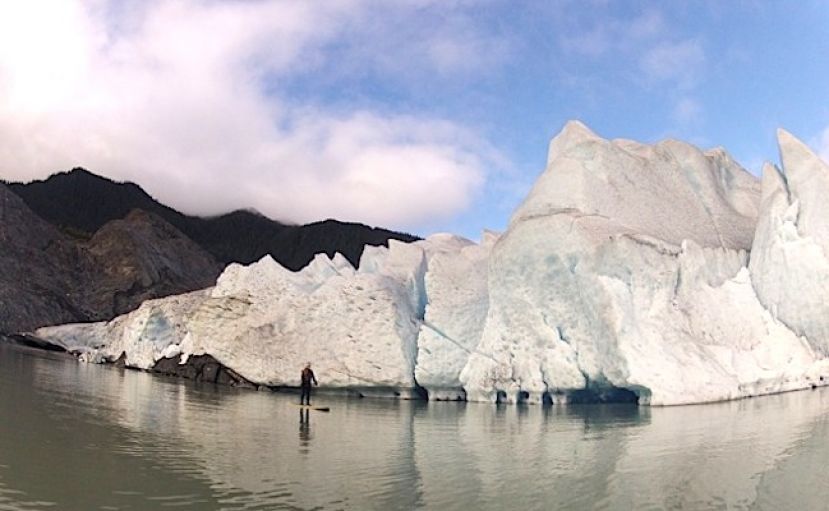 Juneau, Alaska offers great locations to paddle and explore.
Written by: Karla Gore
JUNEAU, Alaska - A couple of years ago, I was in Seattle for a fisheries conference and I ran into an old friend from Hawaii, Jenny Stahl, ·who was living in Juneau, Alaska. ·As we caught up and reminisced about mutual friends, she told me that she had been having fun surfing and stand up paddleboarding in Juneau. ·I used to live in Washington and we would surf any time of the year--in our wetsuits and we had fun doing it. ·I had just not even thought about doing such a crazy thing in Alaska. ·I had been SUPing a lot in both Hawaii and Florida but those were clear, blue, warm waters. ·Alaska was a different thing altogether.·
A few months ago, when SURFit Adventures starting planning out a series of SUP adventures for 2013-2014, I knew I wanted to organize a tour to some place different, a place off the beaten SUP path, a new adventure.
My conversation with my old friend Jenny Stahl kept replaying in my mind and I knew I needed to make a SUP tour to Juneau, Alaska a reality.
In August we will board a plane and head off for the adventure of a lifetime with a group of stand up paddleboarders who are looking for something new. There are a couple more spaces left on this organized tour so call 941-952-8245 if you want one of the last spaces or senda message to [email protected]
According to Jenny and other seasoned SUP'ers in the area, there are a bunch of great places to go. On this tour, we plan to paddle at least once a day and sometimes twice depending on conditions and how tired people get. We want to see as much as possible in our short time there. The following is a list of some of the paces that we may paddle while we are in Juneau...have you paddled Juneau? Do you have any paddles to add to the list?
Where to SUP in Juneau:
Auke Lake:
Auke Lake is located near Auke Bay and University of Alaska-Southeast. ·Jenny insists the water will be warm enough for us to swim in while we are there-although I can't promise that I will attempt that. ·One of the pictures above shows her paddling the lake in a bikini in June. ·This is a nice easy paddle and is a great place to just get accustomed to the board and the idea of paddling in a wetsuit. ·I know for some of us that might be a challenge in itself. ·
Where to Launch: Boat ramp parking lot.
Distance: 1.5 miles
Skill Level: Easy
Wildlife: Bald Eagles, spawning salmon.
Auke Recreation Area:
This is a great place to picnic--with one of the best beaches to land and launch. · Paddle from Auke Rec to Portland Island or explore the nearshore islands.
Where to Launch: Auke Recreation Area
Distance: 6 miles
Skill Level: Beginner near-shore, Intermediate – Advanced offshore (boat wakes, exposed to wind)
Wildlife: Bald Eagles, Harbor Seals, Stellar Sea Lions, Harbor Porpoise, Humpback Whales
Mendenhall Glacier:
When you see pictures of Juneau, you almost always see pictures of the amazing Mendenhall Glacier. This 12 mile long glacier is located only 20 minutes outside of Juneau and is a paddle not to be missed. Paddle time on the lake can vary but it is easy to spend 3 hours exploring the lake and the glacier. This is also where you are likely to see bears nearby at a viewing platform.
Where to Launch: ·Skater's Cabin parking lot
Distance: 5 miles
Skill Level: Beginner – Advanced, depending on weather (can get windy and rough)
Wildlife: Bears, Mountain Goats, Bald Eagles
Amalga Harbor to Boy Scout Beach:
This is Jenny's favorite paddle and one that is not to be missed. Starting at the kayak launch at Amalga Harbor head north towards Boy Scout Beach-a beach made of glacial deposits. This is a nice place to have a picnic and then head back to the start.
Where to Launch: ·Amalga Harbor
Distance: 8 miles round trip
Skill Level: Beginner - Advanced
Wildlife: Stellar Sea Lions, Humpback Whales, Bald Eagles, jumping salmon
Bridget Cove:
Another great place to explore is Bridget Cove, which takes you along the sea cliffs of a barrier island. The paddle is about 1.5 miles each way and is really beautiful.
Where to Launch: Echo Cove Boat Launch
Distance: about 3 miles
Skill Level: Beginner - Advanced
Wildlife: Harbor Seals, Bears, Stellar Sea Lions, Bald Eagles, Sitka Black-tail Deer, Humpback Whales
North Douglas – Outer Point:
A great place to paddle and get spectacular photos with the glacier and snow capped mountains in the background is the Fritz Cove area at north Douglas Island. Lots of marine life congregates at this entrance to Mendenhall River and Fish Creek to take advantage of the returning salmon. Seals, Sea Lions and Bald Eagles are always present. You can extend the paddle west to Outer Point and Stephens Passage to explore the rocky shoreline and islands and increase the chances of seeing Humpback Whales or Orcas.
Where to Launch: ·N. Douglas Boat Ramp
Distance: up to 8 miles depending on route
Skill Level: Beginner - Advanced
Wildlife: Harbor Seals, Stellar Sea Lions, Bald Eagles, Humpback Whales
Things to Keep In Mind When Paddling in Alaska:
1. Tides: ·When paddling in the bays and inlets around Juneau, pay attention to the tides. ·The tides are huge in Alaska, sometimes fluctuating as much as 22 feet between high tide and low tide. ·You need to pay attention to the tides when you are paddling otherwise you may be paddling against an outgoing tide at the time when the water is moving the fastest. ·Be careful about this and if you are unsure, go with a guide. ·Neil, at Blue Nose Surf rents stand up paddleboards and leads tours. ·He is very knowledgeable about the local area. ·
2. Weather: Juneau isn't really known for its bright sunny weather but it can get warm. It can also get cold. Paddling in the summer, most people wear wetsuits (except for Jenny and her friends), and will occasionally jump in the water to keep from overheating. I like this idea a bit more than just hoping that I don't fall in the water. A wetsuit will help keep you warm in case a rainstorm pops up.
Schedule Your Tour!
If you are ready to schedule your SUP trip to Juneau, and would love to go on a group tour, please consider joining our SURFit Adventure. ·Our tour runs from August 26th-August 30th--with paddles daily to explore some of the places described above and some 'secret' spots as well. ·
The tour includes accommodations at the Alaska Capital Inn, five course breakfasts and snacks, all SUP equipment, guided tours, transportation to and from launch sites and the airport, a specially prepared local Alaska feast and much more. Right now, we have a good group of paddlers who range from experienced to novice and we will tailor all of the paddles to ensure everyone has fun, stays safe and gets to challenge themselves. We are also working with local companies to add special events to the tour-including hiking, biking, fishing, and more (with additional costs). We only have a few spots available so call right away if you are interested, 941-952-8245. Seize the opportunity to do something wild.
If you are heading to Juneau at a different time of the year, contact Neil at Blue Nose Surf for information on board rental and tours. He is a great guy and he will treat you right. Phone: 907-957-2996 or bluenosesurf.com
.
Last modified onWednesday, 28 January 2015 11:01

Submit your news, events, and all SUP info, so we can keep promoting and driving the great lifestyle of stand up paddling, building its community, and introducing people to healthier living.
Website: supconnect.com
Email

This email address is being protected from spambots. You need JavaScript enabled to view it.