How to Be Safe in the Rapids on SUP
Written by Dan Gavere
SUP Casualties Have Already Occurred in Rivers. Don't be Next!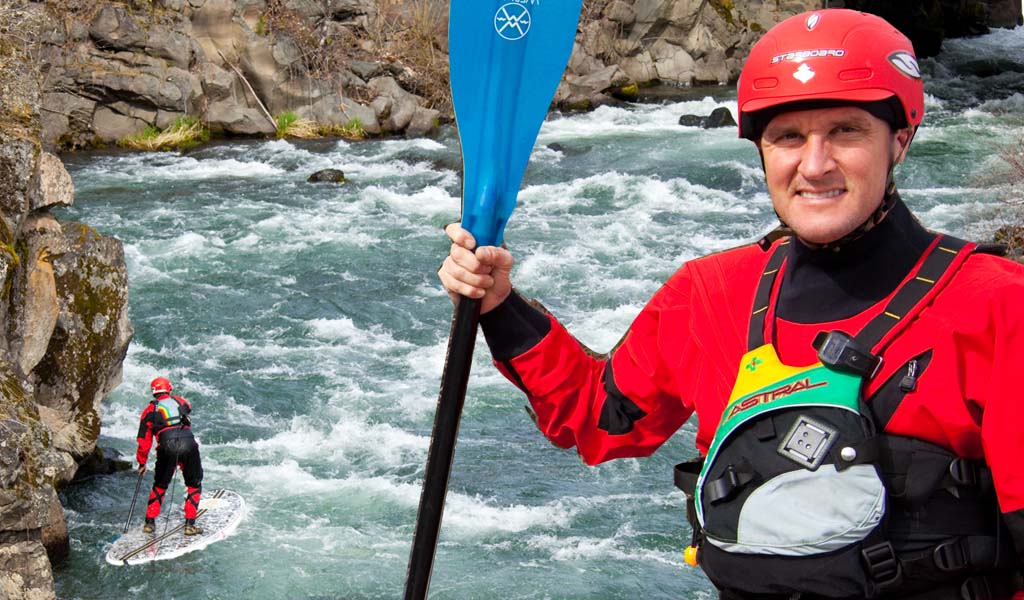 Dan Gavere (left) managing some of the best running waters in years on America's Northwest and posing (right) with his gear for the camera. All photos: Rob Casey.
---
Obstacles Make for Dangerous Swimming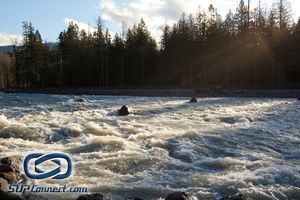 Obstacles include rocks, logs and branches, and a barrage of debris that can easily injure the standup paddler once in the water. Photo: Rob Casey.
---
A SUP Partner is a Life Insurance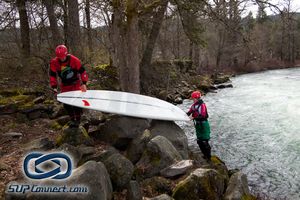 Dan Gavere and Nikki Gregg help each other to get out of the white water, a task which could have been incredibly difficult if a paddler is alone. Photo: Rob Casey.
---
PFD's Serve Multiple Purposes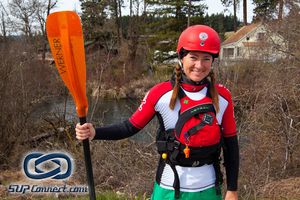 Nikki Gregg showing off all her white water standup paddle gear, a personal flotation device or life jacket included. Photo: Rob Casey.
---
Obstacles Make for Dangerous Swimming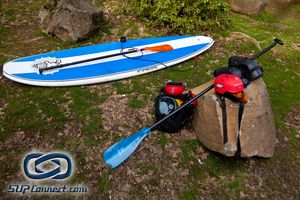 Remaining conscious is pivotal for survival in the river, making the helmet one of the most indispensible pieces of gear to take along when hitting the white water. Photo: Rob Casey.
---
Looking for Footing Can Make You Lose a Leg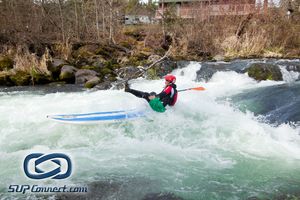 Nikki Gregg is going for a dive after a very difficult drop, putting her in an incredibly dangerous position if she were to try to standup in that section of the river. Photo: Rob Casey.
---
Scouting Out the River Puts Dangers on the Map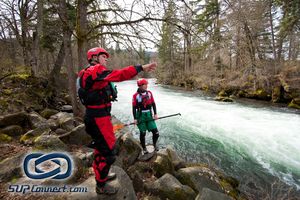 Knowing what lies ahead can prevent you from going over a 50-foot waterfall and eventually save your life. Spend the time scouting before entering the water. Photo: Rob Casey.
---
Leashes: Lifesavers or Liabilities?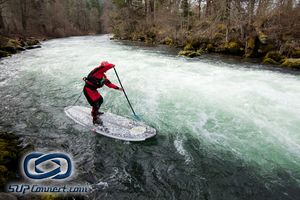 It is suspected that the first sup casualties were due to a leash, for leashes can work either as lifesavers or liabilities. Understand the dangers before wearing one. Photo: Rob Casey.
---
Standup Paddle TV with Dan & Nikki
Watch the ultimate white water standup paddle couple talk about the in's and out's of white water sup, all of that on standup paddle tv.
---
View Full Album of Dan & Nikki in Total River Action.
---
HOOD RIVER, Oregon -- The world's first casualties of standup paddling took place on a river, highlighting the exceptional dangers posed by running fresh water. We've asked river expert and standup paddle extraordinaire, Dan Gavere, to make a 'Must-Know Safety List' for anyone who is thinking about taking a standup paddle board to a river. Below is the list.


1. Know How to Swim Competently & How to Whitewater Swim


Know how to swim competently!  Being a strong swimmer is mandatory for entering the whitewater environment.  But that alone is not enough. You must learn the whitewater swim position. Rocks, branches, and other obstacles and debris are equally dangerous (and sometimes more of a danger than the water), so learning how to swim and position your body once falling in the water is pivotal for sup river safety.

2. Never Paddle Alone for a Partner is Often Your Best Life Insurance

Never paddle alone.  Having a friend along with you is the single best way for offer or receive a rescue when in need.

3. Always Wear a Personal Floatation Device: Safety Comes Before Fashion

Wear a Personal Flotation Device (PFD) at all times when in the river.  The extra flotation will mean you can swim more efficiently without getting sucked under. Flotation also provides a face up floating orientation so you will be able to breathe even if unconscious, not to mention the impact protection the life jacket provides. This is the one piece of equipment that is required on any type of moving water environment.

4. Wear a Helmet: Being Unconscious Nearly Dooms Your Chances of Survival

Wear a helmet.  Being unconscious in the river is one of the most lethal positions you can put yourself in.  You are the most likely person to perform a rescue (self rescue) but if you're unconscious you have drastically reduced your chances of survival.

5. Never Try to Find Footing to Stand Up: That Can Lead to Serious Injuries & Death

Never Stand Up in the River.  There is a common situation called "foot entrapment," where a person's foot becomes trapped or wedged between rocks in the river bottom and then their body is pushed down below the surface by the current of the river. This is particularly dangerous because even the strongest person sometimes can't fight the current. In which case, the person will remain underwater and/or with her foot trapped, eventually leading to drowning.

6. Know the River, Its Sections, Obstacles, and Dangers Before Entering

Be aware of the section of river you're going to paddle and any known dangers that may exist, like strainers, low head dams, trees, undercuts, etc…  If you are not aware of these terms or what they mean, then you need more knowledge and training before attempting any whitewater. DO THE RESEARCH AND LEARN!

7. Understand the Dangers/Benefits of a Leash Before Wearing One

Know the dangers and benefits of wearing a leash and, if wearing one, only use leashes with a quick release system in the river.  NEVER EVER attach your leash to your ankle while paddling in a river.

Note that this is a basic list and that by no means it will guarantee safety when standup paddling on rivers. Additional caution must always be taken and the standup paddler must be extremely attuned to the changing dynamics of the water and the risks it poses, including even the risk of death. If you have no or minimal experience on rivers, consult with a local river expert before attempting to go for a paddle.

About Dan Gavere

Dan Gavere is a professional standup paddle racer and white water guru, who pours all his field experience into developing some of the best paddles in the market. Having spent nearly all his life around inland waters and competitive kayak circles, the credentials he earned along the way have turned him into one of the most respectable authorities in white water standup paddling. Also, all the years spent developing paddles have helped him to harness a deep understanding of equipment and stroke technique. For more from Dan Gavere, check SUPinstruction.com.
Copyrighted and Exclusive My Local Lineup Content.
Last modified onThursday, 22 January 2015 14:56

Submit your news, events, and all SUP info, so we can keep promoting and driving the great lifestyle of stand up paddling, building its community, and introducing people to healthier living.
Website: supconnect.com
Email

This email address is being protected from spambots. You need JavaScript enabled to view it.