Boardworks Shares How to SUP With Your Dog Video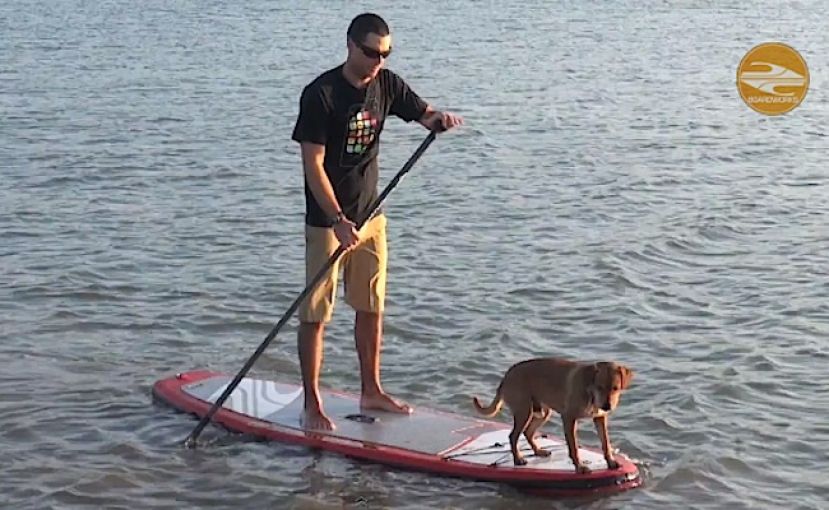 CARLSBAD, California - Recently Boardworks Surf Team Rider Michael Tavares and his dog Shredder headed out on the water to show all of us How to SUP with a Dog.
There were several key points that were mentioned by the experienced duo which have been outlined below. Enjoy the quick read and or just click play above!
How To SUP With Your Dog - Boardworks Surf Style!
1. Use a board with a Full Deck Pad or an Inflatable:
Mike and Shredder like using the Boardworks Joyride 10'11"x34" and the Shubu Wide 9'2"x34". These boards offer a great surface area for cruising around together while feeling stable and comfortable.
2. Use a wider board for extra stability:
As your dog walks around on the board it can easily throw off your balance. This is why using a wider board such as the SHUBU, which is 34" wide, can make for a much easier and more fun time together on the water.
3. Position the board with fins deep:
To mount the paddleboard, position it with the fins in the deep part of the water and the nose toward the shore. Doing this gives your dog a nice ramp to climb up and onto the board. Also, by placing the board in this position it helps make sure that your fins don't sink into the sand or dirt when your dog and you climb on. If your fins were to get stuck it could cause them to break or could cause permanent damage to your board and fin box.
4. Climb on in a low position and find balance:
Find a good balance point on the board and get low as you climb on. Remember that your dog will often throw off your balance especially if it is moving around on the board, so as you get started, begin by getting down low and search for the best balance point which is typically in the center of the board. Also, a wide stance can definitely help create stability. As you get more comfortable, stand up taller and even try to move around a bit.
5. Consider using a PFD for you and your dog:
Depending on how far off shore you paddle and the swimming ability of your dog and you, it might be very smart to invest in a PFD (personal flotation device) for your pup and you.
6. Try some tricks:
Once you have the feel, then it's time for the real fun. Don't worry about getting wet, just have fun trying tricks and enjoying time with your friend.
About Boardworks Surf:
Based in Carlsbad California, Boardworks Surf, a leader in the standup paddle industry, designs and manufactures innovative and award winning standup paddle boards, paddles, surfboards and accessories. The focus of Boardworks is to build user-friendly performance products that make your time on the water more enjoyable. There are many types of waterways in this world and many different ways to enjoy Stand Up Paddling. Boardworks' design approach ensures that you have the perfect board for your next SUP or surf adventure. Along with the Boardworks branded products, Boardworks manufactures SUP boards and surfboards for some of the worlds premier brands including Infinity, Badfish Standup Paddle, Morrelli & Melvin, Ohana, Rusty, Hynson, Dewey Weber, Ben Aipa, Bruce Jones, Kane Garden and Hansen using our proprietary construction technologies.
.
Last modified onTuesday, 24 March 2015 16:25
Email

This email address is being protected from spambots. You need JavaScript enabled to view it.