Hybrid Cord/Coil Leash by FCS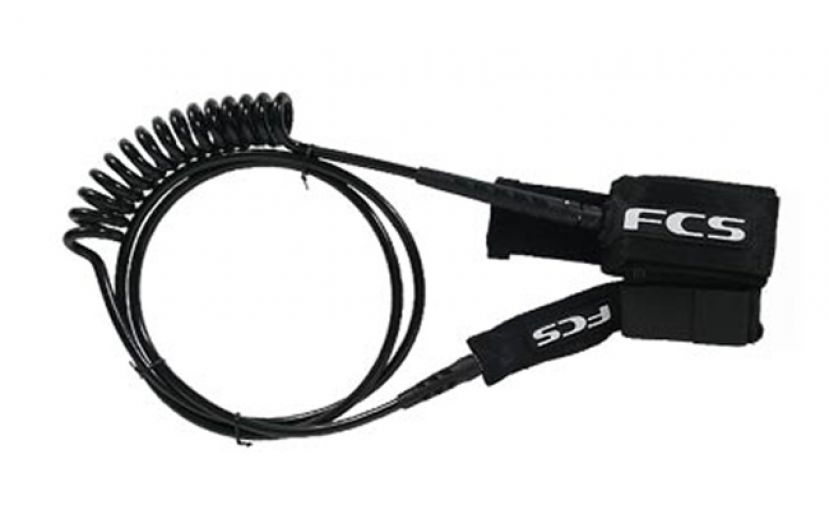 FCS Hybrid Cord and Coil Leash for Stand Up Paddle Board Surfing.
Description

---
Cord/Coil Leash

---
Designed to absorb shock and reduce drag

---
FCS introduces an innovative new cord/coil stand up paddle surfing leash. This leash is specifically designed for stand up paddling, which features a short section of coil that will not tangle like a foam coil. That coil functions as a shock absorber, reducing the board's tugging force on your leg and helping to pull the board through the back of the wave quickly and evenly without having it rocketing back at you. The coil also allows you to noseride while minimizing the amount of leash dragging behind the board. This is an exclusive FCS innovation and it comes in calf and ankle cuffs and big and regular wave sizes. (Join the Gear Talk Group.)
Features

---
Minimizing Tangle

---
Hybrid design gives less tangle then all coil sup leashes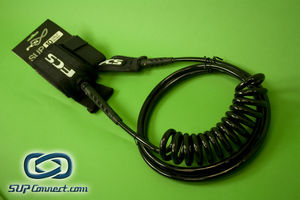 ---
Equipment: Stand Up Paddle Boarding Leash
Equipment Use: Surfing & Multi-Use
MSRP: US $35
Design: Hybrid Cord/Coil
Cuffs: Ankle or Calf
Length: 10' Normal Waves
Length: 10' Big Waves
Benefits: Less leash drag
Cuff Type: Velcro
Leash plug attachment: Velcro loop & Leash string
Construction: Plastic
Manufacturers: Contact FCS Company
Andre Niemeyer's Notes

---
Ankle & Calf Cuffs

---
It comes with either ankle or calf cuffs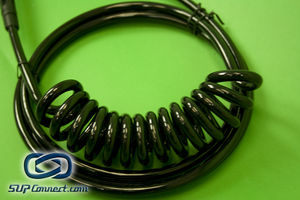 ---
Summary
The hybrid cord/coil leash strikes an excellent balance between reducing drag and tangle. The coil part of the leash helps to keep the leash on top of the stand up paddle surfboard to reduce drag while also functioning as a shock absorber. And to minimize the tangling that typically comes with coil leashes, this leash is only half coil, so when you fall off your board you will not have to spend as much time untangling your leash as you normally do with all coil leashes. (Join FCS's Group on Supconnect.)
Pros
In full disclosure, I was a big skeptical of coil leashes before trying this hybrid cord/coil by FCS. First, the looks of coil leashes are awful. It looks like you have a telephone cord attached to your leg. Now that wouldn't bother me that much if it were functionally superior to the regular leash. But if you're stand up paddle surfing, that's not quite the case. The coil is designed to maintain the leash on top of the board, thereby reducing drag. But that comes at too high of a price. The coil tends to get all tangled up and you find yourself spending quite a bit of time untangling it. Here is where the brilliance of the hybrid cord/coil leash by FCS comes in. It does have a coil to help maintain the leash above the board to reduce drag. But it's not all coil! The half cord part of the leash helps reduce the amount of tangle that typically comes with the coil, thus offering the benefits of the coil leash without much of its headache. (Sign up to Sup Connect Newsletter to stay in the sup loop.)
Cons
For well overhead surf, you're better off with an all cord leash. The strain that big surf puts on the coil is likely to flatten it out, rendering the leash useless. Well, probably not useless, but you'll likely end up with no coil, which then defeats the purpose of owning a coil leash. Your best bet is to have a full cord leash for the well overhead surf and having the cord/coil leash for anything smaller than that. And note that this is not a tangle free leash. The hybrid feature of the leash does reduce tangle significantly. But the coil is coil and as such it will tangle once upon the time. Now for my day-to-day surfing sessions in California, which typically range below head-high surf, this is an excellent leash choice and I'm truly impressed with how much less drag I have, and I don't even have to untangle the leash that often. (Join FCS's Group on Supconnect)
Related Links

---
Normal & Large Waves

---
It also comes in a variation of small and large waves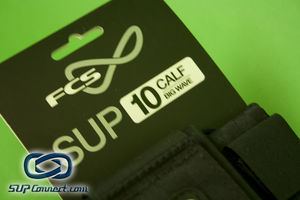 ---
Disclaimer: Andre Niemeyer's notes are typically taken from a one-time use and assessment. Several features were gauged, ranging from design and construction to pricepoint and usability. Now some of these features, such as durability, may receive an initial assessment based on the construction materials and foil, among other things. But this is not a final and definitive assessment. For some features, durability included, any final and definitive assessment requires a longitudinal study. No such study has been made for Andre Niemeyer's notes. These notes are initial, not final, assessment reports.
© Copyrighted & Exclusive SupConnect.com Content
Last modified onThursday, 13 August 2015 17:43

Submit your news, events, and all SUP info, so we can keep promoting and driving the great lifestyle of stand up paddling, building its community, and introducing people to healthier living.
Website: supconnect.com