5 Questions About The Wave Jet Rescue Board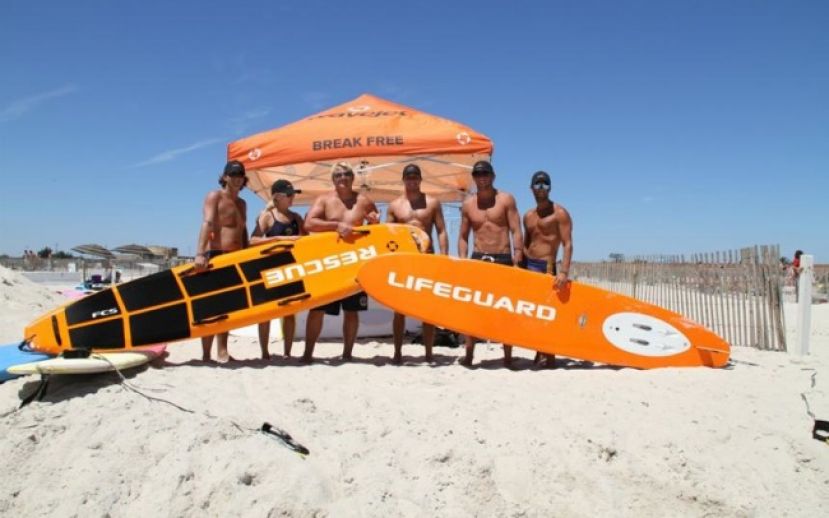 SAN DIEGO, California - Wave Jet flew onto the scene a few years ago, taking SUP and surf technology to futuristic new levels. One of the most interesting items in the Wave Jet quiver is the rescue board, now being adopted by lifeguards across the world. All the thrust, speed and fun of riding a Wave Jet creation is being put to work in some of the most harrowing ocean conditions, using that cutting edge technology to make the job of saving lives an easier, more effective one. This week we caught up Kelly Virgulto from Wave Jet to find out more about the rescue board and what makes it such a handy tool.
5. Can you tell us a bit about the WaveJet Rescue Board and how the idea came about to start making them?
The WaveJet Rescue Board was shaped and designed with input and testing by the Oahu County Lifeguards and North Shore Ocean Rescue team. The idea of WaveJet being an ocean rescue tool had been in Mike Railey's mind from his initial invention of the product. WaveJet was begun to replace the ski for tow in surfing, and as jetski's are effective rescue tools, so too did we think could be the application of the WaveJet power pod.
4. Where are they being used and what has the general response to them been like?
Right now the boards are in active use in North Carolina, Rhode Island, Florida, Santa Barbara and in parts of South Africa and Europe. Response has been great - the WaveJet rescue board has the advantages of being able to be launched by a single guard, getting a victim back to shore twice as quickly as a non-powered board which could mean those critical seconds between life and death, conserving lifeguard energy and being able to be used with or without power (i.e. if a rescue is being done using a jet ski and the ski runs out of gas or breaks down, the guard must ditch the ski and swim the victim to shore - if a WaveJet Rescue Board happens to deplete power, it can still be paddled to shore).
3. What are the limits in conditions they can be used in, when it comes to lifeguards making rescues at local beaches?
There aren't really any limits - the pod is incredibly durable and provide 20 lbs of thrust. Obviously rescues that are miles out to sea are better served by a boat or ski, but for lifeguard oriented shore based rescues, our board just provides an advantage.
2. What are the main differences between the WaveJet SUP and the Rescue Board, in terms of dimensions and features?
The Rescue Board is not shaped at all like any of our SUP options - it was shaped specifically for rescue functionality. The Rescue Board is 11'0 x 24" x 3 5/8", while our SUP's are, respectively: 10'0 x 31" x 4 3/8", 10'6 x 31" x 4 5/8" and 11'0 x 32" x 5"
1. How does the battery life of the WaveJet system work, and how long can people go for before having to recharge?
We use rechargeable lithium ion batteries that are hermetically sealed into the pod to avoid any potential water damage. The pod gives the rider 36 continuous minutes - on a surf board or SUP that is generally a 1.5 - 2 hour session in the water. Recharge time from dead to full power is 3 hours.
About Wave jet
WaveJet is a revolutionary, one-of-a-kind Personal Water Propulsion system that will change the way you interact with water. A clean, quiet, battery-powered dual jet drive, the WaveJet Power Pod is fully modular and universally sized to be interchangeably popped into any WaveJet-ready personal watercraft, including surfboards, stand-up paddle boards, boogie boards and more. WaveJet overcomes the traditional limitations of surfing and paddling.
Last modified onMonday, 10 August 2015 17:44

Truscott is a widely published author in the surfing and travel world, has a master's degree in creative writing, and comes from a diverse backgroun in water sports.