Problems Facing the SUP Racing Scene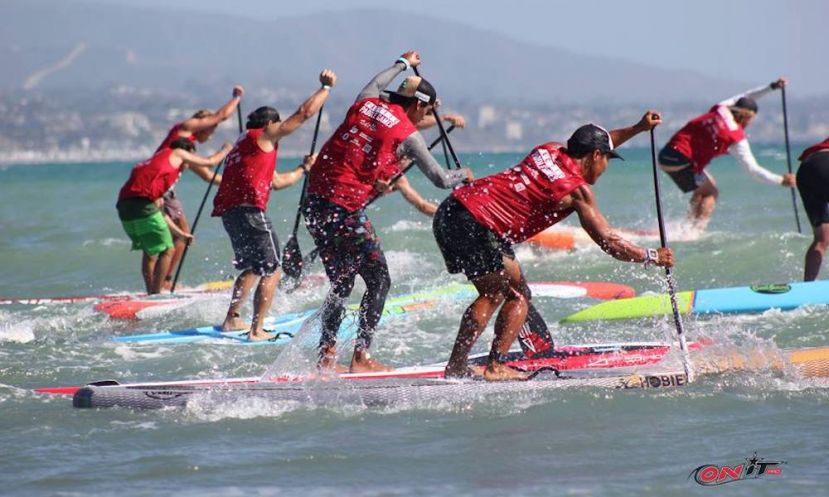 Racers at the start of the Pacific Paddle Games. | Photo: OnitPro
Recently there has been a lot of talk about how the race scene is dwindling. The sport grew way too fast, way too quick. No sport can sustain this kind of growth for very long. But, the sport isn't necessarily dwindling. It just isn't growing as fast as it did in the previous years. So, what are the obstacles of getting to and competing in a big race like the Pacific Paddle Games (PPG), Carolina Cup or the George Paddle Challenge?
1. Race Board
Let's face it. If you want to be competitive in both elite or the open races you need an elite race board. These boards cost two to three thousand dollars right off the bat. This is an expensive investment. To put it in perspective, the weekend warrior will race on an average two to seven times a year. These boards are also long and extremely narrow so they don't exactly double as a board that is user-friendly for the entire family.
2. Getting to the Race
For those of us not lucky enough to live close to the race venue, just getting to the race can be a challenge in of itself. As if the plane ticket and hotel fee weren't enough, traveling with a 14' board is a whole other obstacle. Many airlines won't fly anything over 9'7" and the fees can be outrageous! Paying an outrageous fee without the certainty of your board making it in one piece is a gamble. That's enough stress to make any weekend warrior sit out a big race.
Pacific Paddle Games 2017. | Photos by Onit.Pro
3. Entry Fee
As if getting to the race wasn't expensive enough… now you're looking at another ~$200 race fee to add to the expense list. It costs a lot to run a big race so it is understandable but the entry fee is still a hard pill to swallow at times. Racing as an elite is just about the same price as racing in the open class, so for the weekend warrior the fees really start to add up.
4. Spectators
A lot of races aren't exactly spectator friendly. The beginning and the end of races are fun to watch with all the excitement and closeup action. The rest of the race is as fun to watch as speed walking…which is a problem from the spectators point of view. Audiences want excitement and thrill and when 90% of the race requires a pair of binoculars (such as the Steiner found here) or live feed to keep up with what's going on, the excitement tends to fade rather fast. The Battle of the Paddle (BOP) kept it fun the whole time with sprints between each lap. Spectators would line the beach sprints to watch their favorite paddler or hand off cups of water.
Pacific Paddle Games 2017 Elite Women. | Photo by Onit.Pro
Is there a solution to make it easier for weekend warriors to get to the bigger events? Your everyday paddler is the heart and soul of the sport. Why should races be limited to sponsored athletes who have travel and lodging paid for (usually) and boards waiting for them at the event? I'd love to hear your thoughts!
© Supconnect.com Copyrighted Exclusive Content
Last modified onThursday, 09 May 2019 14:08

Alex Mauer is a long-time Colorado resident who since the age of 12 has been riding the local river waves. More recently, he has enjoyed the wonders of stand up paddling and has become one of its most passionate advocates and representatives. Mauer is one of Supconnect's most active contributors and an avid representative of the sport in his area. He can be reached and befriended via his profile page on Supconnect.
Website: /Mauer