Zane Schweitzer Wins Gold in Abu Dhabi Style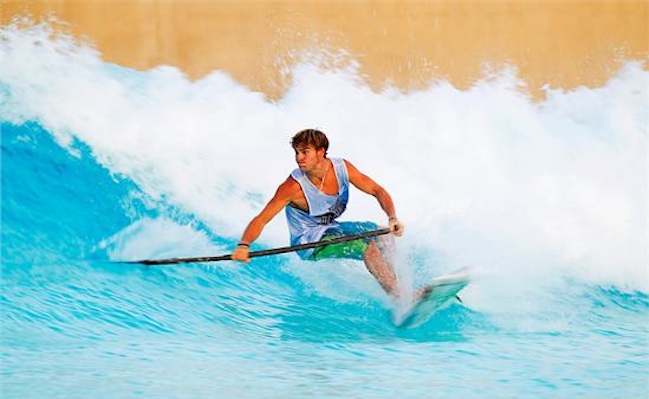 Zane Schweitzer - Stand Up World Tour Abu Dhabi 2013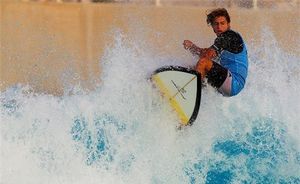 Ian Vaz - Stand Up World Tour Abu Dhabi 2013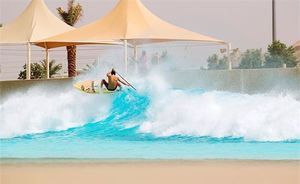 Kody Kerbox - Stand Up World Tour Abu Dhabi 2013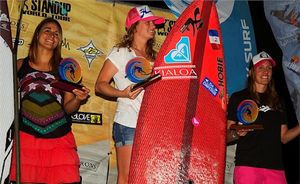 Top Women in the Women's Final - Abu Dhabi 2013
ABU DHABI, United Arab Emirates - While Zane Scwheitzer (Starboard) was always expected to be one of the standouts at the wave pool, his rise to the top here at the Abu Dhabi All Stars presented by Abu Dhabi Sailing and yacht, UAE SUP and Wadi Adventure Park was meteoric, as he stunned the spectators and judges alike to take the much deserved victory here in the desert.
Zane was faced with tough adversaries throughout the competition, as you would expect of an All Stars event, climaxing in the finals as he faced the young Brazilian on devasting form here in Abu Dhabi, Ian Vaz (Art in Surf). As they both pushed the bar of performance stand up paddlesurfing to a whole new level, Zane stormed to victory with 3 scores on the 3 respective wave settings (right. left, closeout) in the excellent range.
There is no doubt that Zane is a man on a mission this year on the Stand Up World Tour, and by posting score after score in the 9 point range and even a 10 at the Abu Dhabi All Stars, he has shown to himself and to the world, he does have what it takes.
Ian Vaz settles for 2nd, but makes statement in Abu Dhabi:
The young talent Ian Vaz (Art in Surf) from Rio de Janeiro in Brazil may have gone down to Zane Schweitzer in one of the most exciting and action packed finals yet, but he clearly showed throughout the All Stars Surfing that he is a major force to be reckoned with and is very much capable of taking down the world's best.
Having been the leading athlete coming through to the Quarterfinals, he then continued to post excellent scores in the semis and started his campaign in the final with a 9.33! He demonstrated phenomenal performance surfing in the wave pool at Wadi Adventure with a mix of airs, driving turns, reverses and much more, cementing himself as one of the most dangerous athletes on Tour.
Kody Kerbox continues his incredible form in 2013:
Kody Kerbox (Art in Surf) continued his winning streak here at the Abu Dhabi All Stars Invitational presented by Abu Dhabi Sailing Club, UAE SUP and Wadi Adventure powering his way through the rounds with dynamic and flowing surfing to earn his place in the semi finals. However after an intensley close semi final battle with Ian Vaz (Art in Surf), he had to settle for the consolation finals, as he put it all on the line and finished in an incredibly worthy and his second of the year out of 2, 3rd place overall.
There is no doubt that Kody has stepped up his game in 2013 and is looking like a real threat as we move on through the season here on the Stand Up World Tour.
The Dark Horse Remi Quique finishes in an impressive 4th:
While the Brazilian resident, but French National Remi Quique was one of the early contenders on the Stand Up World Tour, he has been absent from competition over the past few years, making a comeback here at the Abu Dhabi All Stars. With a consistent display of fluid and complete surfing, Remi put his name back on the map and battled with Maui's Zane Schweitzer (Starboard) in semi number two for a berth in the prestigious spot in the Finals.
While a Finals berth was not to be, Remi is back and looking more dangerous than ever in 2013, and we will see him back in action on Tour later this month in Brazil for the Ubatuba Pro Grand Slam.
Beau Nixon's power surfing wins him sudden death round:
World Tour regular and Aussie powerhouse Beau Nixon (Naish) demonstrated that there is a place for power surfing here in the wave pool posting an 8.33 in the Sudden Death round to advance through to the quarterfinals here at the Abu Dhabi All Stars.
While he was unable to make it any further, he has clearly demonstrated that this man from down under is a talent to watch out for in 2013 following on from his Semi Finals finish back in February at the Sunset Beach Pro.
Caroline Angibaud stands out in the All Stars Women:
Caroline Angibaud from France stands out in the pool for the women's division of the Abu Dhabi All Stars Invitational, putting on an impressive display of performance surfing and clearly illustrating the women's development in the sport of Stand Up Paddlesurfing. Duelling it out with Olivia Piana (Fanatic), also from France, and UAE resident Jen Scully, Caroline put together a succession of smooth and fluid turns on the lefts, rights and closeouts.
As we look ahead to Brazil, there is no doubt that Caroline will be a force to be reckoned with on the Women's World Tour this year.
·
The Abu Dhabi All Stars provides an exciting new format:
The Abu Dhabi All Stars Invitational introduced an all new format to competitive professional surfing, providing one of the most level playing fields imaginable for the sport and a dynamic and entertaining spectacle for the world to see.
The format promoted not only high performance surfing, but progressive and innovative performances as we saw with the likes of eventual winner Zane Schweitzer (Starboard) put together an explosive combination of power turns and progressive maneuvers to take the win. From shove its and tweeked airs, to power gouges and driving bottom turns, his complete repertoire not only earned him the win, but several near perfect scores and even a mindblowing perfect 10 point athlete.
Thank you to the partners:
So a big thank you to al the partners for this groundbreaking event, from Abu Dhabi Sailing and Yacht Club and UAE SUP, to our host for the surfing component of the event: Wadi Adventure. The Wave park provided the next level of competition for the world's best surfers as the Waterman League continues to break new grounds for competitive Stand Up Paddling.
Stay tuned to www.standupworldtour.com for highlights, photos, news and more.
.
Last modified onWednesday, 21 January 2015 16:20

Submit your news, events, and all SUP info, so we can keep promoting and driving the great lifestyle of stand up paddling, building its community, and introducing people to healthier living.
Website: supconnect.com
Email

This email address is being protected from spambots. You need JavaScript enabled to view it.